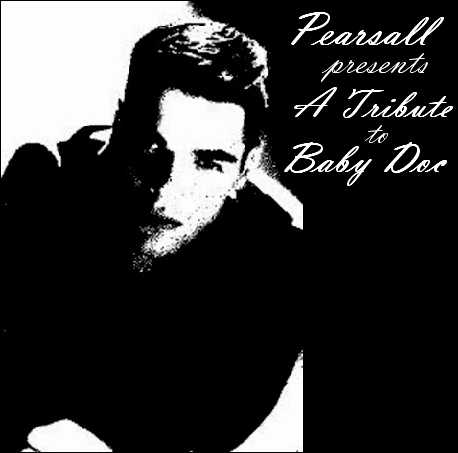 right-click on the title and save as to download
Mixed in London, July 2009
(61:55, 111.3 MB, V0 VBR MP3)
Zip pack (cut into individual tracks)
Cue file
Style: hard house (a tribute to Baby Doc)
Direct link to the mix:
http://www.sonicrampage.org/mixes/babydoc/Pearsall-ATributeToBabyDoc.mp3
Tracklisting:
01. Lisa Lashes – Looking Good (Baby Doc & SJ Remix) (Tidy Trax)
02. Jones & Stephenson – The First Rebirth (Baby Doc & The Dentist Remix) (Prolekult)
03. NRG – Never Lost His Hardcore (Baby Doc Remix) (Top Banana Recordings)
04. Lectrolux – Baloney (Baby Doc's Supernatural Remix) (TeC)
05. Age Of Love – Age Of Love (Baby Doc Remix) (React)
06. Hardfloor – Acperience (Baby Doc Remix) (EyeQ)
07. Baby Doc – Hard Work (React)
08. Baby Doc & The Dentist – Mantra To The Buddha (TeC)
09. Jens – Loops & Tings (Baby Doc Remix) (Top Banana Recordings)
10. Hiroshima – Cyanide (Dream Inn)
11. Mark NRG – Don't Stop (Baby Doc Remix) (Tripoli Trax)
12. The Hellfire Club – Voodoo Magic (React)
13. Praga Khan – Injected With A Poison (Baby Doc Remix) (Nukleuz)
14. Sharkey – Product Of Society (Baby Doc Remix) (React)
15. Sonic Empire – Sonic Empire (Baby Doc Remix) (Majestic 12)
16. Baby Doc – Yum Yum (TeC)
17. Legend B – Lost In Love (Baby Doc Remix) (Perfecto Fluoro)
This mix is devoted to the productions of Quentin Franglen, aka Baby Doc, one of the pioneers of the UK nu-nrg/hard house sound. It's the third in a series of mixes I have done to celebrate some of the leading figures in the scene (the first two were tributes to Karim and Dom Sweeten).
Unlike the first two, I don't really know that much about Baby Doc, since he didn't dj (and in fact he even released an album called Never A DJ), and he never did his live set at any of the nights I went to. In fact I don't remember seeing him on many flyers at all – although I guess his live set was more oriented to the gay scene? I can't remember!
Anyways, he was one of the early pioneers of the scene, being responsible for a number of big tunes in collaboration with Jon the Dentist back in the mid to late 1990's, before he struck out on his own. He became very well known for working with a singer named S-J, and the two of them became a well-known live act duo, touring around the world in the late nineties and early noughties.
He was also a very very busy remixer, and it was in this guise that I generally preferred him! Hence, of course, the track selection on this mix, where 12 of the 17 tracks are remixes. At one point he was pretty much the go-to guy for a hard house remix, with him sprinkling his magic over classics from trance (Age of Love), acid (Acperience), hardcore (Product of Society), and European hardtrance (Lost in Love and The First Rebirth).
If you are curious about his original tracks, you can download a mix by Adelaide's Bongo here, which is much less remix-heavy (although it does have a bit of an overlap in terms of track selection with my mix).
Since I try to keep things interesting with my blog posts, I have been in touch with Graeme Stoker of the Energy UK DJs in order to get my hands on some old interviews with Baby Doc. Graeme used to co-run a website called EnergyUK.net, which was one of the first (and best) hard dance specialist websites, featuring as it did interviews, record reviews, technical articles, and a guest book that functioned as a constant source of gossip, news, and outright slander. It was really excellent, and it was a shame when it went defunct in 2005 (funnily enough the domain name is now owned by an 'adult products' purveyor!). Graeme has kindly given me the text of the two interviews they did with Baby Doc as well as his permission to post them. Thanks, Graeme!
The first interview, which also features S-J, was originally published in 2000. It was quickly yanked on lawyers' advice due to some rather defamatory statements made in regards to their relationship with React Records. This is actually the first time that it has been republished on the web since then (although with the offending section excised), so this is a bit of a treat:
Who are the main players involved in Arriba?

Baby Doc & S-J

Where did it start? (brief history etc)

Arriba started as a direct result of being ripped off by React!! Rather than let this get us down we put all our energies into setting up Arriba which means "UP" in Spanish and the up arrow symbolises positivity!

We also wanted to come up with a generic name which symbolises "quality" so if you are part of Arriba hopefully that means that you are very talented or skilled at what you do?

How would you describe the Arriba Sound?

The Arriba Sound is unique and fresh – never copies or samples other peoples' records!

Baby Doc what is your real name?

Real name Quinn!

What are your musical influences?

Baby Doc: Brian Eno, The Clangers, The Wurzels,

How did you get involved with the music industry??

By putting out records

SJ what are your musical influences?

S-J: Peggy Lee, Stephen Sondheim, H from Steps

Describe your typical week/day

We get to the office for 11am S-J stays upstairs doing officey things and I'm downstairs writing new material or helping other Arriba artists Malcolm Duffy, Kenny C, Leo Cash with their tracks. At about 6pm S-J comes down with fresh ears and helps out. We get some beers in and work until 1am then go home!

Often people pop in and we'll have a break with them.

Where do you see the scene going in Year 2000 (Hard House / NuNRG) Mainstream or Not?

Hopefully it will have some fresh tunes currently the scene seems to be made up of a hodgepodge of old tunes with tired remixes not as good as the originals!!! Where are the FRESH tunes!

Does Arriba have any plans for sister labels a la Honey Pot style?

ARRIBA BLUE – our house label, has already been born and will launch itself with Malcolm Duff & Lee Lee's "French Knickers/ Murder – She Wrote It" in and around 31st July!

The second release is by Kenny C & Nelly K "Stalkers Convention". Kenny C is best known for his superb vocals on "Raise the Alarm" with the Sharp Boys and "Hip Hoperation"!

If we went into your car what tape would we find in your stereo at the moment?

Currently we are addicted to DJ Leo Cash his DJing is UNREAL!!!! Mixes 2 records at a time almost constantly making a fresh record – proper DJing!!!

What do you think about the amount of Nukleuz releases that have been flooding the UK HardHouse scene recently?

Nukleuz are another label that regurgitate old tunes – good luck to them but can't anyone write a new one!

We're not especially chuffed with them at the moment as they have just licensed the Baby Doc Remix of "Injected with a Poison" and are putting it out – it's nearly 3 years old! We were trying to get that for ourselves 2 years ago and were told that it wasn't available! It doesn't seem fair really…

Baby Doc: If you could pick a club, any club, which one would you choose to be a resident in and why?

Well as I'm not a DJ can't really answer this but if I was it would be Hippodrome, Leicester Square on "Foxy Lady Night"

How successful has your live show been in recent years and what does it consist of?

The live show takes us all around the world to huge accolades and we really enjoy playing live! Consists of me doing my live stuff with my EMU sampler, keyboard, effects units, desk etc and S-J strutting her stuff and singing live whipping up the crowd etc!! It is a real performance with proper staging lights etc

Where are your future dates and plans for the Baby Doc live show?

We were asked to play Glastonbury but it clashed with our US tour dates and we are now booked for next year!!

OUR NEXT BIG ONE is FRI 18 AUGUST we HEADLINE AMNESIA, IBIZA – come along!!!

What has been the best crowd you have ever played to?

When we headlined with Commander Tom at Brixton Academy – 4,500 real fans going for it at the Pendragon party!

What would you say to the comment "Trance is dead"?

If it's good it won't be dead.

What are your three favourite clubs & why?

Don't really have any – we have best ever nights when things just happen unplanned!

Do you like Hoovers in records?

Baby Doc really was the inventor of the hoover so yes!

Your current top 5 (SJ & Baby Doc)

Baby Doc: Current Top 5: mmmm?????
S-J: ummmm very fond of Noom Stuff especially Commander Tom

All time top 5

Baby Doc: Sourmash "Pilgrimage to Paradise"; "Last Night A DJ Saved My Life"
S-J: TdV – "To the Limit"; Baby Doc "Exigent"; Signum feat Scott Mac "Coming on Strong"

Are there any particular remixers/producers you like to work with when making a record?

Commander Tom is remixing Bangers & Mash with Tom Wax and Baby Doc is remixing Noom 50 "Cow". Tom and Quinn want to do a track together as well so watch this space!

Your favourite DJ's & why

S-J:

DJ LEO CASH he is the best hard-house/house DJ at the moment!
DJ Kenny C one of the best house/tribal house DJs
DJ Malcolm Duffy the BEST house DJ in the WORLD EVER!

Baby Doc:

Commander Tom he is outstanding!
Malcolm Duffy the BEST

What do you think of the BK sound?

Never heard it!

What are the politics behind your latest Arriba release? (Arriba Sound System I Got Chucked Out)

There aren't any politics it's all a bit of fun!!! This has been our biggest seller and is STILL selling so feel free to order direct or from your local outlet this is a DANCEFLOOR classic!!!

What future plans if any have you for Arriba as a label??

We want to become one of the BEST independent labels out there putting out FRESH tunes written by up and coming artists.

Your tips & advice for the new millennium for all the E-UK readers …

Keep it fresh, enjoy life, LIVE A LOT, never listen to negativity keep your dream alive!
Here's the second interview, this time from 2001 (this is also from EnergyUK):
When we last spoke you mentioned that you had plans for Arriba to push a number of different and varied sounds covering all sides of the musical spectrum. Have things turned out as you expected?

Well things have just been slower than expected but apart from that no complaints. So far every release has done well and everyone has been receptive to the different styles. There's definitely a gap in the market for a label releasing a bit of variety!

The last year has seen your live show appear all over the world. When did you start doing the show, and what was the thinking behind it?

We started the live show 6 years ago as a vehicle to promote our music world-wide and at that time we were one of only a handful of artists doing this. As a consequence we captured the market early and have been going back time and time again with us going to Australia twice a year America once a month and the rest in-between!

Tell us what actually goes into to each live performance in terms of planning and set up?

Well we change the show 4 times a year but always retain a couple of "classics" we still do Fever as an encore and it gets them every time so why change a good thing? We are on for an hour the set is mixed and S-J comes on for half the show to keep the visual interest going as well as supplying some fantastic vocals.

It has been suggested by some that the actual 'live' content in your show is minimal. We'd like to give you the opportunity to set the record straight.

The show is as live as is possible – bearing in mind that you can never guarantee that the venues are totally set up for it. Baby Doc flies in loads of fabulous samba loops and writes new basslines alternative hoover lines etc etc and S-J sings her heart out! What more could you want! The show is really good fun and very exciting … it takes us round the world twice a year so we must be doing something right!

Your new album has just been launched covering a bag full on your biggest hits from the last few years. Tell us more about it.

Well it supposed to put a lid on the last 8 years and leave us room to move on… it is a time piece and we are hoping that people will love it. You've seen the reviews and the articles and everyone across the board thinks it's a must have … HMV liked it enough to give it 2 weeks recommended purchase & front racking as did Virgin so fingers crossed. It would have been a shame to let all those great tunes just collect dust in cupboards!

People cite your collaborations with Jon The Dentist such as Mantra To The Buddah as critical points in the history of our scene. At the time, did you think that your work would be as important and influential?

No you never do we were just doing what we loved.

You have not, of course, produced alongside Jon for some time. Do you think that your styles and directions simply grew apart?

It's hard to maintain relationships sometimes and yeah different tastes different aspirations all contribute to people wanting to move on.

Your sound from back in the early days and now are noticeably different. What has influenced your sound's evolution through the years?

Well the early days were the embryonic days when we had no real reference point – very raw – now people are forever copying and remixing … before there was a lot more originality on the scene which made it very exciting for us when we went into the studio we were being inspired by fabulous tunes we heard played out.

Looking at the state of the hard dance scene now, if you had to choose a pigeon-hole to describe your sound, what would it be?

Uplifting energetic quality dance music …. no pigeon-hole as we are forever evolving which you wouldn't be able to do if you were pigeon-holed.

That said, do you agree with the current trend to give everything its own descriptive genre tag? Thoughts please!

We like to think we are original – always pushing ourselves to break new boundaries. It's more interesting that way as artists.

What are your views on the current state of the scene, both musically and in terms of the current clubs out there?

Well it's almost exploding – don't know where it can go … there are so many clubs, so much vinyl, we are drowning in club culture. Maybe it has to slow down and start all over with small venues … a new underground scene? Who knows maybe it will keep going up and up and up and takeover …

Many people have talked about the scene 'splitting' – what's your views on this?

Things come and go we do feel it's at breaking point though? It's like everything reaches its peak and then starts all over.

Coming back to your touring, you spend a lot of time abroad. How to the overseas clubbers differ in their reaction to you than those in the UK?

We play to fabulous crowds everywhere – and love each crowd we play to. Never had a bad crowd yet!

Where's been your best gig in the past year, and why?

Moscow was awesome, walking through Red Square with one of the Red Army stopping Baby Doc and fining him $20 for smoking a cigarette. The officer that was fining him was smoking at the time!!!!

The Russians were so kind and so pleased we were playing for them it was really moving.

We are really enjoying the West Coast scene in America at the moment it's very exciting as they are new to it all like 10 years ago in UK. FAB!

What's the biggest nightmare you've had on one of your gigs?!

Bad sound men who don't realise that the microphone is feeding back to the point of making peoples' ears bleed!

What plans do you have for the development of your music, label and show in the next year?

Well we've moved to Pinnacle so that means we can enter the world of CDs which should better finance the label. We are planning to release an EP once a month with a Mrs Wood EP ready to go a Kenny C EP ready to go a Pete Wardman and Baby Doc EP ready to go all written and produced with Baby Doc and S-J and featuring S-J's vocal.

We have a business manager on board now and we are looking to take the quantum leap and do all the festivals next year with serious sponsors on board.

We are hoping to take our sound to the bigger arena and be able to reach our fans better and still be cutting edge breaking the boundaries.

Where do you see yourselves, and the scene, 5 years from now?

We want to be serious recording artists and produce bands taking our dance influence with us. The scene will either start all over with that hole underground vibe or TAKE OVER that would be good so that the charts would reflect what people are really into … that would be GREAT! We could have fun for ages more.

Finally, any closing thoughts.

Keep it real, be positive.
As a special bonus for the curious, here is a selection of promo sheets that were included with some of the records I used for the mix. The Prolekult one is quite a giggle!