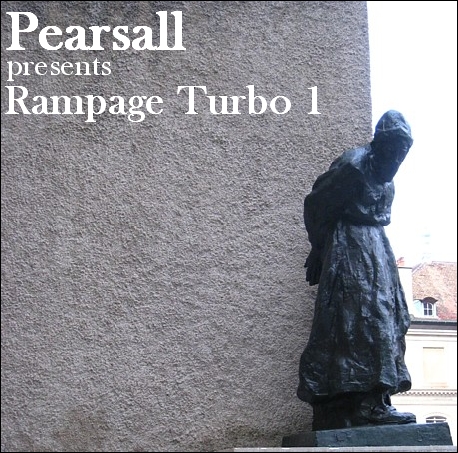 right-click, save as to download
Mixed in Edinburgh, March 2002
(60:40, 55.75 MB, 128 KBPS MP3)
Zip file (cut into individual tracks)
Cue file
Style: freeform hardcore
direct link to the mix:
http://www.sonicrampage.org/mixes/Turbo/Pearsall-RampageTurbo1.mp3
Tracklisting:
01. Moonrise – Evolution 4ward (EDM)
02. Trance Masters – Call of the Last Tribe (GBT)
03. Tony de Vit – I Don't Care (Jumpwax)
04. Citadel of Kaos – Aux 5 (Xy2)
05. Kevin Energy – Vertigo (Nu Energy)
06. Ramos & UFO – 1 to 1 (RSR)
07. AG Systems – Active Tekno (Stompin' Choonz)
08. Rob Vanden – Gates of Oblivion (GBT)
09. Energy & S4 – Evil Returns (Pulsating Mix) (Nu Energy)
10. Tilzs & Plastic Portal – Madness (Madness & Mayhem)
11. Helix & Teknodred – Mindless Pleasure (Stompin' Choonz)
12. Super-X, Persuasion & K Komplex – Bass Oddity (Nu Energy)
13. Tazz & Element – Shape Shifter (Digital Beats)
14. Marc Smith & Safe n' Sound – Identify the Beat (Bonkerz)
15. DJ Kaos – Back Breaker (Go Mental Dark)
16. Energy & DNA – The Bastard (Remix Records)
This is the first mix that I did in the Rampage Turbo series of freeform hardcore mixes. Sadly, I have been unable to find the original minidisc, so this is only in 128 kbps, which is certainly adequate, although not quite as good as I would prefer.
A few notes:
* The Moonrise tune is an old M-Zone classic and is, in my opinion, probably the finest tune to be released on EDM. It is also one of only two non-UK releases on this mix. The other one is the Tilzs & Plastic Portal tune, which was released on their own label in their hometown of Minneapolis, Minnesota. Although they only managed four releases before going under, they put out at least a couple of really good tunes (for instance, I used 'Infected' by Sunrize on Rampage Turbo 4).
* Trance Masters was a collaboration between Billy Bunter, Rob Vanden, and M-Zone. Incidentally, the Rob Vanden tune featured on this mix is relatively obscure, certainly in comparison to the big anthems released on GBT (like Body Slam, Better Day or Droppin' Bombs) but it bangs like a mutha and even ten years later I still think it is one of the finest ever trancecore releases.
* 'I Don't Care' was at one point super-rare and cost over £40 second-hand! Then it was re-released on Tidy Trax and its second-hand value fell through the floor. Still a killer tune.
* 'The Bastard' still fucking rules. That is all.
3 Responses to 'Pearsall presents Rampage Turbo 1'
Leave a Reply