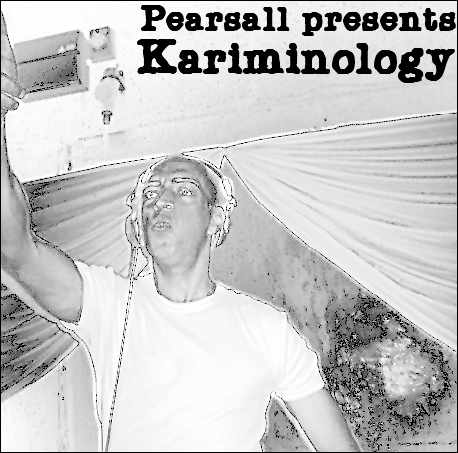 right-click on the title and save as to download
Mixed in London, December 2008
(76:34, 136.43 MB, V0 VBR MP3)
Zip pack (cut into individual tracks) – now in 320 kbps
Cue file
Style: hard house (a tribute to Karim Lamouri)
direct link to the mix:
http://www.sonicrampage.org/mixes/krm/Pearsall-Kariminology.mp3
Tracklisting:
01. Karim – Demonik (Tuff Trax)
02. Karim – Flash (Do Not Bend)
03. Karim – Native (Tuff Trax)
04. TNT – Do It (Karim Mix) (Hard Trax)
05. Franko B – What Is Art? (Do Not Bend)
06. Karim & Phillip Walsh – Technomove 2 (Tuff Trax)
07. Karim – Rockin Ronnie (Do Not Bend Special Edition)
08. Karim & EJ Doubell – Heartless (Do Not Bend)
09. The Captain & Karim – Let The Groove Moov (Tinrib)
10. Karim – Clean & Heavy (DP Recordings)
11. Karim – Choupignolle (Do Not Bend)
12. Karim – Wet N' Wild (Do Not Bend)
13. Karim – Begonia (Kaktai)
14. Karim – Don't Fuck With Me (DP Recordings)
15. Paul Glazby – Here We Go (Karim Remix) (Vicious Circle)
16. Karim & Phillip Walsh – Technomove 3 (Tuff Trax)
17. Karim – Port Douglas (Do Not Bend)
18. NooNoo – Razors (Karim Remix) (Titanium Trax UK)
19. Karim – Columbia (Do Not Bend)
20. D.R. Base vs Karim – NWA '98 (Tinrib)
This mix is a tribute to the mighty Karim Lamouri, the French-Moroccan hero of hard NRG music. It's the first in a series of hard house mixes that I am planning on doing before I sell of most of my hard house via my Discogs account.
Karim has been one of the leading figures in Britain's hard house/nu-nrg scene for over ten years. Long known for his hard-hitting style, he was absolutely one of my favourite dj/producers for all of the years that I was into hard house, and so I thought that if I am going to be liquidating my hard house collection, what better way to start than with a tribute to the almighty Karim?
I have to tell you something, the first time I was 'labelled' – there you go! – I think it was in 1995, someone said to me, "Oh, But Karim, your music is hard!" and I was a bit shocked! I said "What? Hard?" and they went "Yeah, you play hard music!", and I was like "No, its normal music, its just good music!"

You know, I was a bit surprised, I didn't realise people would label my music as hard. I never looked at my music as hard, I don't want to be hard! It took me a year or two to get over the fact that people were labeling me over in England as 'hard', and I was thinking "What the fuck is wrong with them? Have they gone mad? Hard compared to what?"

Believe me, I can show you my CD collection at home and I've got pure gabba and I can show you what hard music is all about – 250 bpm with the words "Fuck you! Fuck you! Fuck your mother! Fuck your sister! Suck my cock!" non-stop from the beginning until the end. I'm classical music compared with these people! So, no, I've never looked at my music as hard. I've always regarded my music as extremely clubby and dancey – I know it's hard to believe for some people! #
Although I first came across him when he was working at Flip Records in Covent Garden in the mid-1990's, I didn't experience any of his sets until 1999, when I started going to Fish!, which was Tinrib's monthly party at Crash in Vauxhall, where Karim was one of the residents and usually played the last set. These were not for the faint-hearted! Pure energy from start to finish, with sharp kicks and lazer bass overlaid with powerful riffs sampled from a kaleidoscopic range of classic and obscure dance tunes. Completely unwavering, composed largely of his own productions and remixes, I always found his sets to be journeys into sheer stomping bliss. Not uplifting in the classical hands-in-the-air sense, but enjoyable as a sheer physical exertion, a sort of explosion of power. Although not as technically gifted a mixer as some other dj's on the scene, Karim's knack for selecting the right tune at the right moment meant that he quickly became one of the most in-demand hard dj's – a status he still has today.
Perhaps my fondest memory of hearing Karim was at the very first Superfish event at the Fridge in Brixton in September 2001. What a crazy night that was! That was the summer when hard house exploded in popularity, and so the Tinrib crew decided to throw a special party, which quickly became one of the most anticipated events of the year. My friends and I were so eager we bought tickets as soon as they came out. We weren't the only ones, as advance tickets sold out probably three weeks before hand!
And when we got there … well, it was an absolute roadblock. I remember that when we went to a pub nearby at about 8pm the line was already around the block – two hours before the doors even opened! When we finally forced our way in at just after eleven the place was absolutely heaving and hotter than an inferno. The dancefloor was a solid mass of people. If anything, it was a bit uncomfortable since it was just so hot and so crowded, even though the atmosphere was amazing. Fortunately, by the time Karim came on at 4:30 for the last set the crowd had thinned out enough so that, even though it was still very busy there was space to really let go and stomp away to some properly banging set. Fortunately Karim delivered! I was up on the stage at the very front overlooking the dancefloor with my good friend Dan to my side hopping up and down like a maniac, completely soaked in sweat as Karim dropped banger after banger … 'Begonia', '69A Paradise Passage', the remix of 'Tribal Church' … phew! For his second to last track he played 'Port Douglas' and started fading it out during the breakdown before slamming the volume back in at full blast when it kicked back in while all the ravers roared like rutting stags. Amazing times!
His productions have often been controversial, because on pretty much all of his tunes he has sampled the main riff from another source, as opposed to producing them himself. You can see for yourself how strongly some people feel about this by visiting a thread I started on BangingTunes.com about what tunes Karim has sampled from. Some people see it as 'theft' and get very irate about it all. I am not one of them!
As far as I'm concerned, sampling has been an important part of dance music history, and Karim at least has the decency to sample good riffs from good tunes and do good things with them, even if it is a case of sticking a harder kick underneath along with a new vocal sample (such as he did with 'Target Locked', which is basically 'Resistance Is Futile' by Tony de Vit with a harder kick drum, slightly different bassline and a vocal sample saying "Locked On Target!"), or by using two different samples, like in 'Wet n' Wild', where the acid line from 'Neurodancer' by Wippenberg intertwines beautifully with the trancey riff from 'Jungle High (Our House Remix)' by Juno Reactor. What he does is make music for dancefloors, and he does it very well. Dance music can be so overcome with preciousness at times – sometimes it doesn't matter if the tune is 'innovative' or 'forward-thinking' if it works.
As Karim himself put it in an interview with HarderFaster back in 2003,
They are obvious samples that I use, but they work, and that's what we want! We want people to dance. People in the music industry can make it very complicated, like DJ agencies. They want to turn the DJ thing into something more complicated.

You make music, you perform it, when you perform it you get paid and 'Goodbye!'. That's the way it should be. With a DJ agency I might have to fax an accountant at Tidy Trax on Monday morning – Oh my god, on Monday I can hardly walk! A DJ agency can turn it into a very complicated story, but I'm a very straight forward person. You do not need bureaucracy in this job.
This mix is my own personal tribute to his style as a producer and dj (I don't know him personally, so have no idea what he is like as a man), and so I've not really bothered with my usual business of 'taking the listener on a journey, maaan'.
This is wall-to-wall hard stuff.
No messing.
As I mentioned earlier, with the help of some members of the Bangingtunes.com forum I made up a list of the tunes Karim has sampled on his various releases. Here's an (incomplete) list:
'5 Spikes Is A Poof' – Illuminatae 'Tremorra Del Terra'
'Begonia' – unreleased OD404 remix of The Project 'Meltdown'
'Cheap Rent' – House Pimps 'Zulu Nation'
'Clean & Heavy' – Illuminatae 'Brick House'
'Columbia' – Lunatic Asylum 'The Meltdown'
'Demonik' – Demonic Emotions 'Stuck On A Spacetrip'
'Don't Fuck With Me' – DJ Edge 'Crwd Cntrl'
'Flash' – Joey Beltram 'Energy Flash' plus ?
'Here We Go Remix' – Eufex 'Sneaky' (unreleased)
'Kamagra' – Commander Tom 'Are Am Eye?'
'Kenmore 2427' – F16 'XTC Phase 1'
'Kinky' – The Prodigy 'No Good'
'NWA '98' – Sperminator 'No Women Allowed' plus The Disciples 'Underrave'
'Pandora' – Illuminatae 'Tierra Del Fuego'
'Paradise' – Sourmash 'Pilgrimage To Paradise'
'Port Douglas' – Renegade Legion 'The Weeping Waste'
'Razors Remix' – Baby Doc 'Yum Yum' plus Phrenetic System 'Wayfarer'
'Release' – DJ Edge 'Compnded'
'Rockin Ronnie' – Nick Sentience 'Ride The Groove (Turmoil Mix)' plus ?
'Show Them We Can Do This' – Second Phase 'Mentasm' plus Frankie Bones 'Show Them We Can Do This'
'Taliban' – D.A.V.E. The Drummer 'Hydraulix 9'
'Target Locked' – TDV 'Resistance Is Futile'
'Technomove 3' – Cosmo & Tom 'Love Teknik'
'Techno People' – Dyewitness 'Poison Ivy'
'The Lawn' – Tony de Vit 'The Dawn (Paul Janes Remix)'
'Up In The Air' – DJ Bountyhunter 'Demilitarized Zone' plus ?
'Wet n' Wild' – Wippenberg 'Neurodancer' plus Juno Reactor 'Jungle High (Our House Remix)'
If you know any more don't hesitate to mention them in the comments!
Update July 23, 2009: Having just purchased Karim's excellent Tinrib mix cd Fish Tales 2 via Discogs, I thought I would share the bio bit from the cd inlay. Check this out for some 1998 flavour: