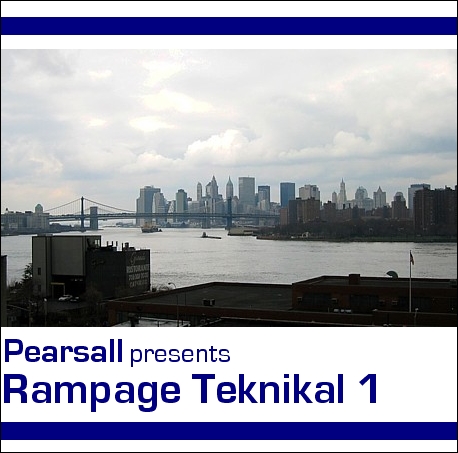 Mixed in Edinburgh, January 2003
(70:41, 100.87, V0 VBR MP3)
Style: techno
direct link to the mix:
http://www.mediafire.com/download/par4yb3aliqqzm7/Pearsall-RampageTeknikal1.mp3
Tracklisting:
01. Oxia – Fresh (GoodLife)
02. Trevor Rockliffe – Need You (Original Mix) (Mentor)
03. Dom Sweeten – Discodeck (Trapped Nerve Mix) (Battle Jaxx)
04. Umek – Untitled (Torta)
05. The Youngsters – Confidential Music (F Communications)
06. Cameron – Chord-FX (Original Mix) (Patterns)
07. Ignition Technician – Soothe (Original Mix) (Wedafuqawi)
08. Technasia – Hydra (Renato Cohen Remix) (Technasia)
09. Dave Angel – Gorgon (Rotation)
10. Player – Player Eleven (Side A) (Player)
11. Slut Peddlers – Love To Fuck (Punish)
12. Space DJz – Untitled (Curved Pressings Ltd)
13. Pounding Grooves – Pounding Grooves 25 (Side A) (Pounding Grooves)
14. Mike Humphries & Glenn Wilson – Aural Exciter (Punish)
14a Aquasky vs Masterblaster – Loko (Botchit & Scarper)
15. D.A.V.E. The Drummer vs Blackout Audio – Hydraulix 16 (Side B1) (Hydraulix)
16. The Anxious – Suppression (Submissions)
17. C. Lekebusch – Drum & Noise II (H. Productions)
18. Audio Pancake – Check Two (Bionic Orange)
19. Mike Dearborn – Solution (Tronic)
20. DJ ESP – You Gotta Do What You Gotta Do (Original Mix) (Missile)
21. Lester Fitzpatrick – Dry Your Tears (Relief)
22. Chris McCormack – Erase Techno (Blacklisted)
23. DJ Rush – Get On Up (Chris Liebing Remix) (Pro-Jex)
24. D.A.V.E. The Drummer & Pat Trix – Hydraulix 15 (Side B) (Hydraulix)
24a D-Force – Step Up General (Slammin' Vinyl)
24b Disco D feat Princess Superstar – Fuck Me On The Dancefloor (Acapella) (Rapster)
Cover: Overlooking the East River from the roof of a warehouse in Brooklyn, NY, taken by myself
This is the very first in my Rampage Teknikal series of techno mixes, and like many of my other mixes, it starts out (relatively) soft and funky before heading up to head-banging territory. Why fuck with a winning formula, right? I've always liked mixes that end up somewhere different from where they start, and I find mixes that remain the same for 70 minutes boring. Of course, I follow a formula, but I don't see what's wrong with that, really.
This mix was done in a fairly early phase of my love affair with 'proper' techno, which blossomed from being in Edinburgh and having little choice besides techno if I wanted to go out partying. In London, it was easy to follow Chris Liberator and shout "techno purists suck on this!", because you could go out every weekend to heard acid techno, hard trance, and nu-nrg, but in Edinburgh most of the underground nights involved hard techno, so I ended up learning to love it, even though I had once been militantly opposed to the more traditional purist techno.
It's funny, isn't it, how passionately tribal about music you can be when you are young? For so many young people music is part of who you are, how you relate to the world and how you relate to others, and I was certainly no exception.
I was:
totally underground
a raver
an underground raver!
I was into acid techno, gabba, darkside drum n' bass, and hard trance, and the more orthodox/popular forms of house and techno, while not terrible, were not what I wanted to play, since I always wanted to push the tempo. I wanted to play fast!
Over time, though, you have to hunt where the ducks are, and since the Edinburgh underground dance scene was so oriented to techno I grew to like it, and eventually to love it. My flatmate Rob's passion for it also rubbed off on me, as quite often we would sit around the flat listening to techno records. So, slowly, I started buying more and more of it, often to play in the first set at Rampage, and eventually I decided to put a mix together, which was the one you see at the top of this page.
It covers quite a bit of ground, from the tech-housey, even discoey, vibe of the early tracks through to some more agressive stuff from 'Love To Fuck' onwards, with things really getting banging when I drop in 'Aural Exciter' with its porno vocal (which is mixed up with a breakbeat track from Aquasky vs Masterblaster) before accelerating into outright face-ripping hardness for the last third of the mix, with the guitar-infused mayhem of 'Erase Techno' probably the highlight. For the last track I cut it up with first an old skool hardcore tune and then an acapella from rapper Princess Superstar (who later did the vocal on that dire 'I'm Perfect' electro-house tune). Most of the tracks are from British producers, but there's also a number of tracks from the US and continental Europe, since I have always tried to mix things up.