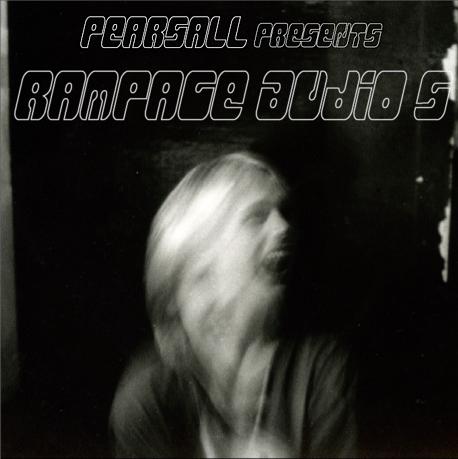 right-click, save as to download
Mixed in Edinburgh, March 2003
(69:30, 110.55 MB, APX VBR MP3)
Style: hard dance
direct link to the mix:
http://www.sonicrampage.org/mixes/Audio/Pearsall-RampageAudio5.mp3
Tracklisting:
01. Y.A.G.O. – Race Traxx (Sigma)
02. Super:Vision – Sniper (No Entry)
03. BK – Stay High (Dub Mix) (Nukleuz)
04. OD404 – Panic Button (Kaktai)
05. Project Mayhem & Tony Heron – Soon As The People Move (Karim Remix) (Banging Tunes)
06. Headrush Tactics – Acid Culture (Definition) (Stay Up Forever)
07. Brainshaker – Vormarsch (Construct Rhythm)
08. Mindcontroller – Mindcontroller 2003 (Controller Mix) (Sys-X)
09. Tha Nookie – Darkness Call (Nookie Remix) (Red Alert)
10. Jon Doe – D7B (D)
11. Butler & Wilson – Deliverance (Angelic NRG Mix) (Transient)
12. Phil Reynolds – Ballistic (Aztec)
13. Axis – Central Control (Re-Entry)
14. Igor Fahrenheit & Hans Delbruck – Re-Animate (Havok)
15. Tasha Killa Pussies – Burn Baby Burn (Choci's Chewns)
16. Raff vs Grit Greenlow – Propaganda 303 (Base Graffiti Remix) (OTR)
17. RR Fierce & DMF – Full Metal (Paul Glazby Remix) (Fierce Technik)
18. Lou Cypher Project – Plague (Synthetix)
19. Headbanger & Delirium – Messin With The Devil (Megarave)
Note: This post updated January 30, 2010
This is a bit of an odd one, a mix and match chop-up of a couple different styles of hard dance, probably the most experimental in the Rampage Audio series (of course, experimental within the parameters of boshing dance music!).
Here are some notes about the individual tracks:
Race Traxx – To start the mix, I've used this track, which, although released on the Italian hardstyle label Sigma, is more of a hard trance/techno hybrid. Not much happens for a while, to be honest, but eventually a nice wibbly acid line arrives and some twinkly trance synths. A good rolling tune and a nice way to set the scene for the mayhem to come. If you're curious, I've used the track on the flipside, 'Acid Traxx', on my Maximalism 1 mix.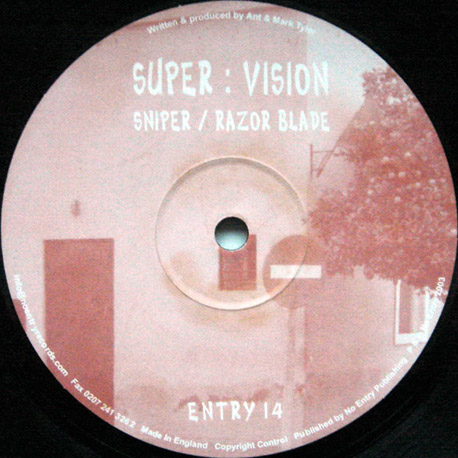 Sniper – Next up is we have some pounding techno from Mark Tyler's No Entry label, which comes crashing in with some twisted old skool hoover sounds. Techno + hoovers = win.
Stay High (Dub Mix) – This tune is one of the (rare) good examples of the techno-influenced hard house sound that briefly became popular in 2002/2003. Most of it was pretty crap to be honest, lacking both the percussive intensity of actual proper techno and the fist-pumping party fun of yer standard hard house. Plus, since most hard house dj's were generally concerned with smoooooth mixing, it was awful in a club, since they would let the tune play for four or five minutes before smoothly segueing into the next track … this is not what you do with techno! You need to chop and change to keep things interesting.
Having said all that, I've always had a soft spot for this this tune, although only the dub mix, since the vocal mix was pretty shabby. This tune was BK's follow-up to 'Revolution', which was pretty much the biggest hard dance tune of 2002. I remember going to Frantic parties at Camden Palace that summer and hearing each dj play it! Not surprisingly, after a while I (like many other people) was heartily sick of it, so BK was probably wise to go in a more subtle direction with his follow-up.
Panic Button – Another killer hard house production from Brighton's Superfast Oz and Dom Sweeten. This was the 25th release on their Kaktai Records and contains all of their trademark attention to detail and a nice chunky riff. Not too hard, not too soft, just right. Check out my The One True Dominator mix for a tribute to Dom Sweeten.
Soon As The People Move (Karim Remix) – A kicking remix from Karim Lamouri on the Bangingtunes label, which was the (relatively) short-lived label of the now-defunct internet record store (although the forum still exists). Looking back this wasn't one of Karim's finest moments, but at the time I was very into the tune. Nice riff, though.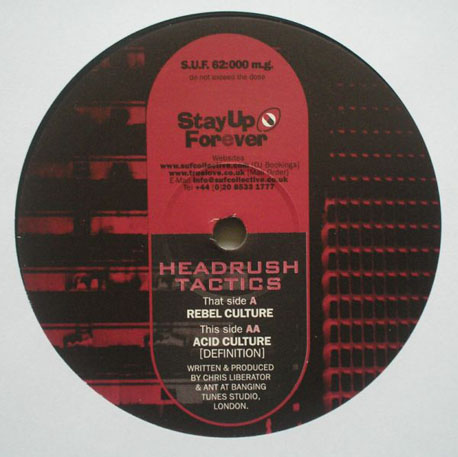 Acid Culture (Definition) – Switch! After a couple of hard house tracks, I decided to switch things up with this acid growler from London acid legends Chris Liberator and Ant. Nothing too mental, but a nice rolling acid tune, good for switching the mood and feel of the mix, whilst still making sense after the previous tune.
Vormarsch – A relatively early production from Robert Natus, who has gone on to be one of the main players in the German hardtechno scene. Pummeling stuff.
Mindcontroller 2003 (Controller Mix) – Switch again! From hardtechno to hardstyle. This is one of the earliest releases on the Dutch Sys-X label (I've used some of the other early releases on my Rampage Europa mixes, if you've curious). I find hardstyle fucking annoying after a while, but in small doses it can be great. This is a relatively restrained example, actually, and I've only used a fairly small part of the track, mixing out after two minutes. Good stuff.
Darkness Call (Nookie Remix) – Pumping hard trance from Italy. Swooshing riff over a rock-solid kick and a pulsing bass. Simple but effective.
D7B – From Europe to the UK next, with this excellent track from Jon Doe on his own D label. Unlike some of the earlier releases on the label, where there was a clearer delineation of styles, with the a-side hard trance and the b-side hard house, by this release Jon was clearly working to straddle the boundary between the styles. Old skool hardcore plinks and plonks, rolling trance riffs, firing hoovers, pounding beats … 'ave it!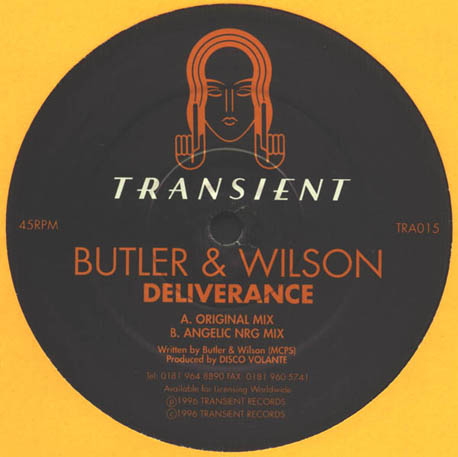 Deliverance (Angelic NRG Mix) – Top, top tune from Transient Records, which was one of the leading psychedelic trance labels back in the mid-90's. Happily enough, though, this tune avoids the usual Goa trance cliches of the period. No weird pseudo-Indian scales, no wibbling 'ethnic' sounds, no samples of hippies rabbiting on about aligning your chakras to the kickdrum (or whatever), just straightforward dark hard trance. Powerful stuff.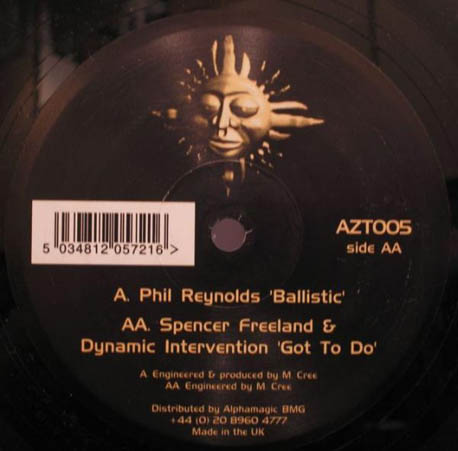 Ballistic – Thumping acid trance from Phil Reynolds, the long-time resident dj at London's Frantic parties. I must have heard him play literally dozens of times between about 1999 and 2003, and this track basically distils his sound into a couple minutes of unrestrained stomping power.
Screaming acid? Check.
Twisting melodies? Check.
Powerful kick? Check.
Throbbing bass? Check.
All in all, a quality tune … in fact one that I love so much that I also featured it on my Paradise Lost mix, which has a lot more of the classic Reynoldsian UK Hard Trance sound if you're interested.
Central Control – Thundering hard techno on Re-Entry, Mark Tyler's sub-label to No Entry. I've used this as a bridging track from the previous hard trance tunes because, although techno, it has some nice swooshing pads. Hard techno with spacey atmospherics always works for me. Not too sure who Axis was, I think it was an associate of Mark Tyler who released a few tracks over the years, but never any major anthems.
Re-Animate – Speaking of anonymous producers, I have no clue whatsoever who Igor Fahrenheit and Hans Delbruck are. They did a few releases on Havok, and an excellent remix of 'I'm Comin' Hardcore' that I used on Squat Rocking 2. This is a quality dark tune, sinister tinkling pianos over thundering beats. Havok was an awesome label, being the outgrowth of Manchester's Total Havok night. I went down there once with a busload of Edinburgh folk when Steve Pace from Apex was playing. Total mayhem! Of course, I had an exam the Monday after, so maybe it wasn't the best idea, but hey, you're only young once, right??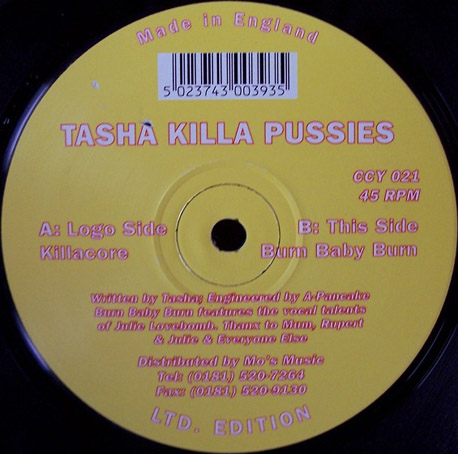 Burn Baby Burn – After a couple of hard techno tracks, next up is a slightly bouncier techno-trance tune from Tasha Killer Pussies. Tasha was a dj/producer back in the 90's who was affiliated with the whole London acid techno mob, although she was a bit more commercial, I guess. Actually, she predates even my interest in the scene, since I think she had stopped releasing tunes by the time I started seriously buying acid in about 1998. She did do an Essential Mix for Radio 1 back in 1997 that might be of interest, covering trance, acid, and techno (download link here, tracklisting here). This tune is a nice bridging tune taking the mix from hard techno to hard house.
Propaganda 303 (Base Graffiti Remix) – Up next is another great remix from the Godlike Dom Sweeten. I don't need to go into too much depth, but if you like his signature style, this is everything you'd expect, plus a big bag of acid. Awesome.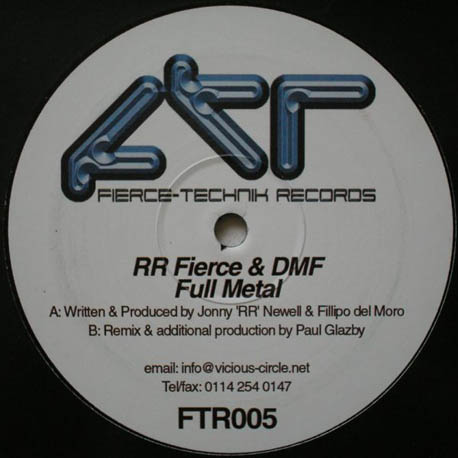 Full Metal (Paul Glazby Remix) – Here's Paul Glazby's remix of RR Fierce & DMF's classic Full Metal, released posthumously after RR Fierce's sad death in Australia. In all honesty, it's pretty similar to the original, just with a different beat. This isn't a bad thing, really, since why should you fuck with perfection?
Plague – The Lou Cypher project was canadian DJ S4 and his production partner Scott Charlwood, and back in 2003 they released a couple of awesome tunes on Kevin Energy's Synthetix label, which had been set up to showcase the darker side of the hard trance sound. I've always been a bit perplexed as to why they put out so few tunes, since the ones that did come out were so good. As you'll no doubt realize when you get to 'Plague' in the mix.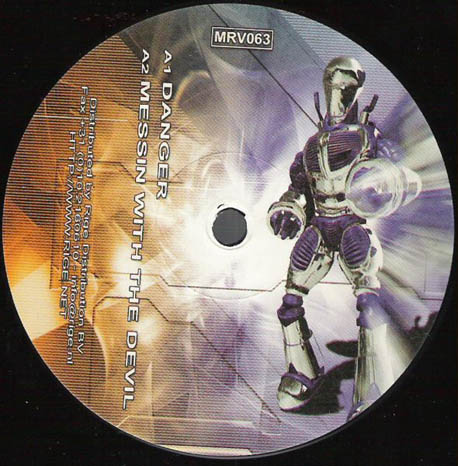 Messin With The Devil – Finally, to finish up, I've used a Dutch hardcore tune with a dramatic trance riff. Chills down the spine time.