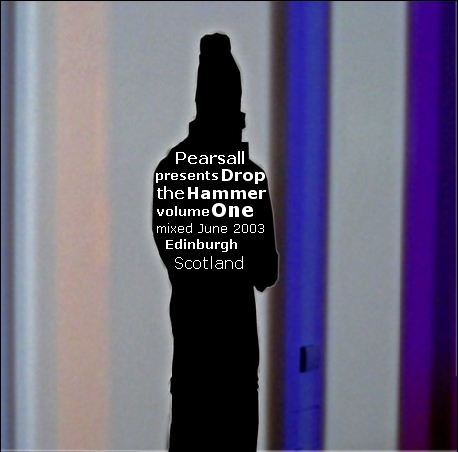 Mixed in Edinburgh, June 2003
(64:13, 101.44 MB, APX VBR MP3)
Style: drum n' bass from the mid to late 1990's
direct link to the mix:
http://www.mediafire.com/download/4vmafs1nj35oo5i/Pearsall-DropTheHammer1.mp3
Tracklisting:
01. P-Funk – P-Funk Era (diz1iz4yasoul) (Frontline)
02. DJ Red – Uprise (Trouble On Vinyl)
03. Adam F – Circles (Andy C Remix) (F-Jams)
04. Nemesis feat. DJ Kane – System (Renegade Hardware)
05. Gang Related & Mask – Dictation (Dope Dragon)
06. Ganja Cru – Can't Handle The Streets (Fear Mix 2) (Frontline)
07. Special K – Pressure Roll (Proper Talent)
08. A-Sides – Punks (Rewind Selector Mix) (Strictly Underground)
09. Tekniq – The Riot (Formation)
10. Mobb Deep – Shook Ones (DJ Zinc D&B Remix) (White Label)
11. Technical Itch – Rough & Tough (Moving Shadow)
12. Capone – Massive (Hard Leaders)
13. Adam F – Lighter Style (Section 5)
14. Dillinja – Deadly Deep Subs (Remix) (Razor's Edge)
15. Genotype – Extra-Terrestrial (Renegade Hardware)
16. Shogun – Together (John B Remix) (Renegade Hardware)
17. DJ Krust – Warhead (Ram Trilogy Remix) (V Recordings)
18. Nasty Habits – Shadow Boxing (The Remix) (31 Records)
19. Doc Scott – Tokyo Dawn (Earth)
20. Ed Rush – What's Up (No U-Turn)
21. Cybotron feat. Dillinja – Light Years (Prototype)
cover: slightly altered version of a picture I took in New York's Museum of Modern Art in April, 2008
I actually thought I'd lost this one, but I found the mini-disc last week and so here you go!
This mix features some of my favourite drum n' bass tracks from the mid to late 1990's, starting off with some rolling tunes before moving into jump-up and then to more darkside material.
Here are a few reviews from Discogs:
Shook Ones (Zinc D&B Remix):
moonmaniac, Jan 09, 2008

Zinc does what was needed with this one. Starts out with a hard breakbeat for the djs to mix it in and then you hear Prodigys infamous (pun intended) first verse. And along with it the classic guitarloop from the original. Zinc teases in the dishing amen with some delays & modulation effects and once Prodigys verse comes to the end. You have an awesome drop where the bass is loading up and then it hits you. A really hard bassline, a hard amen break and of course the classic hook. And there you have it, pure brilliance.

When you are dealing with an original which is going to have every hoodie-wearing 90s-hiphopjunkie bobbing their head, you just need to add that extra to make them bang their heads and also move their feet for once.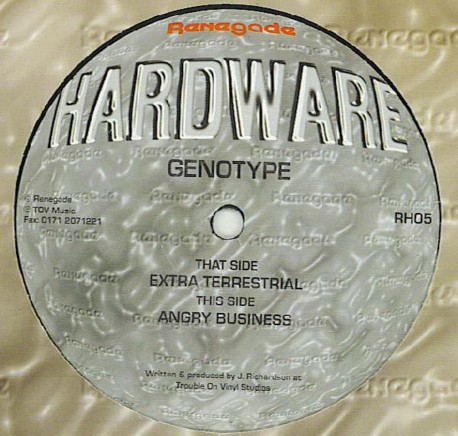 Extra-Terrestrial:
andreas, Jan 22, 2002

I'm suprised that this was rated with 2 because after being into drum n bass for 7 years this is the tune that typifies everything that d n b is for me. It blows you away, sensory overload no doubt, no other tune combines crisp yet fierce amens and powerful bass like it.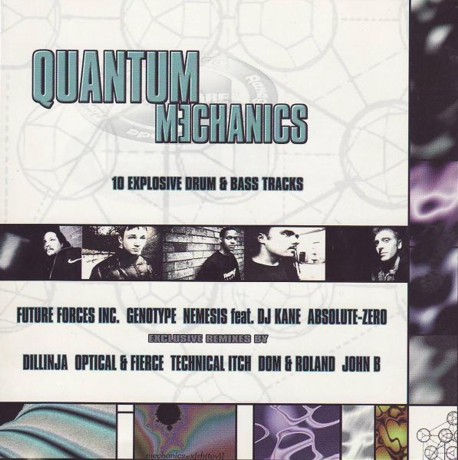 Quantum Mechanics (featuring the Together remix):
djjobrky, Apr 27, 2008

Oh my gosh!! This LP at the time was the measuring stick when it came to in you face hard and dark drum n bass. I have my personal faves from the 'The Germ' to John B's remix of 'Together'. Grooverider and Randall use to cain 'The Germ', and on a good system this sounded simply 'SICK'. This is what I call a screw your face up tune, hardstep darkness. The 'Together' remix is simply old skool John B at his best, and it's a shame he doesn't make drum n bass like this anymore. He could blend the rough with the smooth like no one else. There's other gems on here as well, the above were just my personal faves. A great LP, you need this in your collection!!
'Quantum Mechanics' also featured an amazing Dom & Roland remix of 'Extra-Terrestrial':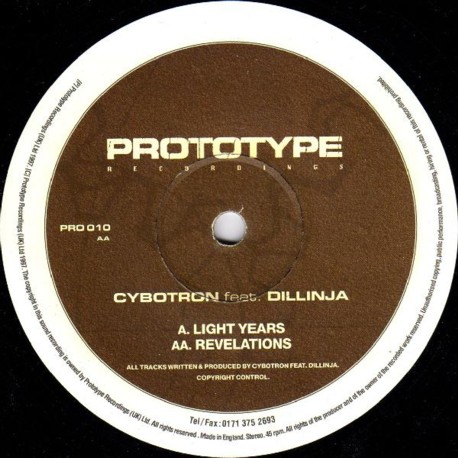 Light Years:
karlrichard, Jul 31, 2008

Dillinja's style rules with this release, and "Light Years" is the gem to check… What an awesome track! Amazing attention to detail, a great break beat workout (what an unusual yet killer break) layered with space aged synths and a bass so hard it kicks like an atom bomb. I still drop this with maximum effect…

"Light Years" was on dub plate for "time" before its release, and I remember people always asking what was the title was or who the artist is while dancing to this at Tempo and Metalheadz. Grooverider played this on many airwave mix session and it always rocked "IT" in just the right way…

Another testament to Karl Francis's abilities as a pioneer producer on the drum and bass scene. If you enjoyed his Deadly Vinyl excursions, then its worth hearing…