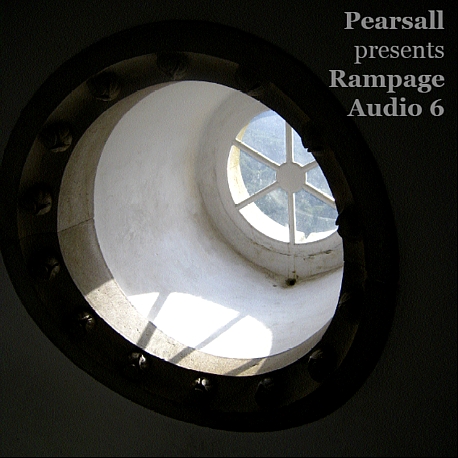 right-click, save as to download
Mixed in Edinburgh, April 2003
(72:16, 104.16 MB, V0 VBR MP3)
Style: techno, hard house, and hard trance
direct link to the mix:
http://www.sonicrampage.org/mixes/Audio/Pearsall-RampageAudio6.mp3
Tracklisting:
01. Tube-Tech – Tanz Der Familie (Eric Sneo Mix) (Beatdisaster)
02. Alex K. Katz – Untained Day (Construct Rhythm)
03. D.A.V.E. The Drummer – Hydraulix 17 (Hydraulix)
04. Akusmata X-Perience – Tokyo (Randgruppe)
05. Colin Barratt – You Know (Retek)
06. The Alien Thing – Ring My Bell (Bang On)
07. Unknown – Movement 001 (white label)
08. The Edison Factor – Hallucination (Rolf-a-licious Mix) (Freezing Point)
09. Olly Perris & Ashley Sinclair – Take A Ride (Nukleuz)
10. Chris Todd & Axis – Disconnect (Arktik)
11. Dynamic Intervention – Full Throttle (Dip)
12. Etienne Picard – Get Up (Beat Factory Remix) (G-Core)
13. Casper – Just Like Dynamite (Passion)
14. Kevin Energy & S4 – The Human Race (Synthetix)
15. Kevin Energy – Crescendos Of Ecstasy (160 Mix) (Nu Energy)
16. Ting, Orange Peel, Morf & Sunshine – The Shadow (Aving It Large)
17. Gary D & DJ High-Ko – D-Trance (DJ's Present)
18. E-NRG & Carbon Based – Illuminate (Electrolysis)
Cover image taken by myself in Sintra, Portugal, August 2008
The following essay was added on August 5th, 2009:
Like pretty much all of my hard dance mixes, this one gets faster as it goes along. This has been the method I have been following for years, and I think it works, and so I keep using it.
Is it cliched?
Obviously so.
I don't think that it really matters, though.
I think of each mix that I do as being a kind of story, a narrative acted out in sound. I know that sounds pretentious. Unfortunately, there's no way around it, because if you want to do anything well, you need to think through how you do it, as well as why you are doing it. When it comes to making mixes, especially with instrumental dance music, fundamentally what you are doing is using sound as a means of provoking an emotional response. As a dj you can manipulate this feeling over the course of the mix in a variety of ways – through altering the texture, the atmosphere, the intensity, and the tempo of the records.
Some people work with a broad palette – they create eclectic mixes where hip-hop rubs up against rock, house flips into old school electro, and so on, like DJ Craze's mix for Fabriclive. Others will march through the genres, like the Scratch Perverts' recent Beatdown mix, which starts with dubstep before pushing through fidget/electro house to drum n' bass. I, on the other hand, generally prefer to makes mixes that either contain a single genre or that work with closely-related genres, with a good example being the mix above, which starts with techno and then works through the harder side of hard house and hard trance to furious Finnish freeform.
Since I make genre mixes I think that many of the same principles that apply to genre fiction also apply to the mixes that I do. In each of the different forms of genre fiction – crime, horror, science-fiction, etc – there are certain structures that repeat themselves across thousands of books, narrative devices that advance the story and keep the reader turning the pages. I used to read a lot of crime novels by people like Carl Hiassen, Ian Rankin, Elmore Leonard, and so on, and part of what I enjoyed about them was that although I knew the basic structures and could pretty much guess the overall flow of things it was always interesting to see the little details, how they filled in the blanks. Obviously the stories in and of themselves are interesting, but observing how they manipulated the basic elements of genre fiction to keep the reader entertained was a big part of the fun for me. It's such not an easy thing to do, to work within a clearly delineated framework and keep things interesting.
Just as the conventions of different types of genre fiction vary, so the same applies to the genre mixes I do. I approach mixes of, say, drum n' bass and dubstep in a different way from which I approach mixes of the various hard dance styles (an umbrella term for hard/acid trance, hard house/nu-nrg, hard/acid techno, hardstyle, and freeform harcore, or any combination thereof). Partly the approach is a mechanical one relating to mixing (as I discussed in my Wobble City essay), because certain genres lend themselves more to quick mixing between many tracks, whilst others can only require long mixes between fewer tracks. Partly it also a question of personal aesthetics. I think that drum n' bass and dubstep mixes can cycle between different vibes (ie dark -> light -> dark) within the course of a mix without suffering in any way, whereas a hard trance mix that gets slower, lighter or mellower in any way makes no sense to me.
Thus every single one of my hard dance mixes gets harder and faster as it goes along, because I have found that that is the single best way to generate and maintain excitement and energy over the course of a mix. When I do a hard dance mix I always try to follow a couple of key principles in order to make it entertaining. The first principle that I try to adhere to when I make a hard dance mix is that I am creating a whole product, a sonic narrative, something to be listened to from beginning to end. Therefore it has to be more than just a string of tracks; something other than here are my favourite records of the moment". Each track has to make sense in connection to both the previous and following tracks, and there needs to be a clear pathway from the beginning to the end of the mix. Moving from slower -> faster is a very efficient, and compelling, way to do this.
Rampage Audio 6 offers a textbook example of this process in action, as the beats per minute race up from 145 at the start to nearly 175 in just over 70 minutes of mental rave bangingness. The mix begins with four tracks of spiky, percussive hard techno before I flip into two tracks of techno-influenced hard house (the much-maligned 'techno hard house' fusion was pretty boring, but it occassionally threw up some good tracks), before progressing into hard NRG of steadily intensifying power, peaking at Casper's teeth-grindingly banging 'Just Like Dynamite'. After this the mix takes a turn towards hard trance and a sort of dark euphoria as the bpm's head past the 160 bpm mark, before finishing on a high with the absolutely mental 'Illuminate' by Finland's Carbon Based.
The second principle is that recording a mix is not the same thing as playing in a public setting. When you play out at a club/party/rave you are performing for the crowd. You may step up with an idea of what you want to play, but you can't really stick to it, because you have to observe the crowd and see what is working and be able to adjust as you go along. You aren't playing for yourself, so you can't be too egotistical about what you are playing. If people aren't enjoying what you are playing, you might as well switch it up (or you can just say fuck it, I suppose). When you record a mix you are not beholden to a crowd, you are not having to make sure that people are having fun, you can just follow your heart. Whenever I record a mix I generally get a bunch of records out, put them in an order that I think makes sense, and then have a go at it. Sometimes it works immediately, but more usually after the first go there are things that can be changed and improved upon, so I re-order the records and then go again.
Obviously it depends on the mix itself, since some of the mixes I have done involved much more serious planning than others. This one is a good example, since it was part of the Rampage Audio series of mixes that I did to try and score gigs. Since this was recorded so long ago it is hard to remember how many goes I had at it, but it was probably a fair number. Nothing wrong with pursuing excellence, I guess, as long as you know you can't achieve perfection.
The third principle is somewhat at odds with the previous one, because the third thing that I always try to remember is that I want my mixes to have the excitement of a live mix. Often when you hear commercially-released mixes they sound so clinical, usually because they have been mixed on a computer, whereas mixes recorded live at clubs/raves have a certain raw energy to them. This is why I don't mind about little mistakes with beat-matching, because as long as they are only brief and lasting a short time period they just add a certain quirk to the proceedings. It is also why I also little cuts, tricks, spinbacks, and so on on the mixes, and why I chop and change between the tracks so quickly. So many commercially-released mixes are just compilations of segues from one track to the next right at the end of the tunes in question, and it's boring. This is obviously a matter of taste, since I have had people complain that my mixes have too much chopping and changing and that I mix out of tracks too quickly, but I get a bit bored with mixes where every track sticks around for 6-7 minutes. You might as well just listen to the tracks on their own!
This is also reason why I tend to bang the bpms right up on my hard dance mixes – too often the commercially-released mixes are less banging than what you would actually hear in a club. Why? I guess some people think full-blast club music is too hard for home listening, but if anything music sounds slower and less hard outside the club environment, so you aren't really replicating the intensity even if you play at the same speed. When you drop it down to sound less 'hectic' it just ends up sounding like a pale imitation.
The fourth principle, of course, is that any mix I record has to entertain me. Everything else flows from there!