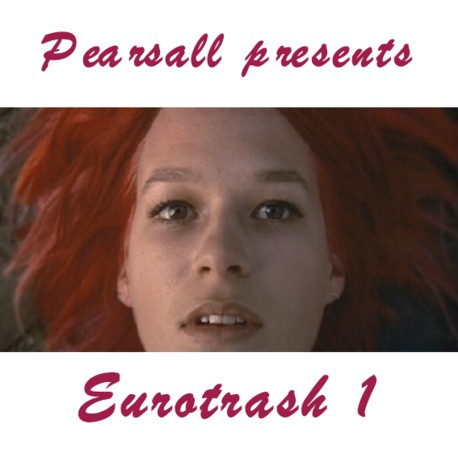 click to visit Mediafire and download
Mixed in London, March 2006
(72:21, 86 MB, V0 VBR MP3)
Zip pack (cut into individual tracks)
Cue file
Style: old-school European hard trance
direct link to the mix:
http://www.mediafire.com/download/y570mpbwenr92nl/Pearsall-Eurotrash1.mp3
Tracklisting:
01. Dominators – Future Is Now (Jetset Mix) (Nothing)
02. Nuw Idol – Kick Drum Domination (Well Wicked)
03. Sonic Tube – Switch Off (Organic)
04. Stormtraxx – My Acid Dream (Byte Progressive)
05. S.H.O.K.K. – Folie A Deux (DJ Natron Remix) (Pulse)
06. Blade Attack – Seelenwandler (Junk Project Remix) (Drizzly)
07. Dare Devils – Daredevil (Chaos)
08. DJ Scot Project – O (Arome Remix) (Overdose)
09. DJ Fire – Spirit of Techno (Dark Spirit Mix) (Sigma)
10. DJ Jo – Progressive (Club Mix) (Fog Area)
11. Heatseeker – Xplicit (Hard Trance Mix) (Clockwork)
12. Troop – Homecoming (Noom)
13. Kinetic A.T.O.M. – Borg Destroyer (Phuture Wax)
14. Brain 20 – Acid Motherfuckers (Junk Project Remix) (Brain)
15. Nuclear Hyde – Axis (Moon X.I.S.) (Noom)
16. Planet Fuse – Innocent Game (Egoist Mix) (Fuse)
17. Mass In Orbit – Overdrive (Hubble Mix) (Massive)
18. DJ Mind-X – Nightingale (Suspicious Remix) (Overdose)
19. Commander Tom – Are Am Eye? (95 Millennium Mix) (Noom)
This was yet another mix that I did that, similar to the Rampage Archives series, explored my love of European hard trance.
Like many of my other mixes, this one builds as it goes along getting faster, in this case from probably about 142 bpm (beats per minute) at the start up to about 158 bpm at the end. In a bit of an inversion of the usual pattern, the tunes on this mix get older as the mix goes on, a reflection of the fact that European hard trance slowed down drastically from the late 90's onwards. The earlier part of the mix has a certain number of tunes from after 2000 (including the brilliant hard acid trance remix of DJ Scot Project's cheese-tastic 'O'), while the second half is all from before the millennium.
Like many of my other mixes, this mixes up some absolute classics with some more obscure stuff. There are a few old M-Zone anthems on here, like 'Innocent Game' and 'Overdrive', and the '95 Millennium Mix' of 'Are Am Eye?' also samples the same James Bond strings that Robbie Williams nicked for his execrable 'Millennium', although Commander Tom got there first! Back before Discogs gave you ready access to pretty much anything ever produced I had to engage in protracted negotiations to get that tune (since only 500 were ever pressed), and it was something of a secret weapon, as every time that hoover riff came in after the strings the floor would go crazy! Killer tune.