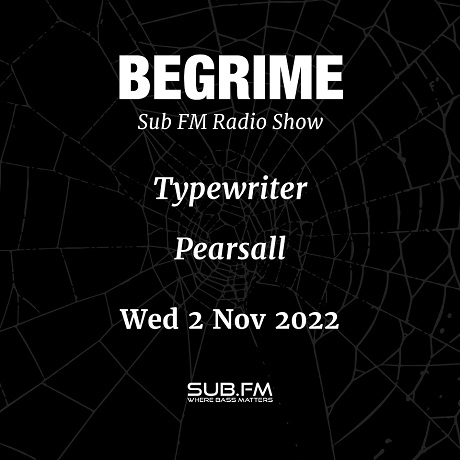 right-click, save as to download
Mixed in Berlin, November 2022
100% Vinyl
(59:56, 137 MB, 320 KBPS MP3)
Direct link to the file:
http://sonicrampage.org/mixes/begrime/Pearsall-TheWordOnTheStreet.mp3
Tracklisting:
Hey!
Here's my most recent mix for Begrime, the Berlin grime crew that I'm a part of. I originally did a version of this for the November 2, 2022 broadcast on Sub FM, but I decided to re-record it for the blog/Soundcloud.
This is a mix concept that I've had in my head for quite a long time, actually, and I'm excited to have finally done it, and, even more so that it's turned out (in my opinion, of course) quite nicely.
The idea of the mix was to look back at the mid-2000's period when grime was really taking off and pull together some interesting tracks released by (or remixed by) grime artists on non-grime labels, specifically on major labels as well as by well-known non-grime independent labels.
Obviously, this is a pretty niche topic! Like, I get it, it's ridiculous. But I thought it might make an interesting mix – looking at grime artists negotiating the line between underground street tunes and crossing over to more mainstream audiences. If you listen to this mix, you can hear this tension – you can hear some completely uncompromising tracks, as well as stuff with softer edges and more pop flourishes (like a couple of the Roll Deep tunes, which were released when they were signed to a major and releasing their debut album), although not yet as explicit as what came later in the late 2000's and early 2010's, when some grime artists crossed over to the mainstream with very polished grime-pop (which was, frankly, not really my thing, but you know, these guys gotta get paid).
For me as a dj, putting this mix together was quite interesting, and kind of an experiment. I've generally always been someone who plays instrumental tracks, and to the extent that I have played vocal tunes, they've been kind of sparingly sprinkled throughout my mixes. Even with grime, which is certainly a genre where the MC has been pushed to the forefront, I've normally mostly played instrumentals.
With this mix, I've chosen to do something different, and instead play mostly vocal tracks; indeed, there are only three instrumentals in this whole twenty-four track mix! This meant, in turn, that I couldn't actually mix the way I usually mix, and that I had to approach things differently.
Why?
Well, because first and foremost when you have two vocals layered over each other, it usually doesn't sound good! So as someone who normally likes to hang out in the mix, and keep two tracks running side-by-side for a while, this was not going to work here.
Trust me, I tried when I was practicing this, and it sounded terrible!
The second issue is that these tracks are quite short, and the vocals start early and end late, so there's very little margin for error.
Instead, I had to mix in and out very quickly, so it was more about getting the timing right, so that when switching between tracks it would sound good even if it was sudden. When you're in the mix for 15-20 seconds maximum, you can't make the transition sound silky smooth and seamless, it's always going to be a little bit jarring, but there are ways to make it sound fun and surprising, energizing even.
That's what I've tried to do!
It's a departure for me, but one that I think is pretty fun – I'm quite happy with how it's turned out, and it's always cool when I turn an idea that's been lurking in my head for a few years into a fully realized mix.