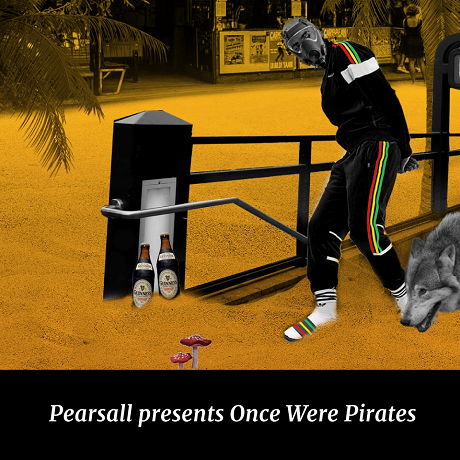 right-click, save as to download this free mp3 mix
Mixed in Berlin, August 2021
100% Vinyl
(61:16, 140 MB, 320 kbps mp3)
Direct link to the mix:
http://sonicrampage.org/mixes/begrime/Pearsall-OnceWerePirates.mp3
Tracklisting: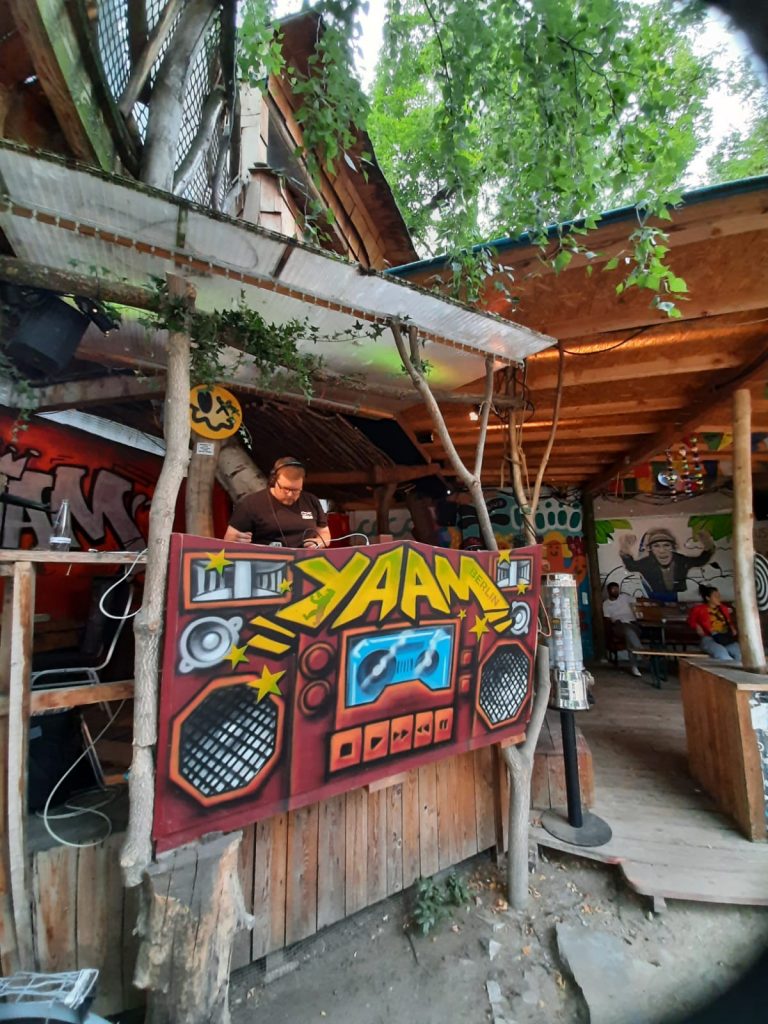 This is a little mix that I did last month after feeling quite inspired by having played for Begrime at the YAAM outdoor beach bar (ok 'beach' is relative), by the banks of the River Spree in Friedrichshain.
If you're not familiar with Yaam, it's a sprawling riverside club/bar complex dedicated to being a home for black music and culture in Berlin – it's probably most famous for hosting reggae and dancehall events, but really it has played home to all kinds of musical styles from across the African diaspora – from American hip-hop, soul, and funk to the various styles of the Caribbean to the many many many different flavors of African music. There's a bar by the river, various food stalls selling food from across the African diaspora (I had an ersatz Jamaican jerk chicken and rice and it was pretty bad so don't go to that stall!), basketball and volleyball courts, and all kinds of nooks and crannies that I never even explored.
Anyways, so Craig (aka Typewriter) set it up and asked me to come along and it was really fun! I played first, just playing a bunch of old grime records to a very disinterested beach crowd ( 😀 ) but it was nice to hear these tunes on a loud(ish) system,
After my set I hung around, met some people, had some (very mediocre) food, chatted, had a drink or two, wandered around, and then returned to the stage for the last hour when myself, Typewriter, and Bwoi went back to back, with Typewriter on Serato, Boi on CDJs, and myself on vinyl, with my ancient raw tunes matched up against their more modern stuff. It was an interesting clash and a lot of fun!
Unfortunately, due to the neighbors, the outdoor venue has a strict closing time of 10pm, so we could only go to 10, but it was a very refreshing experience to hear these old bangers played loud. They still sound raw as fuck!
So that was the inspiration for this mix – I made it a few days later because I was still really feeling the vibe. A lot of the tunes in this mix were tunes I played during my set. To be completely honest, it's not really that dissimilar from last year's That Pirate Energy, but I loved that mix and have listened to it tons of times, so I thought it would be a lot of fun to do a follow-up.
I know this mix won't get too many listens, but I'm really proud of it, as I think it encapsulates that special X factor that early grime had – it's maybe the weirdest, most off-kilter quote-unquote 'urban' music ever. The tunes on this mix are turns aggressive, enchanting, melodic, abrasive, banging, surprisingly soft, and sometimes just flat-out bizarre. Early grime was simply a period of unbelievable creative fertility!
Since this put me in the mood for thinking about early grime, I have decided to republish an old blog post of mine about the classic Ruff Sqwad mixtape, Guns & Roses Volume 1.
Yeah, I know this has been out for ages. But, well, so what?
Starting out absurdly young (they were all about 14-16 when their first big tunes came out) over the last couple of years Ruff Sqwad have put a constant stream of huge tunes. A full list would take some time, but they've dropped tunes like 'Misty Cold' 'R U Double F', 'Lethal Injection', 'Ur Love Feels' and 'Tings in Boots', amongst others. In that time they have become, in my humble opinion, one of London's finest grime crews. This is their first mixtape. And it's awesome.
Their producers, Dirty Danger and Rapid, have a lot to do with this. They love big sounds, like squawking guitars, massive horn fanfares, thunderous bass and clouds of synth noise, and they draw all these elements together into an ocean deep sonic stew, that is totally fresh and unique. Like Slicks said on 'Practice Hours', when you hear a Ruff Sqwad tune, you know who it is. Their mc's are less universally loved, but I think they are great. Lyrically, the stuff on this mixtape is, I guess, pretty standard (girls, hustling, we are the best, our beats are the best, we're gunmen, etc.) but they've got style and they work well with the music. Plus they have really unique voices, which I guess is down to them being (mostly) from African not West Indian backgrounds, and awe-inspiringly cool names like Tinchy Stryder and Shifty Rydoz. One of the things I like about them as mc's is that they are so serious, so composed. They have a unique style. They don't get hysterical like other crews tend to, they just keep on in an unruffled style, like they know they are on a long mission.
All the highlights on this are their own tunes, and I'll get to those in a minute. The lowlights are all freestyles over American rap beats. I know I have a bug up my ass about this ('bring me my exotic furrin music!') but I don't see the point of including some of the stuff they've included when I think about all the frankly incredible productions in their back catalogue they could have used for fresh freestyles. I mean, when you listen to, say, 'Future' with it's deep sea bass, horn explosions, and tinkling synths n' strings and then flick forward to the freestyle over Black Rob's 'Whoah!' (which is a pretty standard hip-hop beat) there is no comparison between the two. 'Lean Back' was a good beat, and Stryder is a good mc, but does anyone really need to hear it again? When you've made tracks like 'Muskateers' or 'Anna' or 'R U Double F' (none of which appear on here) why bother with stuff like Ludacris's 'Splash Waterfalls'? I know people want to appear versatile, but really, have some faith in your own talents, boys.
Don't get me wrong though, because even these are only relative lowlights. None of the American beats they used are really bad, they're listenable, they're just not on the same level as their own productions. Happily, though, the good moments are far more numerous than the bad ones. Like the whistles, weird kazoo-like noise, collapsing beat, and squealing bass that form the backbone of Dirty Danger's sex tales on 'Dirty'. Or the aforementioned 'Future' which is easily my favorite tune on the whole mixtape. Then there's the Sinogrime of 'Jampie', which features some delicate Chinese-y plinks and plonks, and also features Stamina Boy from Mucky Wolfpack and the godlike Trim from Roll Deep, who turns up and does his deep voiced word-twisting thing. Or the horn explosions and shoutouts to half the neighborhoods in London of the intro. Another favorite is 'Wide Awake' where Rapid lays out his plans for the future over an eerie piano-crusted hip-hop tempo beat. The Grimefather Wiley turns up as well, dropping a freestyle to warn off the haters, as well as allowing Ruff Sqwad to use his 'Morgue' and 'Ice Cream Man' beats.
All in all, this is a really really good mixtape. Obviously I have my reservations about some of the American rap beats they used, but there is a huge amount of good stuff on here. On the basis of this, the album which is (apparently) due sometime later this year should be absolutely huge. Well worth a purchase.