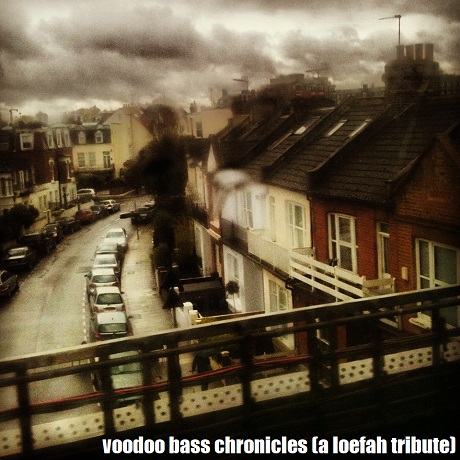 right-click, save as to download this free mp3 mix
Mixed in Berlin, November 2020
100% Vinyl
(51:36, 118 MB, 320 kbps mp3)
Direct link to the mix:
http://sonicrampage.org/mixes/loefah/Pearsall-VoodooBassChronicles(ALoefahTribute).mp3
Tracklisting:
London is bass.
Vast warm caverns of bass emanating from a dub soundystem in a South London community center. 1980's.
Half-time depth charges underlying frantically spiraling jungle breakbeats in a crowded room, horns blaring and lighters flaring. Mid 90's.
The soulful sounds of US house music reconstructed, sped up, toughened up, and underlaid with sticky webs of bass. Late 90's.
Rough-hewn beats overlaid with frantic lyrics, underpinned with spiky, angular shocks of bass. Beamed from tower block antennas to bedrooms and car radios across London. Mid-00's.
Twirling, swirling 808 slides riding under mournful chords and raw tales of London life, exploding on to the world stage via YouTube. Today.
And, of course, there was dubstep, which was and is purely about bass. Vast shockwaves of sub-bass. Giant ice sculptures of bass. Jagged cliffs of mid-range noise underpinned by oceans deep bass.
Perhaps the premium exponent of dubstep in its purest form is Loefah (or Peter Livingston to his parents) from Croydon, South London. One of the scene's original creators, part of the legendary DMZ crew, his sound is simple, but effective.
Massive breezeblock beats
Juddering walls of bass
The odd reggae, dancehall or hip-hop vocal sample
Maybe (maybe!) a melody
It's minimal, but it is deeply, deeply effective!
Also it makes it tricky to mix at times, because the tunes are so sparse and the rhythms are sometimes a bit off-kilter.
Listening to his music makes me think of giant lumbering robots slowly stomping their way across a landscape, devastating everything in their way with blasts of pure rumbling sub-bass.
This mix, then, is my summary of his sound, pulling together a whole bunch of his original productions, remixes, and collaborations. There are a few pretty obvious tunes that are missing, of course, but overall this should give you a flavor of Loefah's sound, or at least what he was producing in his early years. More recently he's been focused on working as a dj and on his label Swamp 81, which has featured a few of his more recent productions.
He also has a huge back catalogue of dubs that have never been released … maybe one day!
Here are a few personal favorites:
Man I would happily shell out for a proper vinyl box set of unreleased Loefah dubs!
Obviously listening on a home stereo system does not give the full effect, but I was pretty excited to finally put together this mix after years of wanting to do it. The trigger was getting (at last!) my hands on a copy of the classic double-sider 'Mud / Ruffage' courtesy of my good friend The Vinyl Pimp.
This mix also completes my series of DMZ tribute mixes, having already done mixes dedicated to Mala (including a second one) and Coki. One thing that I've always loved about the DMZ crew is how they each have such a unique personal take on dubstep – Coki's hyped-up midrange madness, Mala's throbbing dub energy, and Loefah's minimalistic steppers. Given how samey so much electronic music production has become in recent decades, carving out a unique niche is quite an achievement!
To round things off, check out this interview with the man himself:
Gonna try to push out a lot of music in December, so keep your ears open …