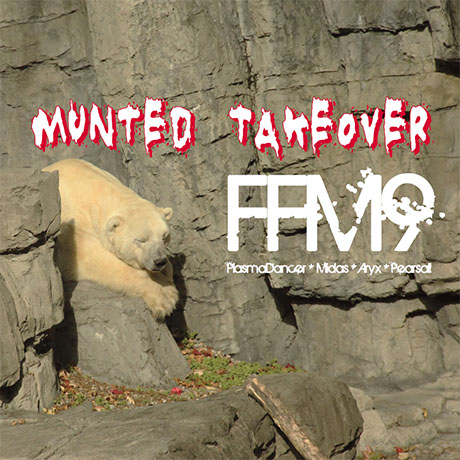 right-click, save as to download
Last week saw a very special edition of the Freeformaniacs show in honour of Munted presents Animal House, this Friday, June 7, 2013 at Union in Vauxhall, London! Two hours of real deal underground freeform music, featuring Plasma Dancer (Thank You For The Horse), Aryx (the Slovenian boy wonder), Midas (Munted/Scarred Digital) and Pearsall (Sonicrampage, and also, erm, me). This was originally due to include Douglas, but he wasn't able to participate in the end, so I literally stepped in at the last minute and recorded my half hour the night before transmission.
If you are going to the party tonight have a great time!
Style: Freeform
direct link to the mix:
http://sonicrampage.org/mixes/ffm9/FreeformaniacsRound9-MuntedTakeover.mp3
Plasma Dancer
01. Alek Szahala – Comet Catcher
02. Alek Szahala – Pink Magic
03. Suge – Terrible Oneness
04. Alek Szahala – Solar Hive
05. Carbon Based & Nemes – Heaven n' Hell (Alek Szahala Remix)
06. Alabaster – Acid Maker
07. Pain on Creation & DJ Rx – Super Sonic
08. Aryx – Polaris
Midas
09. Substanced & J-Mx – Flawless Victory
10. Substanced – Signal Lost (Endemic Remix)
11. Substanced – Seismic Activity (Transcend Remix)
12. A.B. & Amplitude – Thinking Machine (Douglas Remix)
13. CLSM – Wicked MC feat. MC Sharkey
14. Cube::Hard – Hold The Beat
15. Cube::Hard v CLSM – See You On The Other Side
Aryx
16. Aryx – Polaris
17. Aryx – Celestia
18. Aryx – Aurora
19. Aryx – Sylph
20. Aryx – The Golden Chariot (Unfinished)
21. Substanced – The End of All Things (Aryx Remix)
Pearsall
22. Qygen – Silicon Skies ft Leo Hartley
23. Dani Delirio – Neo Tokyo
24. Guld – Castle In The Sky Remix
25. Substanced – Damage Point
26. Nomic – Rift
27. Le Dos-On – Marionette
28. Penguin Conspiracy – Reality Distortion Field
29. A.B. & Nick 235 – Future's Past Feat. Rhona
30. Le Dos-On – Yksisarvinen
31. Epyx & Cyrez – Sound Of The Golden Clarion (Le Dos-On Remix)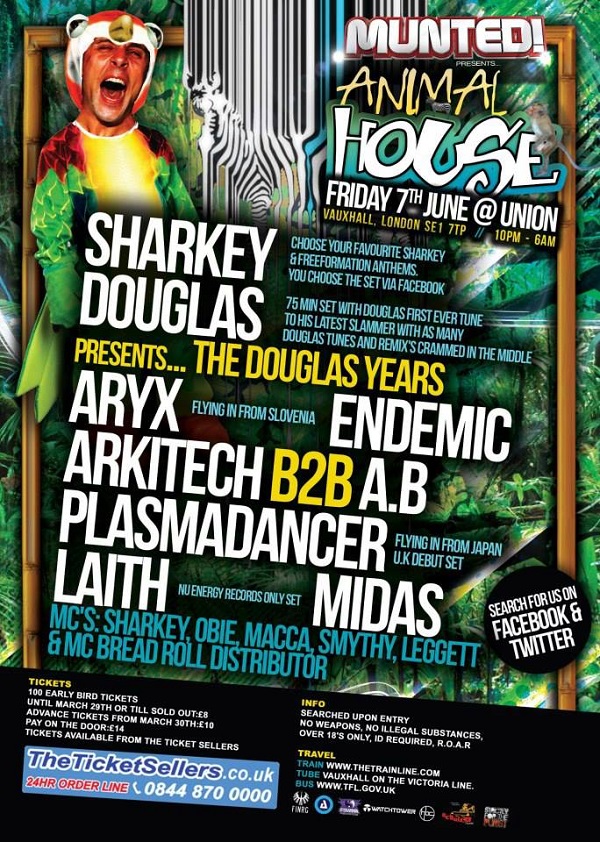 Oi Oi Munters! here we go with our next event and first event of 2013.

This is THE ANIMAL HOUSE!

Calling all Badgers,Llamas,Monkeys,Parrots and any other animal to come and be locked in the animal House for 8 hours of Munted! animal fun.

Come and join Munted! HQ and dress up as any animal you want and let's get messy together in the Munted! zoo.

The venue for this Munted! madness is Union in Vauxhall London.

We thought long and hard about what Animal from our scene we could get out and the biggest animal in our minds for the last 17 years is the one and only dj/mc SHARKEY.
Come witness Sharkey in a one off set from the legend.

LINE UP:

SHARKEY (U choose the set from SHARKEY and FREEFORMATION classics!)
DOUGLAS Presents……… THE DOUGLAS YEARS! 75min set from Douglas' first tune to his latest tune with as many douglas tunes and remixes he can cram in the middle
ARYX Flying in from Slovenia
ENDEMIC
ARKITECH B2B A.B.
PLASMADANCER The FINRG badboy flying in from Japan for his U.K debut set
LAITH Nu Energy Records Only set
MIDAS

MC'S: SHARKEY,OBIE,MACCA,SMYTHY,LEGGETT & MC BREAD ROLL DISTRIBUTOR

*NOW* Also we are pleased to announce we will have the very talented and very beautiful ADDICTED DANCERS dancing for you!

Buy your £10 advance tickets here

Then once they have all gone there will be a small amount of spaces on the door for £14