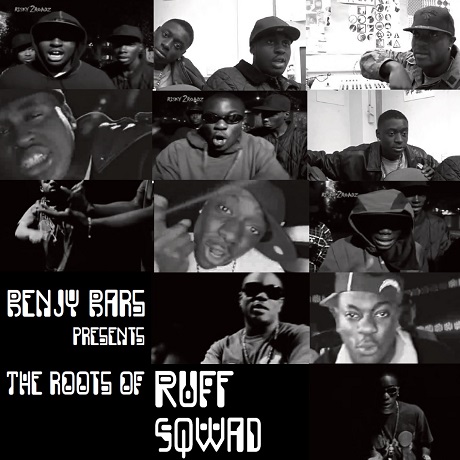 Right-Click, Save As to Download
Mixed in London, May 2013
(54:19, 99.6 MB, 256 KBPS MP3)
Style: Freeform
Direct link to the mix: http://sonicrampage.org/guestmixes/bb/BenjyBars-TheRootsOfRuffSqwad.mp3
Tracklisting:
01. Ruff Sqwad – Anna (Instrumental)
02. Ruff Sqwad – Anna (Instrumental)
03. Ruff Sqwad – Tings in Boots (Instrumental)
04. Ruff Sqwad – Tings in Boots (Vocal)
05. Ruff Sqwad – Together (Instrumental)
06. Ruff Sqwad – Together ft. Wiley (Vocal)
07. Ruff Sqwad – No Bass
08. Ruff Sqwad – Xtra (Vocal)
09. Ruff Sqwad – Underground (Instrumental)
10. Ruff Sqwad – Underground (Vocal)
11. Ruff Sqwad – Awake (Instrumental)
12. Ruff Sqwad – Awake (Vocal)
13. Ruff Sqwad – It's Nuffin (Instrumental)
14. Ruff Sqwad – It's Nuffin ft Roll Deep (Vocal)
15. Ruff Sqwad – Down (Instrumental)
16. Ruff Sqwad – Down (Vocal)
17. Ruff Sqwad – Clio remix
18. Ruff Sqwad – Pied Piper (Skepta Remix)
19. Ruff Sqwad – Pied Piper (Gods Gift vocal)
20. Ruff Sqwad – Pied Piper (Scratchy Vocal)
21. Ruff Sqwad – Pied Piper (Stryder Vocal)
22. Ruff Sqwad – From a Place (Instrumental)
23. Ruff Sqwad – From a Place (Vocal)
24. Ruff Sqwad – Misty Cold
25. Ruff Sqwad – Lethal Injection
26. Ruff Sqwad – An Ting
27. Ruff Sqwad – Functions on the Low
Enjoy this mix? Please consider making a donation to help support Sonicrampage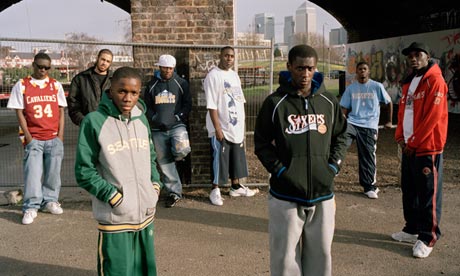 Over the last year or so Benjy Bars has been posting on Soundcloud an awesome series of mixes called "The Roots of …", each of which is a perfectly-formed little tribute to some of the key early figures in dubstep and grime, such as Dizzee Rascal, Mala, Coki, Skream, Wiley, Loefah, and more. I've been a big fan of the mixes, so a little while back I got in touch with Benjy to see if he would be up for one of the mixes appearing here at Sonicrampage as a guest mix, and since we are both big fans of East London grime heroes Ruff Sqwad, I'm quite pleased to host Benjy's The Roots of Ruff Sqwad.
Enjoy!
Pearsall: Firstly, Benjybars, the basics: who? What? Where? When? How?
Benjy Bars: Ben Caldwell, just the wrong side of 30, grew up in South East London but have been living in North London since I was 16.
What's the thinking behind your 'Roots Of …' series?
Well, I suppose I kind of nicked it from Martin Clarke (Blackdown) and whoever else was behind the Roots of EL-B release on Tempa … but yeah I always like mixes which have a proper focus to them; these mixes give you a chance to see how a producer's output has changed/developed over the years.
Have you had any feedback from any of the artists that you have featured in the 'Roots Of …' series?
Yeah, Plasticman (Plastician) put it on his Facebook page and bigged it up, which was good of him, and I think maybe a couple of others might have tweeted the mixes but I'm not on Twitter so I'm not too sure … I should probably get on Twitter really, innit!
Your 'Roots of …' series has looked at both early grime and early dubstep … do you have a favorite?
Dunno – too hard to choose. The hype and energy of classic grime is ridiculous, but then I've got a lot of love for the early work of Skream, Loefah, Benga, Mala etc …
If you mean have I got a favourite mix from the Roots of series, then probably the Loefah one just cos it was the first one and I'd never really seen his Rephlex/Big Apple tracks in one mix before.
In my personal opinion, Ruff Sqwad were, alongside Wiley, the finest and most consistent producers of the early grime period. Where do you see them in the grime pantheon?
Yeah, definitely – although maybe not strictly 'early' grime cos then we'd be talking about Oddz, Eastwood, Alias, Youngstar etc … but yeah, best crew in grime. Others would argue that classic NASTY crew era hold that title but for me it's Ruff Sqwad, no doubt – their Sunday night sets on Rinse in summer of 2005 … fuck.
Ruff Sqwad producer showdown: Dirty Danger or Rapid?
Rapid. The way he uses horns is sick. Badman producer.
Favorite Ruff Sqwad mc?
Probably Rapid as well actually. He almost sounds like an old skool garage MC sometimes – simple but effective style, although I remember a period in early '06 when Slicks just went nuts and looked like he was gonna become the greatest MC in the world, but then he kind of fell off. I liked Fuda Guy a lot too; his 'Easy man …' bars were the biggest in the scene for a while there.
And Mad Max … what happened to him?!?
Favorite ever Ruff Sqwad tune?
Hmm … fuck! Probably Anna. Those horns! Sick video for that tune as well. Pied Piper and Functions on the Low are also well up there.
What's the thinking behind the structure of the mix, i.e. moving from instrumentals to vocals throughout the mix?
Just a good way to give equal exposure to the riddims and the bars, I suppose.
Boring tech question: what gear do you use to record your mixes?
Traktor with a controller. Not to boast, but I had the sickest record collection of grime and dubstep … literally impeccable! Got really skint, though, and had to sell it all. Ripped everything first, though, so my mp3 collection is saying a lot!
How did you get into grime in the first place?
Just through radio mainly! I should have been much more into it from far earlier really, specially growing up and living where I did. I had a friend in college who went to all the classic early grime raves like Heartless Crew clashing Pay As You Go etc etc, and I remember hearing people spit early Dizzee bars ('boxin MCs like my name was Frank'!) but I dunno … I think I just generally wasn't into music as much back then, but then sometime in 2004 I started to hear grime on radio more regularly and I had another mate who was into it as well. Then from late '04 to early '06 I was pretty much obsessed – I just listened to everything I possibly could.
Then later in '06 i started to hear dubstep sets on Rinse that would come on in between Roll Deep and Ruff Sqwad sets or whatever, and I finally made it down to FWD in summer '06 and saw plenty of MCs down there in the next year or so … but I'm not gonna lie I reckon I missed the golden age of grime, in terms of raves at least – although I did see Dizzee at FWD with Tubby playin loads of dubs, and i saw a few classic Skepta and Plasticman sets so I can't complain too much I suppose!
What mixes do you have planned for the future?
I wanna do a Shackleton one, and a Pinch one, and a Ramadanman one, and a Newham Generals … maybe some more …
Check out more of Benjy Bars' mixes at Soundcloud!