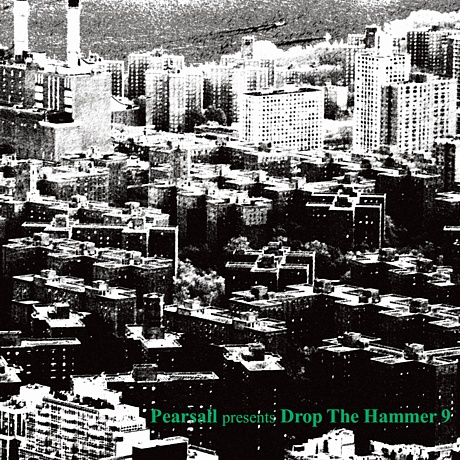 right-click on the title and save as to download
Mixed in London in December 2012, using 100% vinyl on two Technics 1210's and a Pioneer DJM600 mixer
(44:17, 102 MB, 320 KBPS MP3)
Large cover
Cue file
Zip pack (split into separate tracks)
Style: UK Bass/UK Funky
Direct link to the mix: http://sonicrampage.org/mixes/dth9/Pearsall-DropTheHammer9.mp3
Tracklisting:
01. Cooly G – Love Dub Refix (Hyperdub)
02. Roska – Squark (Rinse)
03. Ikonika – Idiot (Altered Natives Remix) (Hyperdub)
04. Hard House Banton – Sirens (Spoilt Rotten)
05. Emvee – Glitch Dub (Wireblock)
06. DVA – Ganja (Hyperdub)
07. Roska – Holograph (Fantastic Four)
08. Lil Silva – Night Skanker (Night Slugs)
09. DJ Zinc – Nexx (Bingo Bass)
10. MJ Cole – Volcano Riddim (Prolific)
11. Roska – Time Stamp (Rinse)
12. DJ Zinc – 128 Trek (Bingo Bass)
13. L-Vis 1990 – United Groove (MJ Cole Remix) (Cheap Thrills)
14. Cosmin TRG – Twilight Riddim (Tempa)
15. Lil Silva – No Hooks (Night Slugs)
16. DJ Zinc – Wile Out feat Ms Dynamite (Bingo Bass)
17. Ikonika – Aqueous Cream (Hum + Buzz)
18. Boddika – Boddika's House (Naked Lunch)
19. Zomby – Rumours & Revolutions (Brainmath)
20. Modeselektor – Art & Cash (SBTRKT Remix) (50 Weapons)
Enjoy this mix? Please consider making a donation to help support Sonicrampage
Cover: A view from the Empire State Building of Manhattan's Lower East Side, taken November 2012
2013!
Exciting times!
Sorry I haven't been doing more posting recently, but my wife has just started training to be a professional chef, so I've taken up some of the slack at home, which has meant less time for blogging. I do have some treats in store, though, with a vintage acid mix in the can for February's Old School Mix Marathon V on DI.fm (check out last year's edition here), as well as a two hour mix of new(ish) freeform for next week's Freeformaniacs – I've even borrowed some cdj's to do that one! In terms of site content, I also have a review of 2012 to come, as well as some ideas for mixes in 2013 that I would love feedback on, plus I've started putting the feelers out for new guest mixes, and the one and only Girdler Synthetic has promised some exciting hard trance tribute mixes.
First, though, I'd like to kick off 2013 with a new edition of my Drop The Hammer series of crate-digging mixes. Previous mixes have covered drum n' bass, electro, breaks, dubstep, and grime, and this time around I thought that it would be fun to pull together some of my favorite UK Bass/UK Funky tunes from a couple years back. As ever with this series, and, really, all of my mixes, this mix arose out of me wanting to listen to these particular tunes. Which is why you'll notice that the 20 tracks on this mix come from a relatively small number of artists – they're my faves in this style, so I thought there was no reason not to use their tunes.
As mentioned before, I always have different mix concepts floating around my head, so it's just a matter of picking what feels right for the moment, and with this mix I wanted to do something … funky. Or, well, funkier than my usual. Last year, especially the second half, was pretty dominated by hard and fast stuff, so I really wanted to put together something lighter, more percussive, more melodic, funkier. Who knows, maybe even girls might like this mix!?!
I'm quite a big fan of this percussive, bass-heavy style of music that has emerged over the last few years, especially as disillusioned dubstep and drum n' bass producers have started putting their own spins on the timeless dancefloor sounds of house music. These tunes ride a fine line between house, electro, and techno, delivering bassy fun without getting too cheesy, as I explained when I did my Tast The Rainbow mix back at the tail end of 2011. It was also a hell of a lot of fun to mix them together, because these tunes blend so beautifully … I was in full dad dancing mode behind the decks!
Honestly, that's about all I have to say about this mix. There is no grand thinking or conceptual heavy lifting going on – I just wanted to put these tunes together in a mix for me to listen to. That's it.