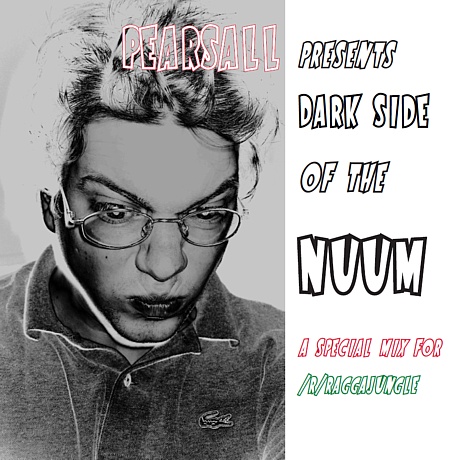 right-click on the title and save as to download
Mixed in London in September 2012, using 100% vinyl on two Technics 1210's and a Pioneer DJM600 mixer
(29:51, 70 MB, 320 KBPS MP3)
Large cover
Cue file
Zip pack (split into separate tracks)
Style: Classic ragga jungle sounds
Direct link to the mix: http://sonicrampage.org/mixes/dsn/Pearsall-DarkSideOfTheNuum.mp3
Tracklisting:
01. Cool Hand Flex – Mercy Mercy (In Touch)
02. Smokey Joe – Special Request (Labello Blanco)
03. Undercover Agent – Dub Plate Circles (Juice)
04. Marvellous Cain – Dub Plate Style (Suburban Base)
05. DJ Trace – Final Chapta (Chronic Mix) (Dee Jay Recordings)
06. Capone – Massive (Hard Leaders)
07. Krome & Time – Studio One Lik (Tearin Vinyl)
08. Trinity – I Selassie I (Artical Mix) (Chronic)
09. DJ Hype – Dub Plate Fever (Suburban Base)
10. Marvellous Cain – The Hitman (Dream Team Remix) (IQ)
11. DJ Dextrous & Rude Boy Keith – Wicked (Suburban Base)
12. MA2 – Hearing Is Believing (Formation)
13. Brainkillers – Screwface (3rd Party)
14. Remarc – Drum N Bass Wise (Remix) (White House)
Enjoy this mix? Please consider making a donation to help support Sonicrampage
Cover: Self-portrait, June 2004 (how time flies!)
Content content content!
That's what the next little period at Sonicrampage is all about … fresh content!
This new content frenzy kicked off yesterday with TROTA's Secret World, and continues today with this new mix from myself: 30 minutes of the choicest ragga jungle chopped together ninja style. But that's not all! Still to come in the next week are a tribute to legendary acid trance label Eve Records by Johan Nilsson, as well as my own 90 minute tribute to the one and only DJ Zinc.
It's a very very exciting week!
So, what's this mix all about?
Well, it's my entry into a little mix competition being hosted on the /r/raggajungle subreddit on Reddit, the extremely popular (and awesome) social news website. Over the last couple months I've really gotten into Reddit, so I thought it only fair to name the mix after my own username DarkSideOfTheNuum. For those who are curious, the name is a reference to Simon Reynolds' concept of the hardcore continuum, i.e. the ever-changing face of London dance music from hardcore in the early 90's through jungle, drum n' bass, UK Garage, grime, dubstep, to the various UK Bass mutations of today.
In terms of the comp itself, when I saw it advertised, I figured it would be fun to enter, especially since it has been a while since I did a full on jungle mix.
Which is why late yesterday afternoon I picked out a bunch of records, stood in front of the decks, hit record, and then proceeded to chop my way through 14 tunes in the allotted 30 minutes … no mean feat, considering how tricky some of these early tunes are to mix! In terms of the thinking behind the mix, I started off with a couple of rollers before unleashing the smashing Amen drums, because I wanted to mix things up a bit and I figured that there was no point in making a mix that was pure tear off your face business. Secondly, I also wanted to avoid the temptation to just cane a load of anthems, so I've tried to keep things varied by including some more obscure, but still really good, tunes alongside some of the more obvious classics. Thirdly, I also didn't want to repeat any of the selections made for my Street Dreams mix, which I did back in 2010 (if you like this mix, you should definitely check that one out too). Finally, in terms of the actual nuts and bolts of the mixing, I have kept to my usual style of mixing, which is always about doing something a bit more energetic and exciting than just smoothly segueing from track to track every five minutes or so – but given the time constraints, I just turned up my hyperactive mixing style another notch!
All in all, I'm very pleased with this mix, and even if it doesn't win the competition, I still think it's pretty fucking good stuff.
Respect to all the original producers, to the /r/raggajungle mods, and to all the junglists around the world!