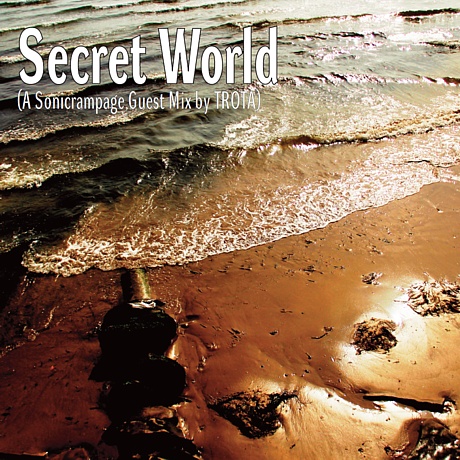 right-click on the title and save as to download
Mixed September 2012
(107:29, 246 MB, 320 KBPS MP3)
Style: Old Skool European Hard Trance
Direct link to the mix: http://sonicrampage.org/guestmixes/trota/Trota-SecretWorld(SonicrampageGuestMix).mp3
Tracklisting:
01. Perplexer – Da Capo (Video Mix) (Urban)
02. Hitch-Hiker & Dumont – 2nd Dimension (Bonzai)
03. Hitch-Hiker & Dumont – New Dimension (Bonzai)
04. DJ Energy – Believer (Rave Version) (Energetic)
05. General Base – Rhythm & Drums (Part One) (Roughmix)
06. Jam & Spoon present Hands On Yello – Gotta Say Yes To Another Excess (Urban)
07. Circuit – Transport Of Love (Frankfurt Beat)
08. Atomic Junkies – One Way Out (EDM)
09. Paraphonatic – The Past, The Present, The Future (DJ Mellow-D's Pure NRG Remix) (EDM)
10. Steve Baltes – Naked Brunch (Le Petit Prince)
11. Ray & G.OD. – Walkin '97 (The Apex '97 Remix) (Colourbox)
12. Ravelab – Seeing Is Believing (LiTime)
13. Sequential One – Hands Up (Rough Technology)
14. Timo Maas – The Final Excess (Rave Mix) (LiTime)
15. Mega 'Lo Mania – Emotion (No Respect)
16. Wickee – Daisy's Reaction (Bull)
17. Forcefield – Monster Monster (Hyper Hype)
18. M-Zone – Reality (Teach Yourself Techno)
19. Indris – People Of The World (Ozone)
20. Virus – Sun (Jam El Mar Mix) (Perfecto Fluoro)
21. Omniglobe – Mind Out (NOW!)
22. BBE – Seven Days And One Week (Positiva)
23. Tibet Team Frankfurt – Ocean Paradise (Nautilus Remix) (Fog Area)
24. DJ Webster – The Race (Important Raver)
25. Penalty Phase – Odysee (Dos Or Die)
26. Emphasis – Retro Master (Voodoo)
27. Dream Plant – The Mighty Machine (Prolekult)
28. R-Damski – Ma' Friend (Ma' Friend Da Biz-Mix) (Overdrive)
29. D.O.M. – Lightspeed (Stay Up Forever)
30. Mo-Tune – Infinite Climax (Hyper Hype)
31. Scooter – Back In Time (Club Tools)
32. Cyclone Tracy – Piano In Trance (Friends)
Like this mix and the other mixes on the site? Please consider donating to Sonicrampage
I'm now very proud to present another fresh guest mix, this time from Scarborough's Craig Trotter, aka DJ TROTA!
He's a dj whose sets I have enjoyed for a while – he's another guy who happily crosses musical boundaries, from drum n' bass to freeform to techno to the kind of glorious vintage hard trance featured on this mix.
Serious music!
Now for a few words with Craig:
Pearsall: You play all kinds of stuff, what's your favorite genre?
TROTA: Favourite genre – now thats a hard one!
I simply love all styles of music and find it is great to listen to different genres depending on your frame of mind, but if I was to pick I think it would be drum & bass/atmospheric, but if you ask me that same question in a month it will probably be different!
What kind of music did you start out playing, and how have your tastes and your style evolved over the time that you have been a dj?
OK, the music I started out dj-ing and what got me inspired as a youth would be hardcore/oldskool hard trance, just like this mix I have done really –
in terms of hardcore more the Dutch stuff and early Scott Brown but I also liked and collected the cheese!
Then from there I got into trance and a bit of techno then drum & bass also had me hooked, but by 2001 I found something new – this was hardstyle! M-Zone rocked when I first saw him play it at Dizstruxshon at Baths Hall in Scunthorpe, but unfortunately, like anything, after a few years this scene was flooded with loads of shit productions and every man and his dog was playing it!
So i moved into uk hardcore, but at the same time I was going back to my roots playing other styles like I do now, but the good thing now is not only have I built up a great record collection, but the more recent genres of music I play I can buy on wav or mp3 so I can buy more music!
That was the only thing with vinyl – I do not regret collecting it, obviously, and I do go back from time to time and play it, but it was expensive and you could only buy what your record shop had in.
Thanks for doing this mix! Tell me a bit about it – how did you record it (i.e. vinyl? CD? Serato? Something else?), and what was the thinking behind it, in terms of track selection, programming, and mix structure?
The mix was recorded on 2x Technics 1210 mk3, an Allen & Heath XOne DB4 mixer, 2x Pioneer cdj 2000, then into Audacity for recording.
The thinking behind the mix … basically, it takes me back to what I was listening to when I was growing up, the likes of M-Zone, Noya, Mark EG, Top Groove, Kenny Sharp, and all of the old Distruxshon/Uprising sort of stuff.
With the programming and mix structure I wanted to have a journey through two different styles, with the first half featuring the more upbeat M-Zone stuff if you like, then the second half's deeper, on that acid tip more like Noya-style sets.
I have tried to do this mix like all my mixes – I mix it the way I want to hear it!
Favorite gigs?
My favourite gig was in my home town back in 2005 at an event called Northern Upraw, where i had the chance to play before Noya and M-Zone, as well as Joey Riot, Sy, Brisk and a few others i can't remember the names of.
To be honest I haven't had a lot of sets and the last time I played was in 2006.
You're very active on Soundcloud – are you happy to share a few tips for any other dj's looking to promote themselves through Soundcloud?
Soundcloud is a great place with top people – the best way to make yourself active is to make time for other people! You comment on their stuff you never know they may comment on yours!
If you could play one set anywhere in the world, where would it be and what would you play?
If I could play anywhere in the world it would probably be Time Warp, just because it is supposed to be an unreal place to play, top sound system, top djs, and a comfortable 10,000 capacity in the main arena!
Finally, thanks for the mix and for answering the questions! Anything more you would like to add?
Thank Randall for inviting me and a big thanks in advance to anyone who will appreciate what I tried to do with this mix.