Girdler Synthetic presents The Acid Roundabout Volumes 1-3
Three mixes of banging London acid techno from Paul Girdler aka Girdler Synthetic aka half of Penguin Conspiracy
For quicker navigation:
The Acid Roundabout Volume 1
The Acid Roundabout Volume 2
The Acid Roundabout Volume 3
Happy Sunday! Hope you're all having a good weekend so far.
For me, not so good, really, as I've been laid low with a cold (boo-hoo), which meant that yesterday I didn't, as planned, re-record the third edition of my Morally Diminished series. I had a first go at it two weeks ago but after having listened to it for a bit I've decided that it could do with a slightly reshuffled tracklisting, because although the mixing was fine I thought the flow could be improved slightly. Since a gunked-up nose, a sore throat, and a fuzzy brain are not really conducive to chopping up funky techno, it's been unavoidably delayed for at least another week or two.
Even so, I didn't want to get through the weekend without offering up something cool, so, following on from the great feedback about his Weirdo tribute mix, I'm very happy to present all three volumes of Girdler Synthetic's The Acid Roundabout series of London acid techno mixes. Since these mixes are available elsewhere as single mp3's, I've put up links to them, but I'm hosting the zip packs of chopped tracks for your own audio pleasure, plus I've provided covers and cue files.
As with my own Squat Rocking mixes, these are unashamed tributes to the pop-pupilled madness of the London free party scene, pure firing 303 rave mayhem – definitely not the kind of music Simon Cowell will be featuring on his new dj talent show!
Which, of course, is a big part of what makes it so good – this is not music that makes compromises for mass appeal.
If you like these mixes, make sure you check out the new Penguin Conspiracy album, Machines of Love and Grace (right).
Enjoy!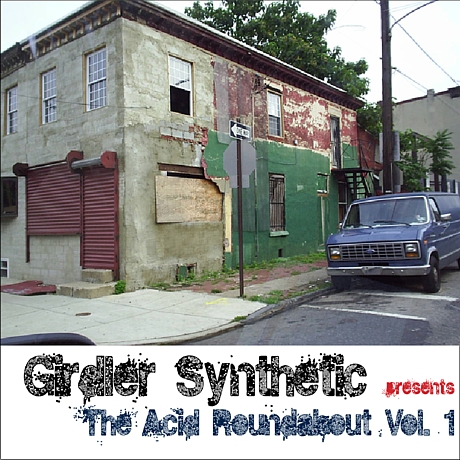 Girdler Synthetic presents The Acid Roundabout Vol. 1
Mixed in 2008
(78:27, 71.83 MB, 128kbps MP3)
Style: Acid Techno
Single mp3 file (Download it at the Electronic Exposed site)
Zip file (split into separate tracks)
Cue file
Large cover
Tracklisting:
01. Kev's E'Nut – The Weekend (Engage Remix) (Turtle Trax)
02. Tarball & Lungbutter – Sonic Erupter (Bionic Orange)
03. Dynamo City – Bomb In Your Ass (Stay Up Forever)
04. Chris Liberator & The Geezer – 303 Power (Smitten)
05. Audio Pancake – Detox (Smitten)
06. Geezer – The Long & Short Of It (Smitten)
07. Dirty Blonde – Son Of A Crack Whore (Havok)
08. Chris Liberator – Cat's Eye (Prolekult)
09. Trip Hazard – Gottagetoutofit (Stay Up Forever)
10. Pile Driver – V.U. Meter (Cluster)
11. Rozzer's Dog – The Pusher, The Pimp & The Panther (Stay Up Forever)
12. Secret Hero – Build Up The Pressure (Stay Up Forever)
13. Star Power – X-Ray OK (Stay Up Forever)
14. Dogs On Rope – Buzz Saw (Organgrinder)
15. Gizelle – PVC Perversion (Havok)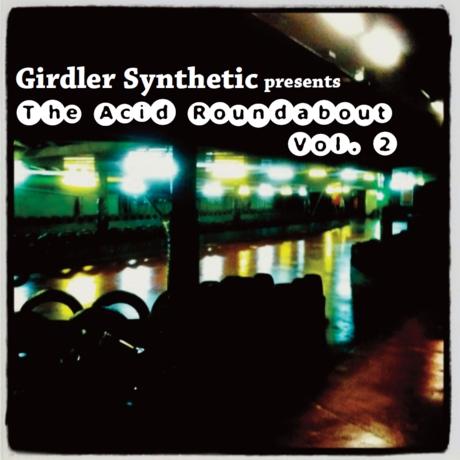 Girdler Synthetic presents The Acid Roundabout Vol. 2
Mixed in 2008
(79:24, 72.7 MB, 128kbps MP3)
Style: Acid Techno
Single mp3 file (Download it at the Electronica Exposed site)
Zip file (split into separate tracks)
Cue file
Large cover
Tracklisting:
01. Cosmic Trigger – The Oracle (Stay Up Forever)
02. Carbine – It's Funky But It Ain't House (Stay Up Forever)
03. Time Stretch Armstrong – Fuel For The Fire (Stay Up Forever)
04. Site Breakers – Hash Fudge Dave (Stay Up Forever)
05. Trip Hazard – One Drug (Stay Up Forever)
06. Thera – Balti (Boscaland)
07. Vibe Bar Rejects – Mardy Alan (Smitten)
08. The Weathermen – Pressure Cell (Boscaland)
09. A&E Dept – The Antidote (Cluster)
10. D.A.V.E. The Drummer – Barbed Wire 303 (Boscaland)
11. Lochi – London Acid City (Routemaster)
12. Rozzer's Dog – Viagra Falls (Stay Up Forever)
13. Magnum Force – Unlucky Punk (Stay Up Forever)
14. Rozzer's Dog – World War 303 (Stay Up Forever)
15. DDR & The Geezer – Spades (C.O.S.H.H.)
16. Well Paid Scientists – To The Batrave … Let's Go! (C.O.S.H.H.)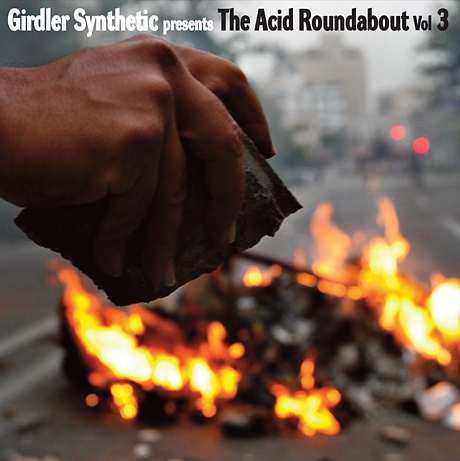 Girdler Synthetic presents The Acid Roundabout Vol. 3
Mixed in 2011
(78:07, 178.82 MB, 320kbps MP3)
Style: Acid Techno
Single mp3 file (From Sendspace)
Zip file (split into separate tracks)
Cue file
Large cover
Tracklisting:
01. A&E Dept – Experiment 4 (Stay Up Forever)
02. Chris Liberator & Sterling Moss – Impact (Wah Wah)
03. D.A.V.E. The Drummer – Freedom Fighter (Smitten)
04. Kektex – Inner City Junkies (Routemaster)
05. Jamie C – Shitbag (Stay Up Forever Projects)
06. D.A.V.E. The Drummer & KN – Jack Me (Stay Up Forever)
07. DDR – F.U.N.K.
08. Chris Liberator, Sterling Moss & Maxx – Deadly Swine (Cluster)
09. Pig Snorter – My 909's Got A Picture Of Chris Liberator On It (Routemaster)
10. Balloonheads – Balloonism (Smitten)
11. Syndrome – MFT (D.A.V.E. The Drummer Remix) (Scythe Squadron)
12. Temperature Drop – Mosquito's Tweeter (Cluster)
13. Magnum Force – Blow The Bloody Doors Off (Stay Up Forever)
14. Acid Steve & DDR – Raves Like This (Avinit)
15. Tarball & Lungbutter – Out There (Smitten)
16. Well Paid Scientists – BuzzBomb (C.O.S.H.H.)
17. Captain Tinrib & Dynamic Intervention – Found What We're Lookin' 4 (D.A.V.E. The Drummer Remix) (Vicious Circle)
18. Chris Liberator & Sterling Moss – Acid Techno Wah Wah (Wah Wah)