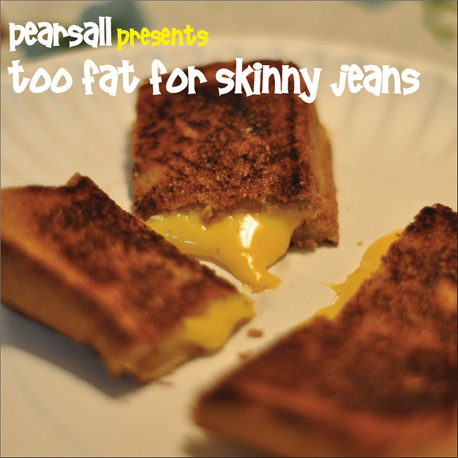 right-click on the title and save as to download
Mixed in Edinburgh, March 2010
(66:27, 121.1 MB, V0 VBR MP3)
Zip pack (cut into individual tracks)
Big cover
Cue file
Style: electro, fidget and bassline house
Direct link to the mix:
http://sonicrampage.org/mixes/toofat/Pearsall-TooFatForSkinnyJeans.mp3
Tracklisting:
01. Fast Eddie – Yo Yo Get Funky (Tim Healey & Deekline Mix) (Giant Pussy Records)
02. Detboi – Y'All Want Mo (Cheap Thrills)
03. Beat Assassins – Direct Hit VIP (Calvertron Remix) (Mofo)
04. Diplo – Wassup Wassup ft. Rye Rye (Crookers Remix) (Mad Decent)
05. Fake Blood – Mars (Lektroluv)
06. DJ Zinc – Nu Sound (Bingo Bass)
07. Crookers – Put Your Hands On Me (Jesse Rose Play Prime Remix) (Southern Fried)
08. Martin Solveig & Dragonette – Boys & Girls (Laidback Luke Dub) (d:vision)
09. Sound Of Stereo – Zipper (Lektroluv)
10. Tiga – Beep Beep Beep (Crookers Remix) (Different)
11. Hervé & Jack Beats – Rainstick (Hervé's Bushfire Remix) (Cheap Thrills)
12. Rack n' Ruin – Do One (Future Perfect)
13. Acid Girls – The Numbers Song (iheartcomix)
14. Boys Noize – Transmission (Tiga Remix) (Boysnoize Records)
15. Proxy – Who Are You? (Turbo)
16. DJ Zinc – Killa Sound ft. No Lay (Bingo Bass)
17. Rico Tubbs – Hip Rave Anthem (Cheap Thrills)
18. Double 99 – RIPGroove (Tim Deluxe's 2006 Version) (Skint)
19. Baobinga – State of Ghetto Jackin ft. DJ Nasty (Trouble & Bass)
20. Dizzee Rascal & Armand Van Helden – Bonkers (Dirtee Stank)
21. Machines Don't Care – Drop It To The Floor (Machines Don't Care)
22. AC Slater – Jack Got Jacked (Jack Beats Remix) (La Musique Fait La Force)
23. Project Bassline – Drop The Pressure (Cheap Thrills)
24. Piddy Py – Giggle Riddim (Dress 2 Sweat)
25. Mr Virgo – Hipnotiq (Instrumental Mix) (Strickly Bangorz)
26. Rude Kid – Jack Daniels (No Hats No Hoods)
27. Skepta – Dupps (Pirate Sessions Recordings)
28. Rossi B & Luca – Don't Cry Soundbwoy (ID Remix) (Heavy Artillery)
29. Diplo & Blaqstarr – Get Off (Jack Beats Remix) (Mad Decent)
30. Aquasky – Outta Control (Instrumental) (Passenger)
Cover: "Grilled Cheese" image used with the kind permission of the photographer, Marco Parc
Enjoy this mix? Click here to leave a comment
I love stupid music.
Whether it's stupid pounding acid trance, or stupid wobbly dubstep, or stupid tearout drum n' bass, or just flat-out stupid maniac hardcore, there's nothing I love more than unashamedly partytastic dance music with a healthy side order of stupid.
And the tunes on this mix are nothing if not stupid … which is great!
Massive wobbling basslines, strange buzzing electro sounds, cliched rap samples, drum rolls, fluffy rave synths, all bolted to a thumping four-to-the-floor house pulse. What's not to love?
Sure, the 'real house music' purists react to this stuff like a vampire would to a family-sized garlic bread soaked in Holy Water, but, well, we can safely ignore them, no?
Anyways, I capital-L LOVE this stuff, and so I've really enjoyed putting together this mix. It originally started out as a half-hour mix called 'Viking Quest', which I put together back in the Autumn as a collection of fidget house tracks (to whoever invented it: fidget house is a stupid genre name, by the way). I wanted to use the mix as a sort of mini-update, a bit in the way that I did Obsoleted last year, but I wasn't all that happy with it. I felt it needed a bit more variety, but I wasn't too sure what to do with it, so I decided to shelve it until I could come up with a better concept.
Anyways, by early March I had spent a bit of time pondering it and I had decided that the best way to pad the mix out to a full length would be by pulling in some other similar styles of hipster house, so I pulled out some electro house tunes and some bassline and even a little bit of 4/4 grime. Fun music.
Of course, coming up with the concept is different from executing it. Trying to mix 30 records in just over sixty minutes is a bit tricky, since you need to make sure to hit the right cue points and to get everything into time quickly and accurately. I ended up redoing this mix a few times to get it right, to a point where I felt happy with the flow of the tunes. Whenever I am working on a mix, I always listen to each version a few times before I decide whether or not to keep it. Sometimes it can all be pretty good but there will be one or two tunes that just don't sit right, and I'll find that I can't help going back and having another go.
Sometimes things are (literally!) out of my hands. At one point, I had to start this mix over because I was chopping the vertical faders so furiously that the toy on top of the left speaker fell off and knocked the needle clean off the record that was playing!
Although this final version is not quite perfect (since there are one or two slightly shaky moments), I am really pleased with it, and I hope you enjoy it too (and tell your friends!).
That's all from me in terms of words for this one; instead of my usual long essay I decided to put together a little picture gallery of the whole mix process. All these pictures were taken using the Hipstamatic app for the iPhone, which gives iPhone pictures the quality of pictures from old school instant cameras. I thought it was kind of a neat concept, and I hope you like this little pictorial tour of the Pearsall mix process.