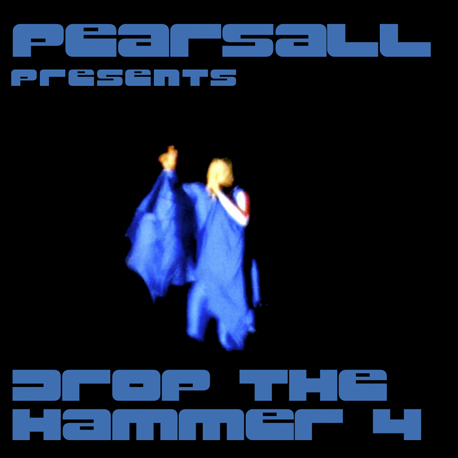 right-click on the title and save as to download
Mixed in London, May 2009
(48:06, 82.14 MB, V0 VBR MP3)
Large version of the cover
Cue file
Style: breaks
direct link to the mix:
http://www.sonicrampage.org/mixes/dth4/Pearsall-DropTheHammer4.mp3
Tracklisting:
01. Aquasky vs Masterblaster – Take It To The Floor (Shadow Cryptic)
02. Shimano – Baddest DJ VIP (Rat Records)
03. Aquasky vs Masterblaster – Wheels Of Steel (Passenger)
04. Jammin – Go DJ (Bingo Beats)
05. Autobots vs The Prodigy – In & Outa Space (White Label)
06. Hyper On Experience – Lords Of The Null Lines (Aquasky vs Masterblaster Remix) (Moving Shadow)
07. Backdraft – Lurker (Passenger)
08. Chase & Status – Wise Up (Bingo Beats)
09. Distortionz – Hitman (Hardcore Beats)
10. The Breakfastaz – The March (Cyberfunk)
11. Vinyl Junkie & Dope – Worries In The Dance (Ed209 Remix) (Warehouse Wax)
12. DJ Mutiny vs Shopliftas – Daily Operation (Hardcore Beats)
13. Baobinga – The Bashment Track (Cyberfunk)
14. DJ Deekline vs Freq Nasty – Every Posse And Crew (Dancefloor Bully Mix) (Rat Records)
15. The Insiders – Drums In The Deep (Vinyl Addiction Breaks)
16. Jammin – Hello (Bingo Beats)
17. Deekline & Wizard – Ill Street Blues ft Yolanda (Botchit & Scarper)
Drop The Hammer 4 by Pearsall on Mixcloud
Here's the darker, heavier breaks mix I promised back when I did Drop The Hammer 3. Funnily enough, when I did that one I said that it was intended as a palate-cleanser while I procrastinated over doing a longer mix, which is exactly the same scenario as this one! I have been through several drafts of a fresh dubstep mix, but I am having a bad case of perfectionism (I guess you'll see why when I finally finish the fucker!), so I decided to do this mix last weekend just to relieve the tension.
This was banged together in one take, and although it has one or two little mistakes, I'm really happy with it. It's got a lot of energy, and a nice live, unrehearsed feeling to it. Sometimes with mixes I spend a lot of time fussing over track order and getting very anal-retentive about the programming of the mixes, so it is occasionally nice to just hack something together off the cuff.
Personally, I always like a bit of roughness in my mixes. I listen to a lot of mix CD's, and sometimes I get a bit bored of the perfect smoothness that you get on most commercially-released mixes. I guess that's the result of using Ableton, but it's nice to hear a bit of the art of the dj, as opposed to just 15-16 tracks strung over 70 minutes blended smoothly and inoffensively. I like to hear a bit of fire! Hell, I don't mind hearing mistakes, because they happen to everyone and they put the rest of the mix into context. Everyone screws up, so if you hear a little mistake you know that the rest of the mix is for real, and that the dj is actually working and hasn't just given some tracks to an engineer to sequence in Pro Tools or Ableton or whatever before wandering off for some drinks/spliffs/crack.
Not that this was a totally unplanned mix. I had put them in a (rough) order (although a changed a few tracks around in the course of the mix), but I hadn't thought through how I was going to mix them. I just hit record and went with it!
I suppose it's my techno roots, but I always enjoy mixing quickly (and I also have a bit of a low attention span for this kind of music), so I've fired through these 17 tunes quite quickly. If you are the type of person who likes to hear the full length of a track this mix is probably not for you! On the other hand, if you like lots of cuts and constant bassline-switching mayhem, you will probably enjoy this very much.
I'm certainly in the second camp – I've been rocking this mix constantly for the last couple of days on my iPod.
Sonically, it's certainly not innovative stuff, and I make no bones about it. It's kind of the ugly step-brother to the Drop The Hammer 3, being all gnarly basslines and hard-hitting beats. I was briefly very into this kind of stuff when I was living in New York back in 2004/2005, before I ran out of money for imported vinyl. Anyways, this was the point at which you started seeing an influx of producers from drum n' bass and garage into breaks, bringing with them a tougher sound sharpened by the various flavours of UK street dance music. As a long-term fan of rough, nasty dance music in all its manifestations, not surprisingly I became a big fan quickly.
When I do mixes I usually try to build a kind of sonic narrative, even though I prefer to work within one genre in each mix, but with this one I have just gone for fifty minutes of straight up bangers. No shame in admitting it! I haven't even really bothered to reach for a variety of producers on this one, since when I was into this kind of thing I was mainly into what Aquasky, Jammin (aka Zinc), and Deekline (boss of both Rat and Hardcore Beats) were doing. Consider this a rather hectic time capsule.
If you want some more info on the sound from the producers that were really doing it for me at that time, check out these vintage interviews:
Deekline interview from February 2004
Aquasky interview from 2005
More new mixes soon, but in the meantime I hope you enjoy this mix!