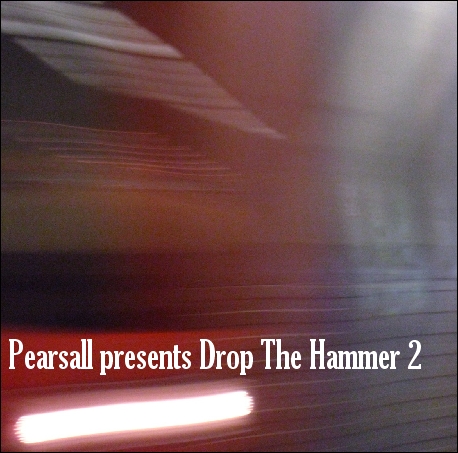 Mixed in London, July 2004
(77:54, 125.45 MB, V0 VBR MP3)
Style: breaks
direct link to the mix:
http://www.mediafire.com/listen/4iao26ofnwkmjew/Pearsall-DropTheHammer2.mp3
Tracklisting:
01. Beber & Tamra – Travelling On (Mob)
02. Leftfield – Open Out (DDB)
03. Lennie De Ice – We Are IE (Christian J Remix) (Distinctive Breaks)
04. Decoder & Substance – No More Music (Mesc)
05. Blu Mar Ten – The Swarm (TCR)
06. C83 – Twisted Logic feat. Tamra (En:Vision Recordings)
07. Midi-M.A. – The Colombian Rides Again (Squelch)
08. Freq Nasty vs Public Enemy – Amp The Noise (Y4K)
09. Altern8 vs Autobots – Infiltrate 202 (White)
10. Tom's Doubt – Just Fuck (White)
11. Deekline & Wizard – 4x4x4 feat. David Elliott (Botchit & Scarper)
12. The Breakfastaz – Hold Up (Cyberfunk)
13. Distortionz – Slingshot (Hardcore Beats)
14. Backdraft – Headcharge (Downbeat)
15. Humanoid – Stakker Humanoid (Plump DJ's Remix) (Jumpin' & Pumpin')
16. Aquasky vs Masterblaster – Megatron (Passenger)
17. Quiet Killaz – Critical Level (Distinctive Breaks)
18. Ed209 – Blow A Fuze (Wireframe)
19. DJ Quest – Gravelmuncha (Distortionz Remix) (Cyberfunk)
20. Baitercell & Schumacher – What's Down Low (Aquasky vs Masterblaster Remix) (Passenger)
21. The Breakfastaz – Mass Distraction feat. Shahla (Cyberfunk)
22. Baby D – Let Me Boot Your Fantasy (DDB)
Cover image taken by myself in Lisbon, August 2008
This is a mix that I did several years ago when I was in a brief phase of being really into breaks. This was a bit of a passing fancy, lasting less than a year, so this ended up being the only full breaks mix I've ever done. The first 'Drop The Hammer' was an old-skool drum n' bass mix, but unfortunately I lost that one and I can't seem to locate the relevant mini-disc … which is a shame!
In fact, for a long time I thought that I had lost this mix as well, but recently when I was clearing out some stuff I found a copy of this on CD, which I have now re-ripped to nice quality variable bitrate MP3 for your audio pleasure. Unfortunately, there are a few glitches on this mix, which I am guessing were the result of my old PC screwing up when I was recording this from mini-disc onto my PC. Sadly I no longer have the original mini-disc that this was recorded onto so I can't fix this, but the glitches only occur a few times and never for more than a fraction of a second, so shouldn't ruin your enjoyment of the mix.
And I think you will enjoy this mix! Despite this being my only breaks mix, and being kind of an experiment, listening to this on my iPod over the last couple of weeks since I found the CD I have been very pleased by the quality of this mix. The programming and mixing are both excellent, and the tunes flow together nicely from light to dark, from stuff that is more influenced by electro to stuff that is very clearly indebted to drum n' bass, with a sizeable helping of bootlegs sprinkled though the mix.