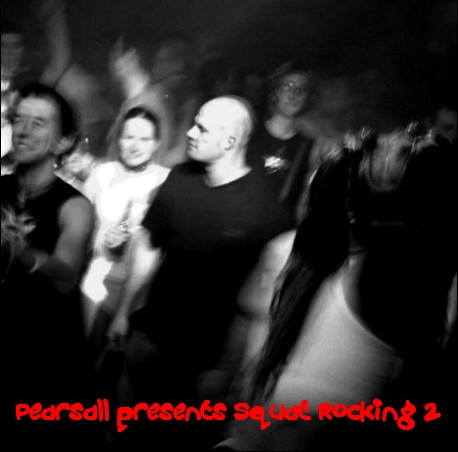 click to go to Mediafire and download
Mixed in London, March 2006
(73:44, 101 MB, 192 KBPS MP3)
Zip pack (cut into individual tracks)
Cue file
Style: acid techno
direct link to the mix:
http://www.mediafire.com/download/vdabkmyfumwxbjz/Pearsall-SquatRocking2.mp3
Tracklisting:
01. DJ Orange Peel – Crackhead (Organgrinder)
02. Cores – Matabu Part One (Noom)
03. Sentience – Robotics (Full Blown)
04. Kektex – Extasy Is Fantastic (Routemaster)
05. The Weathermen – Don't Stop (Boscaland)
06. Chris Liberator – Cat's Eye (Prolekult)
07. Dynamo City – Dynamo City (Stay Up Forever)
08. Audio Pancake – Detox (Smitten)
09. Dirty Blonde – Son Of A Crack Whore (Havok)
10. Dr. Octopus – Dr. Octopus (Quazar Remix) (Millennium)
11. A&E Department – White Widow (Stay Up Forever)
12. Uneven Surface – Slacker (Stay Up Forever)
13. Geezer – The Long & Short Of It (Smitten)
14. Audio Pancake – Pull The Trigger (Karmic)
15. M.A.N.I.C. – I'm Comin' Hardcore (Hans Delbruck & Igor Farenhiet Remix) (Teknik)
16. Lab 4 – Soul Fire (Elementary)
17. Well Paid Scientists – To The Batrave … Let's Go! (Coshh)
This is recycled from an old blog post, with a few tweaks.
Man, I love the sound of the Roland TB-303. It's one of those things I just don't get sick of. Ever ever ever. Perhaps the most over-used sound in dance music ever, it was originally created to function as a bassline generator for guitarists to play along to. It was, however, terrible for that purpose and mostly ended up on the scrapheap until the 80's Chicago house scene rediscovered it and realized that by messing around with the dials you could create some almost unimaginably (for this was the 80's after all) freaky sounds. What helped this even more was that the 303 riffs sounded absolutely batshit insane on large soundsystems and even more effective if (cough cough) you were a bit, um, refreshed. In the years since the sound of the silver box and its legion of hardware and software clones has become an essential part of the arsenal of dance music production, especially on the more boggle-eyed rave scenes.
Acid techno was my thing for a good couple years. It was the true ruling sound of the London illegal rave scene when I was going out in the late 1990's. Music at squat parties ranged (and ranges) from jungle/drum n' bass to gabba to psychedelic trance and even (sometimes) stuff like dub reggae and punk rock, but the king sound when I was going out on that scene was always stuff like this. Completely manic acid techno/trance. The sort of tunes that anal-retentive techno purists hated with a passion. Not funky, not stylish, never danced to by reed-thin models in oversized sunglasses, it existed in a zone beyond fashion. In fact, many of the same guys behind these records (pretty much all of which are now at least five years old, if not older) are still at it today, tweaking dials and playing records to crusties in warehouses. You have to admire staying power like that.
Beads of sweat bulge on his brow and his voice, which has reached fever pitch, cracks occasionally. "Get out of here," yells the man in his thirties. "You lot are spoiling it for everyone else. Take your drugs and clear off."

The object of his fury is a small clan of shifty-looking 18 and 19-year-olds who have been peddling crack cocaine to revellers at a socalled "squat party" in a Camden office building owned by Viacom Europe, parent company of music channel MTV.

The cold light of a new day would later reveal that the building had been "trashed" by hundreds of party goers.

But for now, there is a tense stand-off between the organisers and the crack pushers. As a firsttime reveller with no experience of illegal parties but an awareness of the close relationship between crack dealing and guns, I can feel the beginnings of panic rising in my throat.

I am standing on a mezzanine level, a relatively safe vantage point. But I know that there is only one exit, and getting to it involves descending a spiral staircase and squeezing past the flashpoint.

By now, the music has been killed and industrial strength lights have flooded the murky building. A crowd of more than 100 dancers watches the action, and another 50 or so are watching with me from above.

The message is very clear: you lot are not welcome and until you leave, the party is over.

In the unused open-plan office complex, filing cabinets and desks have been pushed aside, electricity meters have been bridged and impressive sound systems have been rigged up on all four floors.

A bar has been fashioned out of what was once the reception, and marker pen written straight onto the wall lists the menu: beer £1.50, alcopops £1.50, Coke and water £1. The bar staff, a ravaged, pierced blonde and a handful of baseballcapped youths, share lines of white powder on the counter.