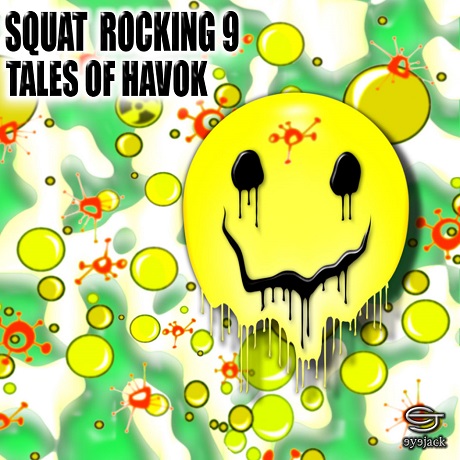 right-click, save as to download this free mp3 mix
Mixed in Berlin, March 2019
100% Vinyl
(85:11. 124 MB, V0 VBR MP3)
Style: Acid Techno
Direct link to the mix:
http://sonicrampage.org/mixes/sqr9/Pearsall-SquatRocking9-TalesOfHavok.mp3

Tracklisting:
Cover by Eyejack, aka Ross Waterston – he's been requesting this mix for a while, and now it's here. Hope you enjoyed it, old friend!
It's been quite some time since my last Squat Rocking mix, so it was only right that I return to the fold with the series' first label tribute – and so it is my great pleasure to present to you this tribute to the absolutely bonkers Havok, Mancunian purveyors of some of the finest hard acid techno to ever grace vinyl. Not just a label, Havok was also for a while one of the leading underground techno nights in the UK, and the following is about my one visit there.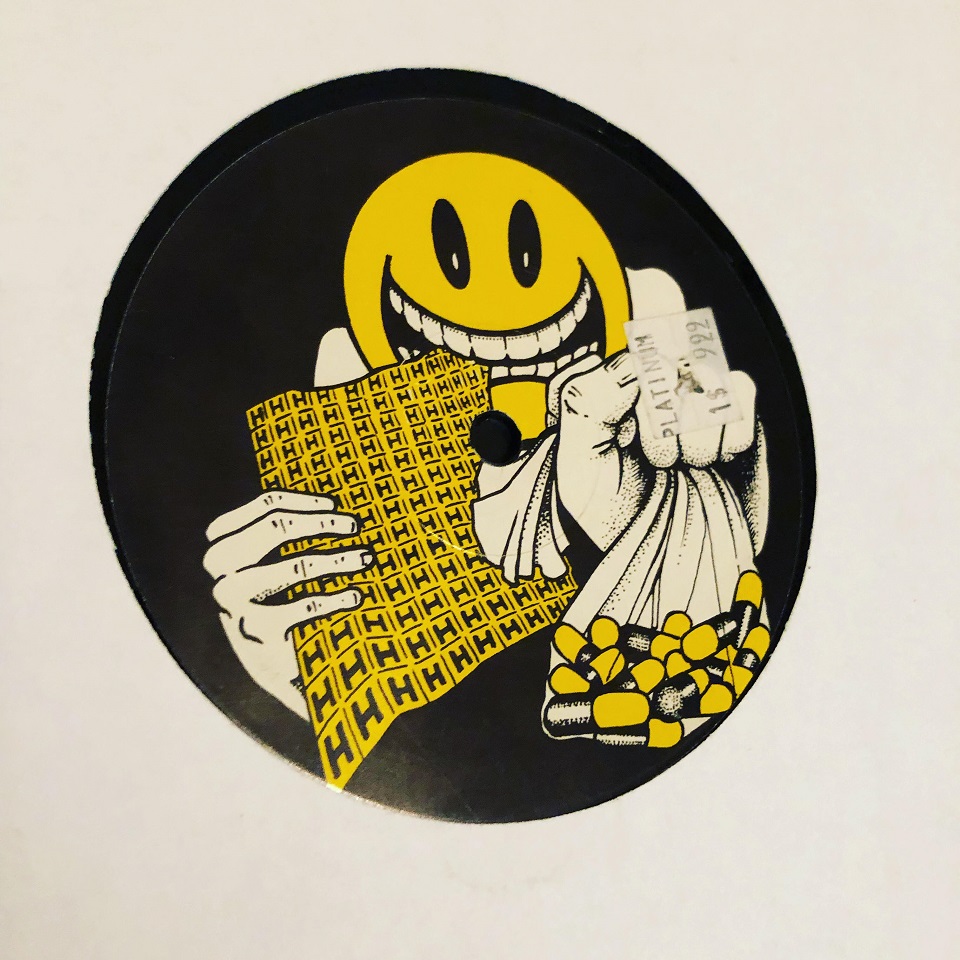 June 2000, Edinburgh – I'm standing on Calton Road in the middle of a Friday afternoon, getting ready to get on a bus to Manchester with a whole big crew of Scottish ravers. True, my first exam of my first year at university is only days away, but I am not going to miss this for anything as minor as studying – anyways, I'll just cram at the last minute and get the result I need. It'll be fine!
After all, how could I miss the chance to finally visit Havok in Manchester?
It's two years since the first time my friends dragged me to a squat party in London – an experience like passing through a looking class into a totally new world. That party was located in a dingy squat in Kennington, and my mind was blown by the scene. This was very different from the jungle raves or hard trance parties like Pendragon and Escape From Samsara that I had previously been attending!
At the time it felt like a life-changing experience – the vibe, the crowd, the freedom, and above all, the music. I couldn't get enough of this hard acid techno sound, and immediately began buying records and hunting down more info on this scene.
This was not so easy in the late 90's – you had to know which record shops to go to, which magazines to read, who to speak to. Slowly I had put the pieces together – not only was this sound happening in London at free parties and underground clubs but there was a whole network operating throughout the UK – events like Bristol's Ripsnorter, Birmingham's Citricity, Sheffield's Headcharge, Wolverhampton's Aura Orange, and many more whose names I have forgotten. Looming largest above them all, at least in my mind, was Manchester's Havok.
Why?
Their label!
And, Jesus, what a label.
The Havok label had that special mystique born from a coherent combination of design and music. Always sticking to a black and yellow palette, each release came with label art that reinterpreted the smiley in creative, humorous and even sinister ways. Sonically, their output was wild even by the unhinged standards of the underground acid techno scene. Furious bpm's, screaming acid and clanking percussion, but also willing to experiment and branch out into trance, breakbeat and minimal techno directions.
So there I was on Calton Road, outside Studio 24, standing there thinking that anybody who could release music like this probably knows how to throw a pretty fucking good party. And I am about to find this out.
The journey itself is pretty uneventful. Since arriving in Edinburgh I've become a regular at Studio 24, a nondescript building situated on a dingy strip of a warehouses and empty buildings at the foot of Calton Hill. It might not have looked like anything special from the outside, but it quickly became a home from home, where practically every weekend I eagerly streamed through the doors for serious raving at nights like Apex, Pillbox, and Subtle Logic. I'm still kind of a shy guy, but I've started making some friends and getting to know people, and I've already played twice at Apex. So my fellow travelers are not really strangers, but they also aren't really close friends. To be honest, I'm a bit of an outsider – I'm one of the younger people there and I am an American, but the great thing about this world is that even so I am welcomed with open arms.
We're all going down because Apex resident Steve Pace has been booked to play as the night's guest dj, which is a great excuse for us all to bunk off work and uni to check out the famous Havok.
It's a funny experience, sitting on the bus. The indulging starts pretty much immediately. I hold back because, well, I don't have the stamina and I'm a little unsure. The bus itself becomes a party – if you've got the day off work to travel hours away for the sake of a rave, why not make the most of it, eh?
Mixtapes on the bus soundsystem, hijinks in the back row, it's all good. I'm loosening up, laughing with the others. The only problem is that we get stuck on the motorway somewhere between Yorkshire and Lancashire – we were due to arrive at opening time but instead we will be late. It is what it is.
It's dark when we arrive in Manchester. The city flashes by, distinctly different from the Scottish capital. We pull up outside the club and we all race in and run up the stairs yelling. Everyone's looking at us, but it's an awesome moment to be a part of … and I'm not even Scottish! It's like Braveheart gone raving, but after nine months in Edinburgh I'm no longer surprised. No one parties harder or more enthusiastically than the Scots. I was used to going to fun raves in London, but the sheer euphoric abandon experienced every weekend at Studio 24 was something I wasn't ready for.
The night itself passes in a blur. The dj's hammer the tunes out, Steve Pace in particular blazes the place down and does Apex proud, and I dance like a maniac, never leaving the dancefloor. It's mostly hard techno and acid, but there are also some trancier moments along the way, uniting Mancs and Scots alike in a sweaty dancefloor frenzy. Finally it's lights up and Medicine Man's last tune – Spoiled & Zigo 'More & More' – and then we flow back outside to wait for the bus.
Hours later we arrive back in Edinburgh and I stop in at the Prince's Street Burger King where my flatmate Duncan is working. He takes one look and says "Good night?"
It was!
Oh, and I passed my exam, too.