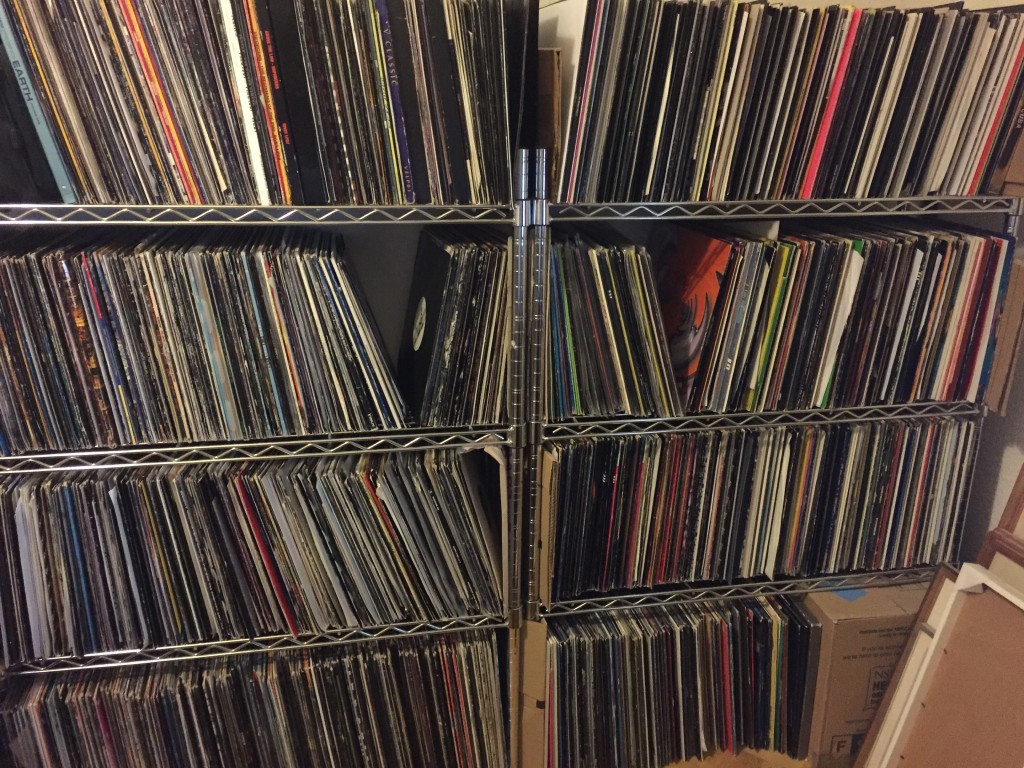 I would like to introduce something very special for 2016:
The 780 Project
What is this?
Well, I am planning on putting out a ton of mixes this year so that I can feature 780 different tracks by the end of 2016, or 15 tracks for each of the 52 weeks of the year.
Is this an insane undertaking?
Well, uh, yes, indeed it is.
Why am I doing it?
Well, most obviously, to see if I can do it. Consider this a particularly bonkers (and public) New Year's resolution. I mean, past resolutions of mine have revolved around losing tons of weight (not that successful, to be honest) or being able to not drink for a month (I was able to do that, but I drink a lot less than I used to so this one doesn't seem like such an achievement now), but this year marks 20 years of me collecting records, so it seemed like a good time to really stretch myself creatively.
And make no mistake, this project will be a big stretch. I managed 16 mixes in 2015, which is pretty decent going, but this new plan is much, much more ambitious.
I have tons of ideas for mixes to do, and I am pretty confident in my ability to execute a good mix in one take with minimal preparation, but this is still a creative mountain to climb. I do have almost 3000 records and several hundred cd's, so I clearly can pick 780 tracks with no repetition, but getting beyond the 10 obvious ideas for mixes that I could scribble down right now will be a big challenge.
Can I do it?
I don't know! Which is part of the reason I want to try …
Generally speaking, the idea will be to upload a new 15 track mix every Sunday. This isn't a hard or fast rule, because sometimes the mixes will be longer and sometimes shorter, and sometimes I will miss a week or two, but that's the general idea.
The specific reason for 15 tracks is that it seems like an eminently achievable goal when you break it down to the specifics. At four minutes per track (which is generally longer than I keep tracks in the mix anyways), that would end up being 60 minutes of recorded time per week, which together with some time for preparation (picking tracks, testing mix combos) would probably not require more than two to three hours of time all together in a typical week.
I don't have tons of free time – I work full time and I have a family, so I can't devote incredible amounts of time to this project, but two hours per week is eminently achievable if it's split up over a few days.
What do I hope to achieve with this project?
On a personal level, I want to see if I can do it. If music is something that I love (and it is), then I feel like the time has come to really push the boat out and see what I can do with it. What can I achieve if I really try? That's what I want to find out.
Secondly, I want people to listen to the mixes. Anyone who makes some kind of musical project publicly available, whether an original composition or a dj mix, wants people to hear it and enjoy it. I really am chuffed when I get good feedback, and being able to share music with people and touch their lives, even in a fleeting way, is a great feeling.
Thirdly, I am 35 years old and have been mixing records since I was 16, so I harbor no illusions that I am on the verge of becoming a superstar dj (not that that is what I want anyways), but if this project could lead to some more gigs in and around Berlin then that would be cool. After a long break from playing in clubs, I've actually had some gigs recently, so a big thank you to Vali from Parallax, Martin from Blasted, and Casper and Federico from Mechatronica for booking me.
Finally, my day job is in digital analytics, so I am setting myself some KPIs to achieve on Soundcloud in 2016, just to see if I can. Specifically, I would like to double the number of my followers from 1000 to 2000, and I would like to get at least 60,000 listens (up from 33,000 in 2015). I recognize that these are pretty ambitious goals for someone who is solely a dj, who doesn't play at big-name Berlin clubs like Berghain, About Blank, Golden Gate or Suicide Circus, who doesn't produce, and who doesn't make even a vague pretense of sticking to one style (which is, I'm sure, somewhat confusing or off-putting for some people). In any case, hitting these Soundcloud goals is just pure ego gratification – it won't improve my or my family's real world life in any way – but since I am being creatively ambitious with this project I might as well dream big on the results too, right?
Finally, I have to give a shout out to Chrissy Murderbot for the inspiration for the project. Back in 2009/2010 the Chicago dj/producer did his Year of Mixtapes project, where every week for a year he did a new mix, covering along the way all kinds of electronic music styles, such as jungle, juke, electro, house, techno, bassline, rave, and much much more. If you love electronic music, I highly recommend digging around in the archives for stuff to listen to. The 780 Project will be functionally different, in that the idea is more about the total number of tracks instead of the total number of mixes (plus the styles featured will be somewhat different), but his project is the original inspiration for sure.
So what is in store musically? It's going to be all kinds of stuff – drum n' bass, jungle, hard trance, techno, dubstep, old skool, bass music, electro, psy trance, grime, and other stuff …
To keep track of things, I will regularly update a publicly viewable Google Sheet which will list every track that I use through the year, complete with links to the release on Discogs as well as to the accompanying blog post as well as to the streaming version at Soundcloud or (sometimes) Mixcloud.
So that's The 780 Project in a nutshell … I hope you enjoy the music through the year and please feel free to drop me your feedback here or via social media, and please share the music with friends, family, and unwilling neighbors.