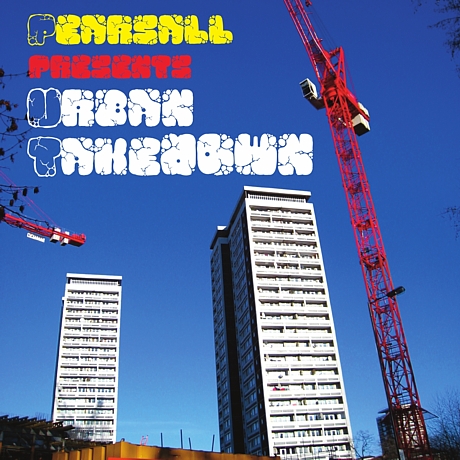 right-click on the title and save as to download
Mixed in Edinburgh, March 2011
(76:53, 134.56 MB, V0 VBR MP3)
Zip pack (cut into individual tracks)
Large cover
Cue file
Style: Classic '95-'97 jump-up jungle
Direct link to the mix:
http://sonicrampage.org/mixes/ut/Pearsall-UrbanTakedown.mp3
Tracklisting:
01. Gang Related & Mask – Concentration (Dope Dragon)
02. Safari Sounds – Free Your Mind (Droppin' Science)
03. Lion Of Judah – Exodus (Congo Natty)
04. Jeru The Damaja – Me Or The Papes (Dillinja Remix) (London)
05. DJ Red – Mad PLO (Trouble On Vinyl)
06. DJ Hype – Jump (True Playa'z)
07. EPS & 2-Vibe – Hype The Funk (Urban Takeover)
08. Shy FX – The Message (Ebony)
09. Maldini – Def Roll (Phat Trax)
10. Tribe Of Issachar – Junglist feat. Peter Bouncer (No Sell Out Remix) (Congo Natty)
11. Busta Rhymes – Woo Hah! Got You All In Check (Origin Unknown Mix) (Elektra)
12. Shimon & Andy C – Quest (Ram)
13. Roni Size & Reprazent – Brown Paper Bag (Roni Size Sound Is The Music Mix) (Talkin' Loud)
14. DJ Red – Devastating (Trouble On Vinyl)
15. The X – New Dawn (ST-Files Remix) (Jump Up)
16. Dillinja – Muthafucka (Philly Blunt)
17. Roni Size – It's Jazzy (V Recordings)
18. Tribe Of Issachar – Tribal Natty ('97) (Congo Natty)
19. DJ Zinc – Reach Out (Remix) (True Playa'z)
20. Brockie & Ed Solo – Represents (Undiluted)
21. Sniper – Dubplate Pressure feat. MC GQ (Remix) (Vinyl Syndicate)
22. The Smokester – Bass Come Down (Smokers Inc)
23. Dub War – Nations (Aphrodite's Mashing Up The Nation Version) (Beastwax)
24. L Double – Music For The 90′s (Flex)
25. Lemon D – This Is LA (Metalheadz)
26. Dred Bass & The JB – Smokin' Cans (Back 2 Basics)
27. DJ Krust – Angles (V Recordings)
28. Future Forces Inc – Flash Gordon (Renegade Hardware)
29. Concept 2 – Cause n' Effect (Ram)
30. DJ Zinc – No Fear (Parousia)
31. The Fugees – Ready Or Not (DJ Zinc Remix) (White)
32. DJ Rap – Rumble (Proper Talent)
Enjoy this mix? Click here to leave a comment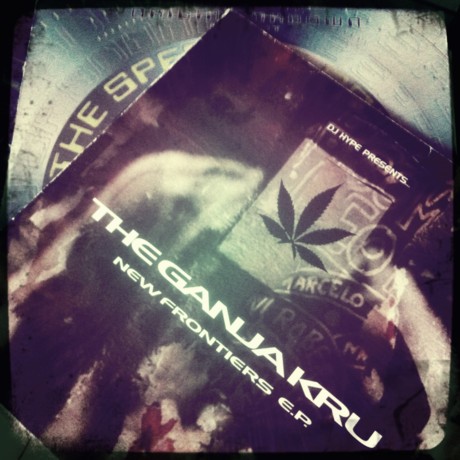 Wow, what a great feeling to finally do a new mix! It feels like ages since I actually did one … hell, it has been!
In my defence, I've recently both become a father and gotten a new job, so you can imagine the impact that those things have had on my mix productivity.
But enough of my excuses – on with the music!
This mix is a selection of some of my favourite jump-up drum n' bass tunes from the mid-90′s. I won't insult your intelligence by explaining where the term 'jump-up' comes from, since it's pretty obvious … this is music designed to get you jumping up and down!
If you enjoyed my jungle mixes Street Dreams and That Dream Is Over, then the tunes featured on this mix are part of what came after the era represented on those mixes. Basically, just as the early 90′s hardcore rave sound had by 93/94 split into jungle and happy hardcore, so by 1996 jungle itself had split into roughly three styles: (1) the deep, melodic sounds of intelligent drum n' bass, championed by dj's like Fabio and LTJ Bukem (for more, check out Over The Horizon), (2) the darkside techstep sound made famous at the Metalheadz Sunday Sessions at the Blue Note (which you can check out on my Cold World mix), and (3) the jump-up sound, the sound of the streets and the music that made massive raves like Roast, One Nation, World Dance and Telepathy go off!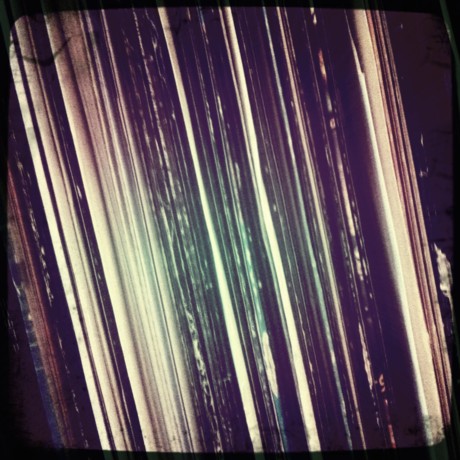 Jump-up was the next link in the cycle of inner London street rave music, a process that started with hardcore and continued through jungle before the jungle sound morphed into drum n' bass, with jump-up and techstep the big rave sounds (the Bukem-style stuff was the preserve of specialist nights and never really crossed over to the main scene). Pirate radio blasted it all over the FM dial, it tore down the raves, it blasted from cars all over the city, you'd hear it leaking out of headphones. In short, it was ubiquitous … until it wasn't.
Within only a couple of years drum n' bass had lost its place at the top of the pirate perch, for, I guess, a couple of reasons. Firstly, the jump-up thing kind of hit a cul-de-sac after a while – the formula of rap sample and big bass drops is a very good one (as you'll see from this mix!), but, like anything, repeated too much it gets old. Also, frankly, a lot of the jump-up tunes released around that time were really cheesy, which is partly why the dark sound came to be a bigger and bigger part of the scene. Although techstep was really and truly awesome, at least for a while, it was also not, um, particularly female-friendly, which is why so much of the core London audience had by 1998 started migrating to the emerging house music hybrid known (then) as speed garage.
Compared to the head-battering darkness of techstep, garage as music offered fun, melodies, vocals, while general funkiness, whilst still maintaining the necessary levels of bass pressure, and as a scene it offered the chance to dress up and look stylish in a less threatening environment than seen in many jungle raves. A lot of the big jungle raves at the time were pretty rough, so it's understandable that once the music became so hard and aggressive that a lot of people would start looking for an alternative. It happened with me, too, since I ended up moving on to the underground acid techno/trance scene around 1998, although I only ever went to a few big jungle raves, since I was pretty young at the time and, in all honesty, not 'street' in the slightest sense.
Of course, things being as they are, it didn't take the garage scene all that long to develop the same reputation for violence and unpleasantness …
Anyways, I never really liked garage, especially once it went from four-to-the-floor housey stuff to the swung two-step style, so I pretty much tuned out the London pirate sounds until the next phase of evolution, when I got really into grime in about 2004. But that's a story for another day, and another mix!
If you want to find out more about the history of jungle/drum n' bass, it's worth checking out the books All Crews and State of Bass, and if you're looking for a more general overview of rave culture, it's worth picking up Energy Flash.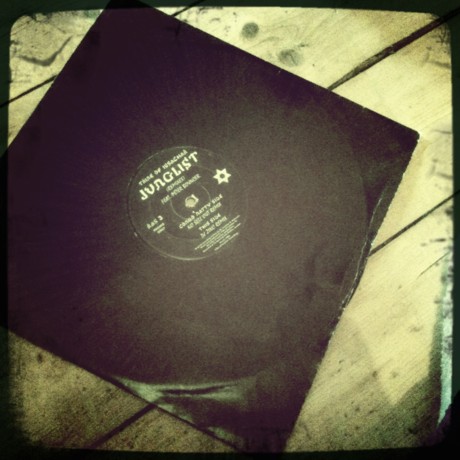 As mentioned earlier, jump-up was an evolution from the classic jungle sound, but for those who are unfamiliar with the differences, here's my list of what I see as the main differences between jump-up and the earlier jungle stuff that I featured on Street Dreams:
The drums – Although this is a bit of a generalization, by and large jump-up tunes featured drums that were less complicated than what had gone before, with more of a focus on rolling beats than the tearout sound that had so defined jungle. The classic jungle sound relied heavily on the Amen break and it's uniquely flexible sound, like a rippling mesh of raw drums. By the time '96 rolled around, the Amen was less omnipresent, and there were a wider range of breaks involved, and the drums were a bit less frenetic. This helped make it easier to up the tempo, as tunes were by now being made at about 170 bpm, as opposed to 160-165, like they were before. Of course, the Amen was still around, and this mix has a number of Amen tunes in it.
The bass – 95/96 was roughly when basslines started featuring more twisted midrange sounds than the chest-pounding thump that had previously been the default jungle bass. This was a trend in both jump-up and techstep, although (unsurprisingly) the classic techstep Reese bass sound (a reversed, distorted version of a bassline originally featured on a Reese Project techno record) was much dirtier and nastier than the almost cartoonish basslines that many jump-up records featured. So, yes, in case you are wondering, this is where you can trace the heritage of the wobble sound so popular in modern drum n' bass and dubstep!
The samples – When jungle first emerged one strain of the sound, raggga jungle, became popularly identified as the definitive jungle sound, even though the genre was in fact much more sonically diverse. This led to lots of gnashing of teeth amongst the elite dj's, particularly when the dancehall artist General Levy had a chart hit with Incredible (which, looking back, was a really good record!). According to a 1998 Mixmag interview with DJ Rap, there was even a 'jungle committee' set up to blackball General Levy for claiming he 'invented jungle' and, more broadly, to push the scene away from the ragga sound. Since ragga chat came to be frowned upon producers began to mine American rap for samples – as you can see from this mix, which is overflowing with rap samples and attitude over crazy bass and chunky beats. Not that the ragga influence completely disappeared, of course, as the Congo Natty crew continued to put out loads of classic raggatastic drum n' bass all through this period.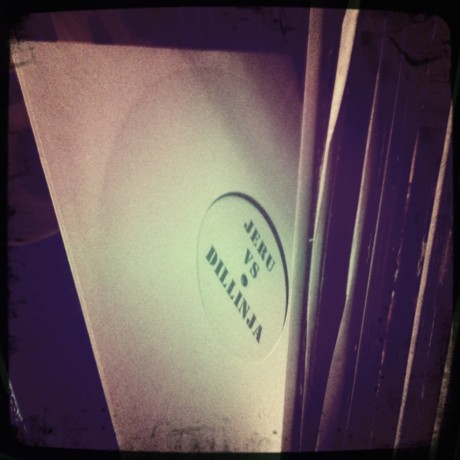 Even though I mostly do single-genre mixes, I generally try to craft each one as a proper journey (maaaan). You know, mix it up between light and dark, going through different moods and emotions etc etc.
This time … not so much.
This is unashamedly a collection of big tunes bashed together, a bit like my earlier jump-up mixes Firestorm and Don't Panic (both of which are great. Honest). Compared to those mixes, however, this one is particularly frenetic, since I managed to cram 32 tracks into only 75 minutes. Manic mixing ahoy! As usual, what I've tried to combine the energy of a live set with the careful programming of a studio set, using along the way deep mix, cuts, and spinbacks.
I've explained my approach to recording mixes elsewhere on the site, but I'm definitely in the camp that mixes should sound as alive and dynamic as possible, and if that means sacrificing a bit of accuracy, well, then that's a price worth paying. Within limits, obviously! If I clang really egregiously I'll start over, but pretty much every mix I do has one or two bits of mixing that make me think, "hmm, that could be a little better." Not major problems, understand, just little things – kept the mix going too long, or had the new track pitched a little slow right as it was brought in. But then again I'm auto-syncing the tracks in Ableton, nor am I letting tunes play for five minutes before briefly segueing into the next track, so to be honest I think I have some leeway in this matter, because the mixing is tight and I try to make the records work.
Hopefully it sounds as good to you as it does to me!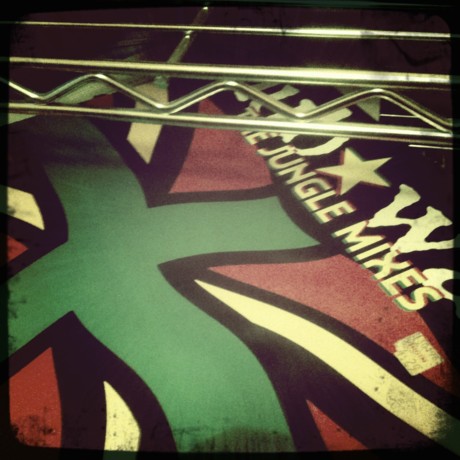 The title is obviously an allusion to legendary dj/producers Micky Finn and Aphrodite, who originally recorded hardcore and then jungle as Urban Shakedown (along with Claudio Giussani, who later released some excellent trance as Union Jack and Terra Firma on Platipus Records) before starting their own Urban Takeover label in 1996. When I first came up with the title I had planned to feature more of their stuff, but in the end I only used one Urban Takeover release and one remix from Aphrodite. Life intervenes sometimes!
When I was picking the tracks for this mix I tried to do several things:
Represent the producers: I couldn't do a mix like this without having tunes from people like Dillinja, DJ Zinc, Roni Size, and Shy FX, amongst others, so I tried to make sure that I had tracks from all of my favourite producers
Represent the labels: On a similar note, I wanted to make sure that all of the big jump-up labels like Trouble On Vinyl, Congo Natty, True Playa'z and Urban Takeover were represented on this mix
Plenty of vocals: It would be easy to just do 70 minutes of instrumentals with the odd sample, but I thought it would be nice to include a number of vocal tracks, particularly since this was a time when some really excellent drum n' bass remixes of hip-hop tunes were released
Anthems & obscurities: Whenever I do a mix I always like to include both big anthems and lesser-known tunes that I think are equally good, so for instance on this mix you get rave-destroying anthems like the 'It's Jazzy' and the remix of 'Ready Or Not' alongside forgotten gems like 'Def Roll' and 'Bass Come Down'
All in all, I think that the whole package has worked out extremely well, and I hope you that you enjoy listening to this mix as much as I did making it!
There's a lot more to come from me in 2011, so please keep returning to Sonicrampage.org …
4 Responses to 'Pearsall presents Urban Takedown'
Leave a Reply