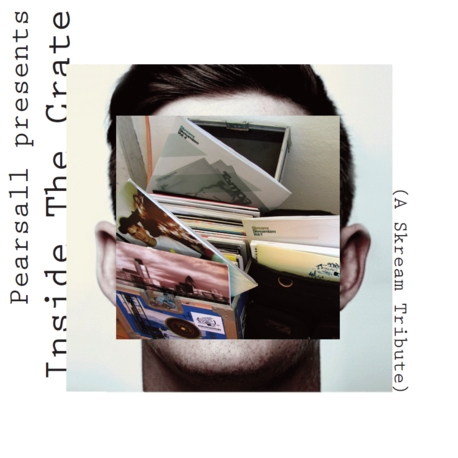 right-click on the title and save as to download
Mixed in Edinburgh, October 2010
(45:34, 83.92 MB, V0 VBR MP3)
Zip pack (cut into individual tracks)
Large cover
Cue file
Style: Dubstep
Direct link to the mix:
http://sonicrampage.org/mixes/skrm/Pearsall-InsideTheCrate(ASkreamTribute).mp3
Tracklisting:
01. Skream – Repercussions Of A Razor Blade (Swamp 81)
02. Skream – Colourful (Tempa)
03. Skream – I (Tempa)
04. Skream – 0800 Dub (Tempa)
05. Skream – Hedd Banger (Tectonic)
06. Skream – Backwards (Deep Medi Musik)
07. Skream – Just Being Me (Southside Dubstars)
08. Skream – Memories Of 3rd Base (Digital Soundboy)
09. Skream – Wobble That Gut (Tempa)
10. Skream – Movin Snarez (Disfigured Dubz)
11. Skream – Losing Control (Tempa)
12. Skream – If You Know (Tempa)
13. Skream – Ain't It Cold? (Destructive)
14. Skream – Afeks (Southside Dubstars)
15. Skream – Hag (Tempa)
16. Skream – I Love The Way (Tempa)
17. Skream – Sweetz (2005 Flex) (Keysound)
18. Skream – Angry (Ital)
19. Skream – Bahl Fwd (Tectonic)
20. Skream – Hitch (Tempa)
Enjoy this mix? Click here to leave a comment
Here, at long last, or at least medium last, is my tribute to dubstep legend Skream. Having enjoyed making my Matty G tribute Hang Ten back in August, I thought that it would be nice to continue this series of dubstep tributes with a mix dedicated to Croydon's own Skream, since he is my absolute favourite dubstep producer and quite possibly my favourite electronic music producer full stop.
This mix is particularly timely since Skream has released two albums recently. His own second album Outside The Box was released in August (see the review in The Guardian here), and yesterday saw the release of the self-titled album by Magnetic Man, his collaboration with Benga and Artwork (see the review in The Observer here). I've not heard the Magnetic Man album yet, but Outside The Box was great (except for the collaboration with Murs, which I didn't like at all), covering everything from future garage like 'Give You Everything' to the autonomic-style deep drum n' bass of 'Reflections' to the out-and-out banger that was 'Wibbler'. A totally recommended purchase!
Two albums in just over two months is pretty damn impressive, especially when you consider that he is still only about 24 years old. Wow! When I was 24, I was in New York doing depressing office work and spending my spare time blogging and drinking beer, not conquering the music world with tracks like 'Listenin' To The Records On My Wall' or 'Perfect Stranger' (above).
Anyways, because I've been a big fan of his since I started listening to dubstep back in about 2004/2005 I thought that now would be the perfect moment to do a tribute mix. Since Skream is such a versatile producer, putting together a mix like this presents a bit of a challenge, in the sense that there are so many different paths that can be taken with it. One option would be to create a mix which would cover just one aspect of his sound, such as meditative steppers like 'Dub Period' or dancefloor bangers like 'Fick'. Another possibility would be to do a mix that tried to capture the whole variety of his sound in one mix, from deep stuff through to face-shrinking wobblers.
In the end, I decided to do something in between those two options. As those of you who are familiar with Skream's music will have no doubt figured out by looking at the tracklisting, in the end I didn't use any of his big dancefloor bangers. Not because I dislike that stuff – I love it! It's just that once I started working out the tracklisting, there was no logical place for those kind of tunes. If you are into the filth, you should definitely check out my Wobble City and Wobble City 2 mixes, both of which have a selection of tunes from Skream at his nastiest. Or you could grab Skream's own mix for Mishka NYC's Keep Watching series, which has a veritable buffet of filth.
This mix is therefore more on the deeper tip, but I think that it still covers quite a wide range of vibes and styles, from the deep and dark to the more melodic and uplifting. I have deliberately chosen tunes from throughout Skream's career, in order to provide a decent overview of his sound, and some of the different paths that it has taken. In making this mix I've used 11 singles, 2 compilation tracks, 1 track from each of his Skreamizm EP's, and 1 track from each of his albums, and these tracks have been drawn from 10 different record labels. It was a deliberate decision to use tracks from such a wide range of sources, as was the decision to not use any tracks that I had used on previous dubstep mixes, such as the Wobble City series, Drop The Hammer 7 or Summer Snapshot. Since Skream has put out such a huge amount of music over the last half-decade or so, inevitably I will have missed out a lot of people's favourites, which is why I've called this mix a Skream tribute, and not the Skream tribute.
Having said that, hopefully you will enjoy listening to it as much as I enjoyed putting it together and mixing it!
One note about the mix itself before I go. I recorded it from the decks onto Adobe Soundboard on my laptop, which is a new way for me to work. I don't think I have it fully worked out, to be honest, since there are a few skips in there, and I noticed when I was listening back that when I do cuts the volume of the track remaining in the mix gets louder. I'm not sure what to do about them, though, so I've left the mix as it is, because these are just minor details. I would be curious, however, to hear what people think about the sound quality – does it sound crisp enough or not? If you could let me know in the comments (as well, of course, if you like the mix or not), then that would be great. Oh, and if you are an amateur photographer by any chance, have a look at my previous post, which has the details of another project that I am working on.
Anyways, enough of my babbling … enjoy the mix!
15 Responses to 'Pearsall presents Inside The Crate (A Skream Tribute)'
Leave a Reply