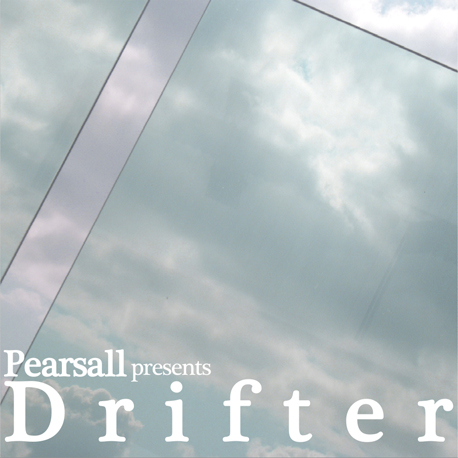 right-click on the title and save as to download
Mixed in London, September 2009
(57:02, 105.97 MB, V0 VBR MP3)
large version of the cover
Cue file
Style: tech-house and techno
Direct link to the mix:
http://www.sonicrampage.org/mixes/drift/Pearsall-Drifter.mp3
Tracklisting:
01. Suburban Soul – City Life (Techno Tribe)
02. Aubrey – Snake Oil (Solid Groove)
03. The Youngsters – Third Face (F Communications)
04. Burial & Four Tet – Wolf Cub (Text Records)
05. John Thomas – Jeff's Song (Logistic)
06. G-Man – Shangoo (Defrag/G)
07. Designer Music – Problemz (Planet E)
08. Underground Resistance – Atomic Witchdokta (Underground Resistance)
09. DJ Misjah & DJ Tim – Scrumble (X-Trax)
10. Rubber Junkie – Armageddon (Punish)
11. Casseopaya – Drumsquasher (X-Trax)
12. Christian Smith & John Selway – Offworld (Tronic)
13. Wink – Liquid Summer (Ovum)
14. Steve Rachmad – Sinosphere (Sino)
When it comes to making new mixes I often take my inspiration from different places. Sometimes I have a concept (like "funky drum n' bass"), sometimes I want to put some records down on a mix before I sell them (like the recent mixes in the Drop The Hammer series), and sometimes I just want to put some new stuff down (like Wobble City). With this mix, the inspiration came from an image, a trip, and two of the big names in techno.
The picture that inspired this mix is, of course, the one that I have used for the cover. It was taken on a Sunday morning last August at a cafe near Santa Apolonia station in Lisbon. I was on a trip with the woman who was then my girlfriend (and who is now my wife), and we went out to have a breakfast brunch at Deli Delux, a lovely riverside cafe/delicatessen on the edge of the Alfama district – definitely worth going to if you ever find yourself in the area. Like a lot of other people with digital cameras, I fancy myself as a bit of an amateur photographer. I always try to take loads of pictures whenever I go away on holiday, with more artsy shots of architecture and nature alongside the normal vacation snaps. Obviously, I am not a professional, but it's a fun hobby, and it also means that I have a cache of images to use for mix covers.
One of the interesting things about photography is that it changes your relationship to the world around you. I have one of the small Canons, which is small enough to fit in my pocket, so I can just pull it out and fire away whenever I see something that interests me. Having a camera makes me much more aware of my surroundings because I am not just moving through space but I am also engaging with it, looking for images that can be captured, whether a broad horizon or a tiny detail. One of the great virtues of the digital format is that you can try things – if they don't work because the image is too blurry or under-exposed or whatever you can just delete the image and try again or move on.
Sometimes it is only in retrospect that you realize that an image really works, or at least captures something. For instance, with the cover image, we were sitting outside having brunch at the cafe and I thought the glass partitions that separated the cafe terrace from the River Tagus were quite interesting, so I tried a few plain vanilla shots (with one of these shots included below) before I turned the camera to capture them from a slightly more abstract angle. It was only when we got back to London and I was looking through the pictures that I realized how much I liked the picture, from the slight reflection of the cafe to the way that the glass changed the colour of the sky so that there was a subtle two-tone effect going on. I was very pleased with it! I also realized that it would make a nice cover for a mix.
Of course, the question that followed was what mix? Usually I do the mix first and then try to find an image that will work as a cover, whereas with this one I had an image and a title but no mix. So, which music would fit the vibe of the cover image? Since I didn't have any good ideas I just sat on it for a while.
Earlier this summer the answer came to me. I had been doing a variety of crate-digging mixes for my Drop The Hammer series, so I decided that maybe I could use the image as a cover for a mix featuring some tunes from my vinyl archives. What tunes, though? Well, at the time I had been listening intensively to a couple of techno mixes by two veterans of proper techno – Josh Wink's Profound Sounds Vol. 3 and Carl Craig's Sessions. Both mixes combined relaxed, melodic house and techno in an unfussed and deep way, with long mixes giving the tracks a real chance to breathe. Most of my mixes feature fairly hyperactive mixing and pounding bpm's, since I like to mix constantly because (1) I have a bit of a low attention span, and (2) I am a bit of a show-off sometimes, so I like the technical challenge of firing through loads of tracks. Since I was enjoying the way that Josh Wink and Carl Craig approached their mixes in such a different way from my standard approach, I thought that it would be nice to try something similar.
In an homage to this mellower vibe, I thought that the title 'Drifter' would be appropriate, since that seemed a suitable representation of the vibe that I wanted to capture. So, with a title, a cover, and a concept, I now needed some tunes. I needed deep tunes, I needed minimal tunes, I needed funky tunes, I needed crunchy tunes, I needed weird tunes. I needed to dive into my records! One afternoon I spent a good couple of hours going through my techno and house shelves pulling tunes out and playing them on my decks. Eventually I settled on the fourteen tunes that I thought would provide the vibe that I was looking for. A bit spacey, a bit deep, and a lot more chilled than my usual output. I suppose it says something for my skewed perspective that I consider the 128 bpm that this mix starts at really slow!
As a crate-digging exercise, I have to say that this was a lot of fun, since it gave me the chance to pull out loads of tunes that I had forgotten about. The mix opens with 'City Life' by Suburban Soul, which is actually an old Dutch hardcore tune! Played at 33 instead of 45 it becomes a deep, dark chugger – the perfect opening tune. The batch of tunes that follow are mostly b-sides of more orthodox dancefloor techno releases, where Aubrey, John Thomas, The Youngsters, and G-Man get a chance to indulge their less banging sides. The one exception, and the one new record featured on this mix, is Burial and Four Tet's lovely 'Wolf Cub' (well, at least I think it's 'Wolf Cub', since the record isn't labelled!), my one concession to trendiness, used mainly for the way they have wrapped a simple chord sequence around a warm tech-house rhythm.
It would be impossible (or at least inadvisable) to do a mix like this without featuring some Detroit tracks, so I have included two on here. As a mark of respect for inspiring me to do this mix, I have included a Carl Craig track, 'Problemz' which was released under his Designer Music alias. The other Detroit track featured is Underground Resistance's 'Atomic Witchdokta', which was released on the Dark Energy EP. Following those two tracks I have gone for three weird and wonky tracks, including two from DJ Misjah's mighty X-Trax label, before I flip back into deep mode for the last three tracks. As the other inspiration for this mix, I couldn't resist including one of Josh Wink's tracks, so I have chosen to use his 1994 deep acid classic 'Liquid Summer' before rounding things off with the beautiful 'Sinosphere' by Dutch techno genius Steve Rachmad.
Here are some more pics from our trip to Lisbon (click to view a larger version):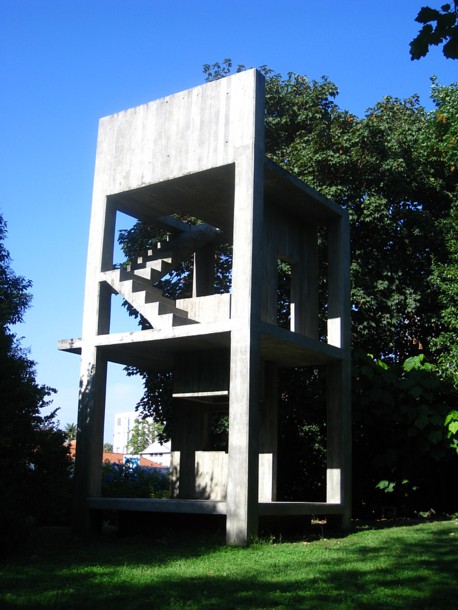 In the gardens of the Museu Calouste Gulbenkian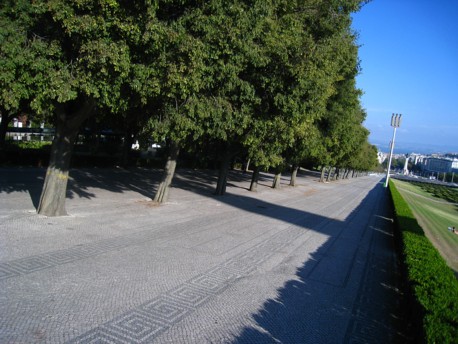 Looking down to central Lisbon from the Parque Eduardo VII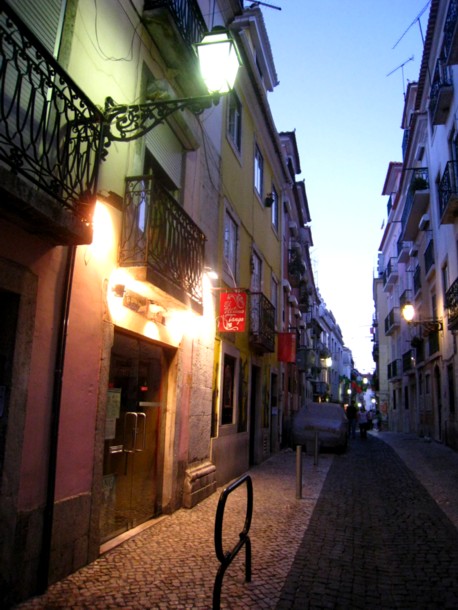 Evening in the Bairro Alto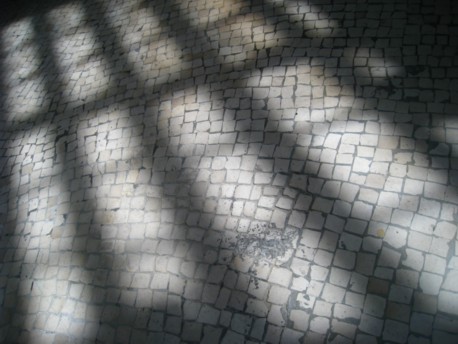 The floor of Rossio railway station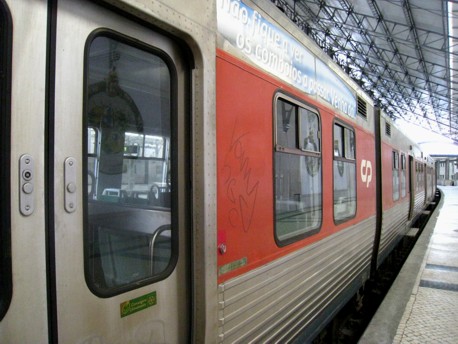 Inside Rossio station, with some lovely azulejo tiles reflected in the window of the train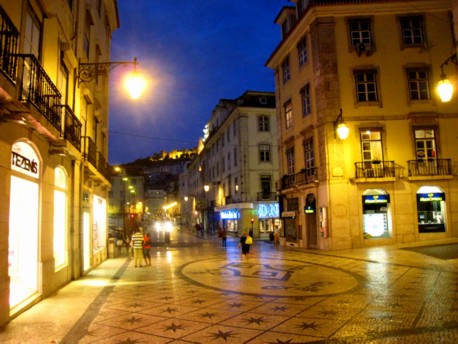 Night in the Baixa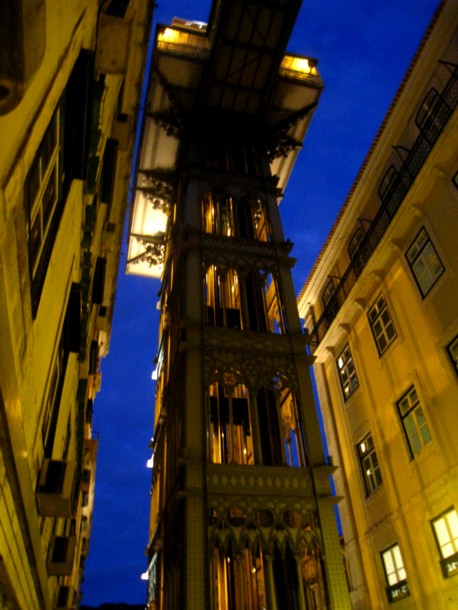 Elevador da Santa Justa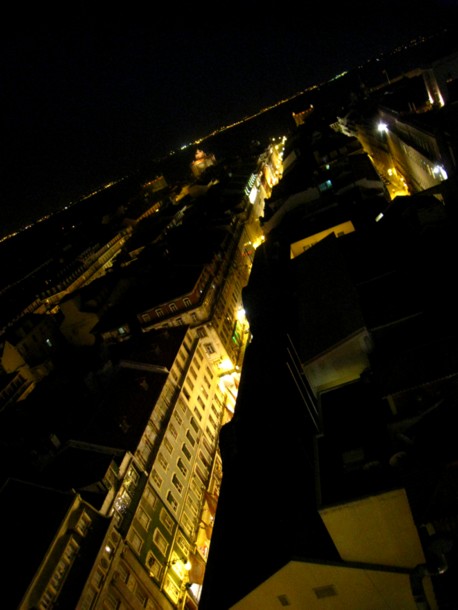 Looking into the heart of Lisbon from the Elevador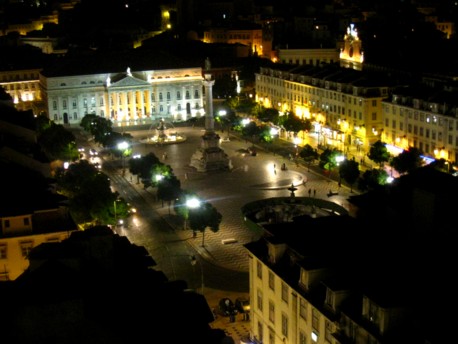 Rossio Square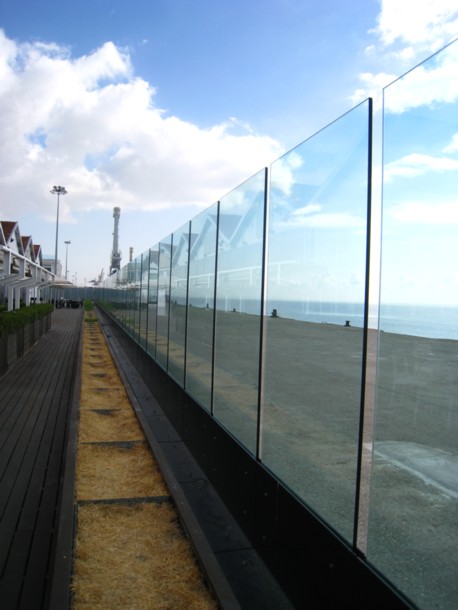 Another view of the wall at the cafe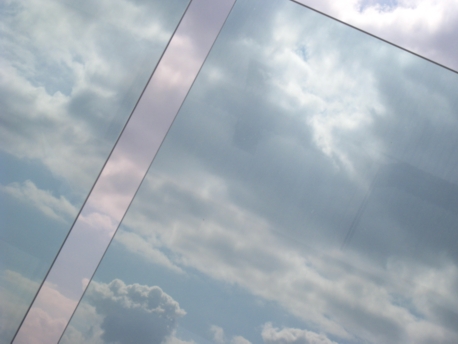 The original cover image
Looking down Avenida Infante Dom Henrique from Santa Apolonia station