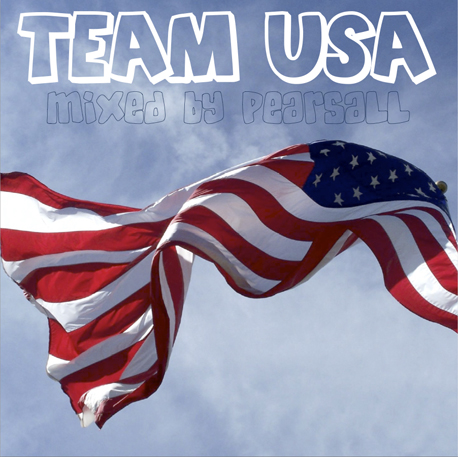 right-click on the title and save as to download
Mixed in London, January 2004
(44:41, 61.1 MB, 192 kbps MP3)
large version of the cover
cue file
Style: All-American techno
Direct link to the mix:
http://www.sonicrampage.org/mixes/TeamUSA/Pearsall-TeamUSA.mp3
Tracklisting:
01. Armand Van Helden – Necessary Evil (Armed)
02. DJ Rush – The Breaks (Pro-Jex)
03. Green Velvet – The Red Light (Music Man)
04. Brian Zentz – D-Clash (Intec)
05. Punisher – Wave Stalker (Seismic)
06. Slam – Stepback (Christian Smith & John Selway Remix) (Soma)
07. The Pump Panel – Ego Acid (Original Mix) (Primate)
08. Mike Dearborn – Solution (Tronic)
09. Woody McBride – Off The Ceiling (Communique)
10. DJ Bam Bam – Stick 'Em (Tonewrecker)
11. Jeff Mills – The Bells (Purpose Maker)
12. Toktok Vs Soffy O – Ludicrous Idiots (DJ Rush Remix) (Toktok)
13. Mike Dearborn – Puppet (Majesty)
14. Jay Denham – Peoples (Equator)
15. Marco Bernardi – Commuters' Computers (Iridite)
16. Frankie Bones – What's Up? Shut Up! (Hard To Swallow)
17. Millsart – Step To Enchantment (Stringent) (Axis)
Cover image provided courtesy of Rich Johnstone. Click here to see the original image on Flickr
This is a mix I recorded several years ago as part of a dj competition on the Banging Tunes forum. It was pitting American against British dj's with 45 minute mixes. There wasn't any particular prize beyond bragging rights, so for my entry I decided to do a hard techno mix featuring nothing but American artists (although I did make one mistake by using a Marco Bernardi tune – for some reason I thought he was American).
The idea behind the mix was simple enough – mix fast and mix it up! This was the right approach, because I ended up as one of the winners (a fact which I had forgotten until I started the research for this mix). Although 17 tracks in 45 minutes is hardly Jeff Mills pace, it's still a decent rate to cut through tunes, with a healthy helping of tricks to keep things interesting. I also wanted to cover a range of sounds, from the more uplifting Brian Zentz stuff to DJ Rush's off-kilter kickdrum fests through to pure banging acid.
It's funny that in America not many people seem to know that techno is American in origin, and that it's roots lie in Detroit. Detroit is famous for being the posterchild for many of the pathologies of the modern American city, from deindustrialization, crime, white flight, and municipal corruption to general physical decline, but it's still pretty amazing that out of the ashes of that city there emerged in the 1980's a musical style that would go on to truly global success, influence and popularity, even while remaining largely unknown in the country of its birth.
It's remarkable when you think about it.
Anyways, I am not going to rehash the history of Detroit techno here, since there is plenty of information out there for those who are curious. A good starting point would be Todd Hutlock's Bluffers Guide to Detroit Techno in Stylus Magazine:
Since the economic collapse of the domestic automobile industry in the late 70s, Detroit has seen better days. It's the poster child for depressed, post-industrial America. The recovery has been a long time coming, and it isn't there yet.

But at night, it's a different story. The seemingly endless miles of winding highway, the lights of industry that resemble nothing so much as space stations; at night, the place might as well be Mars. Driving through the city, listening to the Electrifyin' Mojo on the radio, three teenagers from Belleville High School suddenly got it. If you drive the I-94 at night today, playing their music, you will, too. The music is of the place and the place is of the music; they are totally and irrevocably linked.

The sound of classic Detroit Techno is eerily detached and mechanical (influenced by the city's industrial roots, as well as by synthesizer-based music like Kraftwerk, Gary Numan, the B-52s, Prince, and New Order), but it is also smooth and soulful, making the music uplifting and dark all at once. The characteristic sound of the Roland TR-909 drum machine and the synthesized string sounds created lush landscapes of sound; the underlying funky edge, derived from a love of Parliament/Funkadelic and others, gave the music an otherworldly feel. The moody, melancholy edge of classic Detroit Techno also reflects the city's depressed financial state and expresses a longing for escape; the outer space, to the future, to anywhere. The mix sounds like nothing else on Earth, and it is't meant to.
If you are after more info about Detroit techno, it might also be worth checking out the AV Club's article on it.
Also, if you want to see some footage from classic Midwestern techno raves, check out the awesome We're Running Out Of … site.
Although Detroit is the inspiration, with this mix I tried to represent a spread of American techno producers, so that it features six tracks from Chicago producers (DJ Rush, Mike Dearborn, DJ Bam Bam and Green Velvet), four from New York (Armand van Helden, The Pump Panel, Frankie Bones, and Christian Smith & John Selway), three from Detroit (Jeff Mills and Punisher), as well as 1 each from Virginia (Bryan Zentz), Minneapolis (Woody McBride), Kalamazoo, Michigan (Jay Denham), and Scotland (Marco Bernardi – yes, I made a mistake!). I think it holds together as a nice little techno mix.
Here are some notes about some of the individual tracks:
Necessary Evil: Armand van Helden needs no introduction. He has long been one of the biggest dj/producers in house, and a list of all of his successful tracks and remixes would be absolutely enormous, with his most recent hit being 'Bonkers', his collaboration with Dizzee Rascal. He has been well-known for incorporating influences from disco, hip-hop, drum n' bass, electro and even 80's Latin freestyle into his house tunes, but occassionally he has made out and out techno bangers like this utterly demented (and also quite marvellous) tune. Woodsaws, hi-hats and a boshing kickdrum – sometimes you don't need anything more.
The Red Light: Green Velvet is the techno alter-ego of Chicago house legend Curtis 'Cajmere' Jones, where he would don green clothes, a green mohawk, and deliver twisted spoken-word monologues over pumping techno. The most famous Green Velvet track is 'Flash', a travelogue to the rave scene for concerned parents. Having said that, 'The Red Light' was always my favourite of his tracks, a hypnotic groove with a vocal talking about men who buy sex. "Welcome sex fiends, live out your wildest dreams."
Ego Acid (Original Mix): The Pump Panel was Tim Taylor and Dan Zamani from New York, whose best known track was 'Confusion', which was featured in the opening vampire club scene in the first Blade movie, which was one of the rare scenes in a movie to actually capture the fun and excitement of clubbing (well, until the vampires started tearing the dude to shreds!). This is another classic acid moment from them.
The Bells: A true techno classic from the Detroit legend Jeff Mills. I agree with every word of the review on Discogs:
Another_Swede, Jul 09, 2005

Jeff Mills is a genius and "The Bells" one of his classic cuts that never fails to bang the dancefloor. First comes the simple but amazing hypnotic groove and when the bells hit youre bound to go wild. I wish that the track was a little bit longer, although that can be fixed by getting two copies. Thanks to flawless production the track have stood the test of time, ten years old – timeless! Just needed to express my deep love for this cut, check it out – highly recommended!
What's Up? Shut Up!: This isn't anything particularly special, just a nice banging techno track from Brooklyn rave legend Frankie Bones. Frankie Bones was one of the key figures in bringing the rave scene to New York, with his legendary StormRave parties. He also co-founded and used to run a record shop called Sonic Groove in the West Village, which I used to go to whenever I was in New York. He also did an excellent edition of the United DJ's of America series, featuring some absolutely awesome acid trancers. I still see Frankie leaving reviews of his favorite records on Discogs, and there's no way you can fault his love for and commitment to electronic music. A true legend!