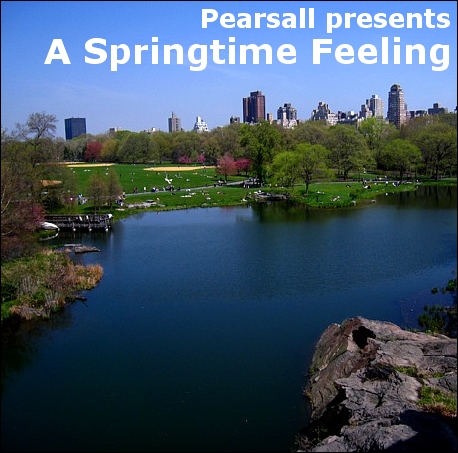 right-click on the title and save as to download
Mixed in London, March 2009
(50:44, 85.47 MB, V0 VBR MP3)
Style: funky drum n' bass
direct link to the mix:
http://www.sonicrampage.org/mixes/asf/Pearsall-ASpringtimeFeeling.mp3
Tracklisting:
01. Breakbeat Era – Ultra-Obscene (XL Recordings)
02. Peshay – Miles From Home (Mo' Wax)
03. EZ Rollers – Tough At The Top (Moving Shadow)
04. Dillinja – Tronik Funk (Test)
05. Special Forces – Freestyle (Photek Productions)
06. Ed Rush & Optical – Funktion (V Recordings)
07. London Elektricity vs Robert Owens – My Dreams (Searching Dub) (Hospital)
08. Marcus Intalex & ST Files – Love & Happiness (31 Records)
09. DJ Hype – Closer To God (True Playaz)
10. DJ Zinc – Casino Royale (True Playaz)
11. Adam F – Circles (Andy C Remix) (F-Jams)
12. Dope Skillz – Pink Panther (True Playaz)
13. MJ Cole – Sincere (Marcus Intalex & ST Files Remix) (Talkin' Loud)
14. Die – Jitta Bug (Full Cycle)
15. Nasty Habits – Liquid Beatz (31 Records)
16. DJ Marky & XRS – Closer (Soul:R)
17. Shy FX – Bambaata (Ebony Records)
cover: a picture I took in New York's Central Park last April
Here's a mix I recorded earlier this week just to listen to as I went away on a work trip. I'm so pleased with this mix that I thought that I would upload it and share it. It's nothing wildly revolutionary, or overly complex, just a little trip through the funkier side of drum n' bass, a kind of soundtrack for the (long-awaited) return of springtime to England. Here in London it has taken rather a long time for spring to show up, so the arrival of today's beautiful sunny day was definitely a blessing.
This mix is kind of my attempt to sum up the vibe of springtime in England, which means that it's not pure summery blissfulness, but instead a mix of sunshine with a some stuff with a bit of bite. Springtime in England is always funny, as it reminds me of the fact that even though I have spent half of my life here certain things will always mystify me. Like, for instance, the English habit of stripping down to shorts and flip-flops at the first sign of sun, even if it's still pretty chilly. I think it's strange, but endearing. Hope springs eternal, no?
The tunes here are (mostly) from the late 1990's through to the early 2000's, and I suppose quite a few of them would fall under the banner of 'liquid funk', although I've always thought that was a bit of a stupid title. I've always been a fan of the best of this mellower side of drum n' bass, although I am a bit particular about it, as many of the worst examples of funky drum n' bass sound like they have been written specifically for a particularly tacky shampoo commercial. I like to think that this selection avoids this!
Like many of my drum n' bass mixes, I have tried to mix up stone-cold anthems (like 'Funktion' or 'Bambaata') with tracks that are a bit more obscure (like 'Freestyle' and 'Liquid Beatz'); I have also tried to mix up the artists and sounds so that there is a clear progression over the course of the mix, and that the mood changes and shifts through the full fifty minutes.
I hope you enjoy this mix! More to come later this month …