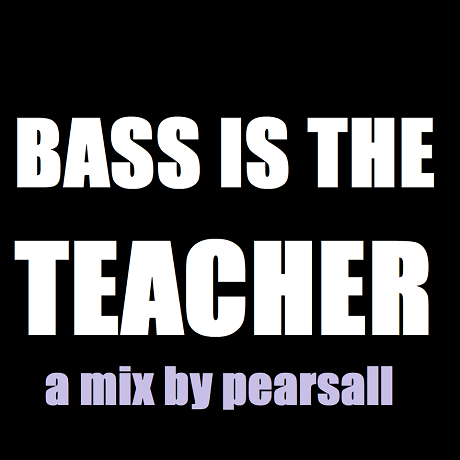 right-click, save as to download this free mp3 mix
Mixed in Berlin, June 2021
100% Vinyl
(75:31, 172 MB, 320 kbps mp3)
Direct link to the mix:
http://sonicrampage.org/mixes/bass_teacher/Pearsall-BassIsTheTeacher.mp3
Tracklisting:
Time for a new mix.
Right?
So this mix is a selection of some recent(ish) dubstep bits that I've picked up on vinyl over the last couple years – basically it's pretty similar in spirit to last year's Lockdown Sounds. While it's true that my mixes often have some kind of a concept or theme behind them, with this specific one, well, I just pulled out some records I liked and mixed them together … nothing more complex than that.
The story behind this mix, to the extent that there is any kind of story, is that I wanted to make a new mix to take with me when I went to visit my parents in the US in July (having not seen them for eighteen months), and I wanted something that was relaxing. Well, to the extent that any of my mixes can be described as relaxing. This is the result.
So … yeah. Kind of self-explanatory, right?
Still, though, I will write a few words to describe the mix.
As I mentioned before, I often go with some kind of theme when I create a new mix. Not in this case. Something else that I often do, specifically with mixes of four to the floor genres like acid or hard trance, is to gradually (or sometimes rapidly) increase the intensity of the music through the course of the mix, which I usually achieve by ramping up the tempo. This is something that I've done probably dozens of times, and I always enjoy it! It's a system that works, that sounds good (in my opinion, of course), and that other people seem to enjoy as well.
Is it so creative to keep using the same broad framework? Possibly not, but I generally try to infuse creativity in other ways, whether through the theme of the mix or how I approach the programming.
However, I don't follow this 'just pitch that shit up!' strategy when I am working with bass music genres like drum n' bass, dubstep, breaks, grime or electro. My general feeling is that you don't get the same payoff by just cranking the tempo – it ends up sounding weird, so I generally avoid it.
This is really apparent with dubstep specifically, at least for me. Honestly, this style of music sounds ridiculous pitched way up. The whole sense of it is gone when you jack the bpms up, therefore I generally try to go no higher than about 144 bpm (which would be about +3 on a normal Technics turntable for a 140 bpm record).
Even so I still want to take the listeners (and myself) on a 'journey', to use the dreaded cliche – but how? So since just relentlessly ramping up the bpm's is out, instead I focus on the sonic textures of my selected tracks and try to organize them in such a way that the outcome is a coherent sonic narrative.
So how did I do that with this mix?
Well, let's go through it!
The first five tracks are deep and dark and kind of weird, and, honestly, not really all that dance-ey. I mean I suppose you could dance to them, but they aren't exactly 'go nuts and pour a can of beer over your head' danceable.
At track 6, Von D's 'Chestlick' signals a slight switch in emphasis to a short section of sturdy, bass-heavy steppers that briefly segues into a couple of West Coast hip-hop influenced tracks before switching again to a more extended selection of classic dancefloor dubstep, brooding bass underpinning breezeblock beats laced with a heavy dancehall influence.
In the middle of this section I drop two of J:Kenzo's acid dubstep tracks (you know I love acid!) but then after that I switch things back to the more classic dubstep sound, all halfstep chonk and bass thwomp.
The last section of the mix starts at about track 23 as I shift the intensity up to some tracks that are at first a bit more grime-adjacent and then suddenly noisier, more abrasive, and just simply more aggressive. Well, until the last track, which is all cavernous reverb and rifling tribal drums … I just wanted to end things on a slightly less belligerent note.
I hope you enjoyed the mix – more music and some big news soon!