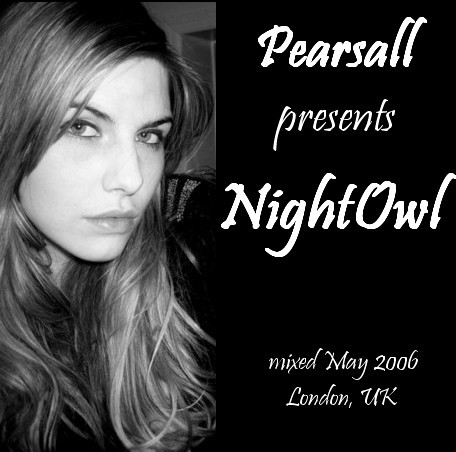 right-click, save as to download
Mixed in London, May 2006
66:04, 92.4 MB, 192 KBPS VBR MP3
style: electro
direct link to the mix:
http://www.sonicrampage.org/mixes/NightOwl/Pearsall-NightOwl.mp3
tracklisting:
01. Sterac Electronics – Destination Reached (Music Man)
02. Miss Kittin & The Hacker – Sweet Dreams (International Deejay Gigolos)
03. Nasty & Tresher – Robot Repair (Electrix)
04. Ozone Layer – Planetary Deterioration (Anthony Rother Remix) (International Deejay Gigolos)
05. Christian Smith & John Selway – Altera (Electro Remix) (Tronic)
06. Mystic Letter K – Caprilectrix (Electrix)
07. Anthony Rother – Father (Datapunk)
08. Boys Noize – Jaguare (Datapunk)
09. Odissi – Groupie (Cyberfunk)
10. Mystic Letter K – Ropa_Dopa (Electrix)
11. Anthony Rother – Adam & Eve (Datapunk Limited)
12. Ra-X – Kontrol (Angelmaker)
13. DJ Controlled Weirdness – Suburban Menace (Fdb Recordings)
14. Bass Kittens – It's Better To Oscillate Than Never (Bowwow)
15. AE35 – Samurai Sword Sharpness (Tokyo Electro Beat)
16. DJ Controlled Weirdness – South London Bass (Unearthly)
17. Chris McCormack – Saturation Point (Electrix)
18. Anthony Rother – Describe Reality (Kanzleramt)
19. Dexter – D-Funked (Clone)
20. DJ Nasty – No Mercy (Motor City Electro Company)
21. AE35 – Electro Beat Stepper (Tokyo Electro Beat)
22. Kronos Device – Machine Breed (Battle Trax)
23. The Advent – Light Years Away (Electrix)
24. ATF – Hiding The Pain (Zero One Music)
25. Skream – Midnight Request Line (Tempa)
This is an electro mix I recorded two years ago in one take. For the most part, it is quite traditional electro, very cold and robotic as opposed to the sleazier housy sound that has come to prominence in the last couple of years, although there are a couple of tracks in that style. The idea was to cover a range of different elements of electro whilst still keeping it coherent. Since this was recorded in only one take (out of laziness as much as anything) there are a few mistakes in the mixing, although nothing tooooo major except for a pretty egregious couple of moments in the mix into Suburban Menace where Kontrol kicks back in way out of time. Listening back, that's a bit annoying, but because I fixed it so quickly it's not the end of the world.
Even though things like that annoy me, because I tend to be a perfectionist when it comes to doing mixes, I also recognize that when I listen to other people's mixes I prefer ones that have little imperfections to ones that are flawlessly mixed on a computer. I guess it's the same with life – I've never found the super airbrushed women on the cover of magazines like FHM to be that attractive. I find imperfections interesting and humanizing. Quality and beauty are always worth striving for, but perfection is alienating.
Having said all this, that doesn't mean that I don't still cringe when I hear the little mistakes in this mix! I suppose it is the curse of the dj … once you have been mixing for so long you tend to forget that most other people don't have such a heightened sense for whether or not beats are in time (and why would they?). Before I was a dj I could quite happily listen to mixtapes filled with all kinds of trainwrecks and not bat and eyelid, but after a couple of years of mixing I ascended on to a very high horse and got all snooty about it. God, when I used to go clubbing if a dj was struggling I'd be one of those haughty bedroom dj's all "Jesus, this fucking guy cannot mix … why am I STILL in the bedroom while this loser is getting paid to play!?!?!" As you get older, you mellow out a bit, and you get less fussed about it, and you have more understanding (maybe). In my case, as I stopped wanting to be someone who played in clubs regularly, as, really, I stopped being someone who even went to clubs, I've gotten much more relaxed about these kinds of things.
Leave a Reply